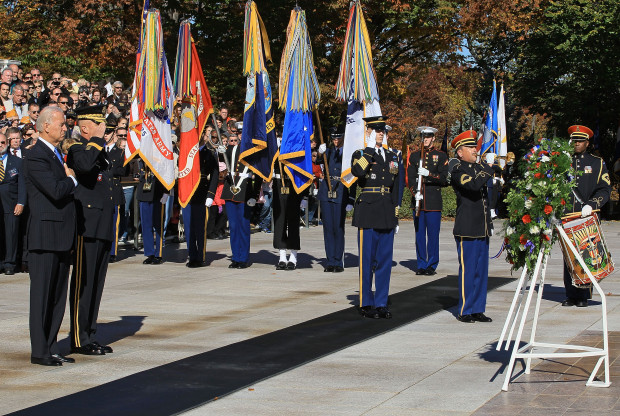 November 11th is the day America honors our nation's veterans. On June 1, 1954, 11/11 became a day to recognize American veterans of all wars and on October 8th of that same year, President Dwight D. Eisenhower issued the first "Veterans Day Proclamation."
In a more detailed history lesson, according to http://www.va.gov/: World War I – known at the time as "The Great War" – officially ended when the Treaty of Versailles was signed on June 28, 1919, in the Palace of Versailles outside the town of Versailles, France. However, fighting ceased seven months earlier when an armistice, or temporary cessation of hostilities, between the Allied nations and Germany went into effect on the eleventh hour of the eleventh day of the eleventh month. For that reason, November 11, 1918, is generally regarded as the end of "the war to end all wars."
Every year a National Ceremony is held at Arlington National Cemetery, which commences in the morning with a wreath laying at the Tomb of the Unknowns and continues inside the Memorial Amphitheater with a parade of colors by veterans' organizations and remarks from dignitaries. The ceremony is intended to honor and thank all who served in the United States Armed Forces.
Join the support on social media with hashtag #HONORINGVETS on Instagram, Twitter and Facebook. Thank you Vets!