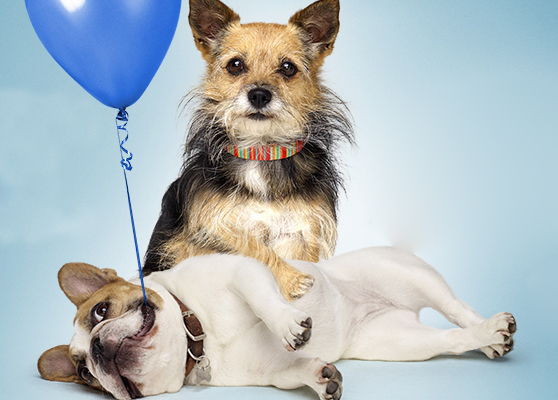 Actress Kaley Cuoco is set to host THE ALL-STAR DOG RESCUE CELEBRATION, airing on Thanksgiving night, Thursday, Nov. 26 (8:00-10:00 PM ET/PT) on FOX.
PEDIGREE® Food for Dogs will return for its second year as the official sponsor and will present the Cutest Puppy Award. Viewers can help choose by voting for their favorite Puppy at FOX.com/CutestPuppy or tweet their puppy nominee's hashtag to Twitter. Results will be available following the broadcast at FOX.com/CutestPuppy.
In addition, Miley Cyrus, Chelsea Handler, Paula Abdul, Valerie Bertinelli, Carrie Ann Inaba, Cesar Millan, Florida Georgia Line, Kathy Griffin, Scarlett Johansson, Whitney Cummings, Olivia Munn, Emmy Rossum, Sia and Zendaya are among the stars scheduled to appear.
THE ALL-STAR DOG RESCUE CELEBRATION, is a one-of-a-kind event celebrating America's rescue dogs, raising awareness of dog-related issues and encouraging people to adopt rescue animals. Throughout the two-hour family-friendly special, celebrity guests will introduce the audience to adoptable rescue dogs and honor the people who dedicate their lives to caring for animals in need.
Viewers will be provided with information regarding adoptable animals in their local areas. Additionally, they will have the opportunity to make donations directly to the Petfinder Foundation, an independent nonprofit organization that supports shelters and rescue groups nationwide. Viewers can donate via a text number provided during the broadcast or online. Information on how to donate directly to Petfinder Foundation online can be found at fox.com/the-all-star-dog-rescue-celebration. Donations will be accepted by Petfinder Foundation during the broadcast and for a period of time after the show.
THE ALL-STAR DOG RESCUE CELEBRATION is produced by Michael Levitt Productions. Hilary Swank and Michael Levitt ("Daytime Emmy® Awards" "Skin Wars," "Billboard Music Awards") are executive producers. Get updates about THE ALL-STAR DOG RESCUE CELEBRATION on fox.com/the-all-star-dog-rescue-celebration, on Facebook at facebook.com/DogRescueOnFOX and on Twitter @DogRescueOnFOX and join the discussion using #AllStarDogRescue. See photos and videos on Instagram @dogrescueonfox.