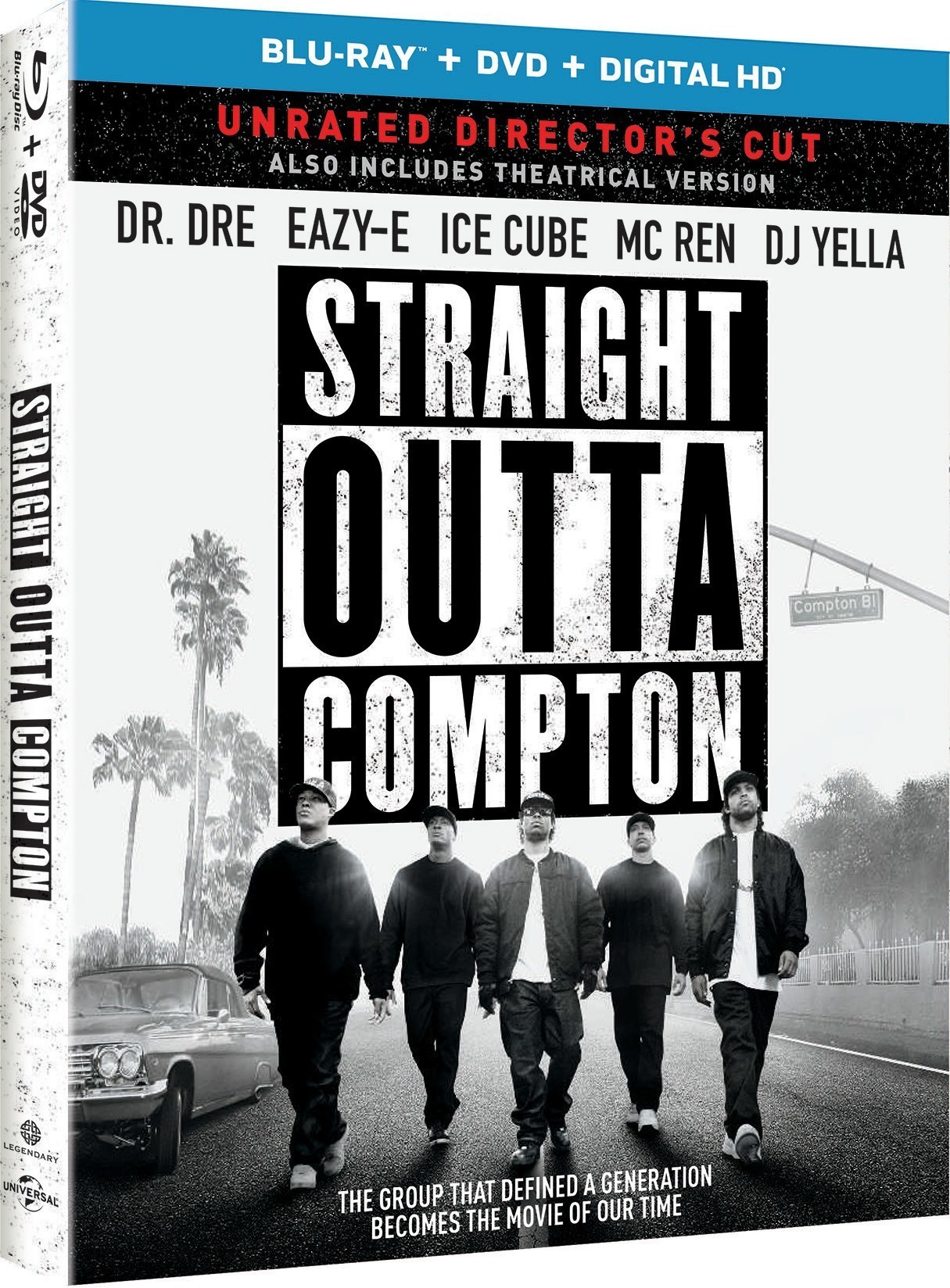 Stocking Stuffer idea!
In Straight Outta Compton: Unrated Director's Cut fans can follow N.W.A.'s electrifying lyrics and unique sound, which introduced a truth that no one had heard before and exposed life in the hood igniting a social revolution that still reverberates today.
The culturally relevant and explosively entertaining biopic is coming to Digital HD on January 5, 2016 and Blu-ray™, DVD and On Demand January 19, 2016 from Universal Pictures Home Entertainment. The Blu-ray™ and Digital HD versions include the exclusive Unrated Director's Cut that gives fans more of the N.W.A. story with 20 additional minutes of the film.
Directed by F. Gary Gray (The Italian Job, Friday), Straight Outta Compton tells the true story of five young rebels from South Central Los Angeles who, armed with only their lyrics, swagger, bravado and raw talent, stood up to the authorities attempting to keep them down.
BONUS FEATURES EXCLUSIVE TO Blu-rayTM:
DELETED SCENES
BECOMING N.W.A. – An in-depth look at how the producers and F. Gary Gray tackled the challenging task of casting these larger than life creators of gangster rap.
NEVER BEFORE SEEN PERFORMANCE
BLU-RAYTM and DVD BONUS FEATURES
N.W.A. THE ORIGINS – N.W.A. was a group that changed history. Dr. Dre, Ice Cube, DJ Yella, and many others talk about their start in the 80's and where it all began.
IMPACT – An exploration of the impact N.W.A. and specifically their breakout album that changed everything.
DIRECTOR'S JOURNEY – Utilizing a large amount of stand up interviews, we follow F. Gary Gray through the streets of Compton as he brings together the story of the founders of gangsta rap.
THE STREETS: FILMING IN COMPTON – Take a look through the lens of Director F. Gary Gray as he perfected the authentic feeling of what it was like to walk the streets of Compton.
N.W.A PERFORMS IN DETROIT – We go behind the scenes of what this performance meant to the original members of N.W.A. as they saw their lyrics spark controversy against the corruption of the police in Los Angeles, as well as the thoughts of the actors performing the song on stage for the movie.
FEATURE COMMENTARY WITH DIRECTOR/PRODUCER F. GARY GRAY