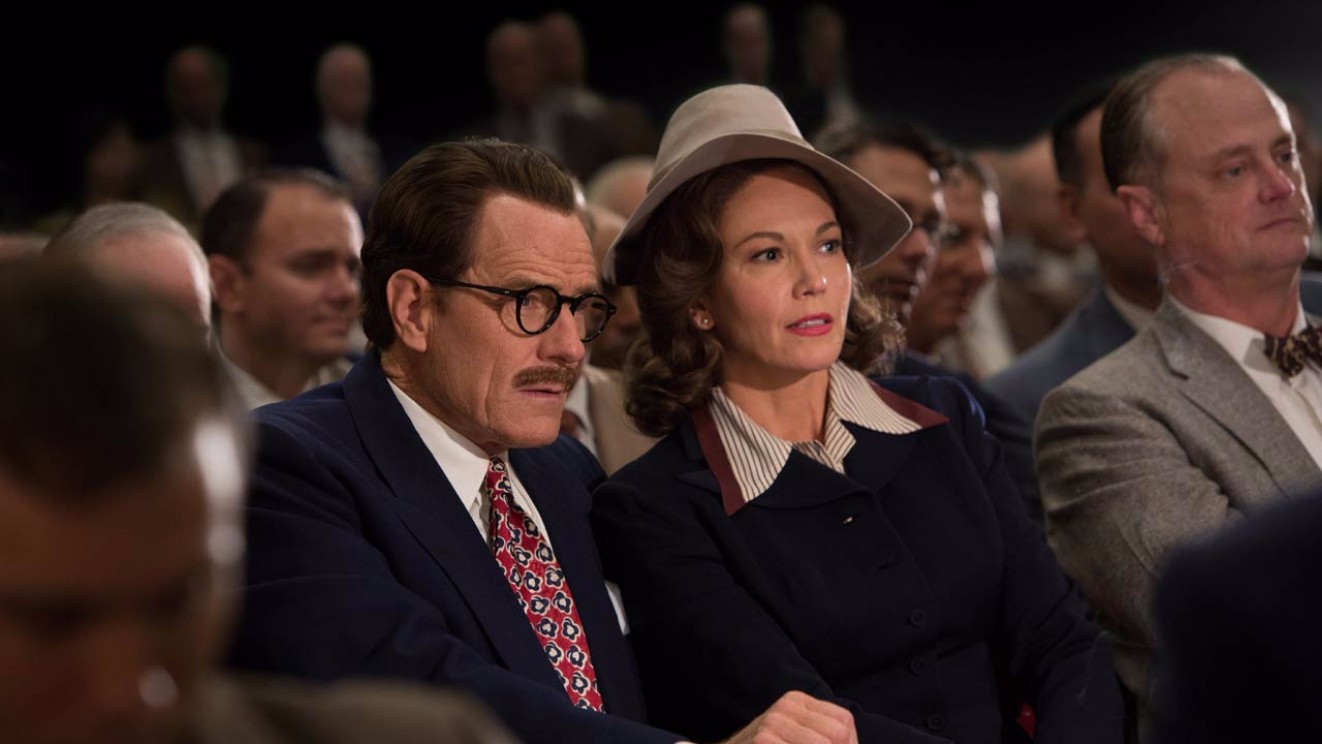 After his Emmy-winning run as unassuming chemistry teacher turned ruthless drug kingpin Walter White on AMC's "Breaking Bad," Bryan Cranston brings his transformative talents to the silver screen in "Trumbo," a biographical drama costarring Diane Lane, Louis C.K., John Goodman, and Helen Mirren.
Expertly adapted by John McNamara from Bruce Alexander Cook's biography, "Trumbo" is told with the same level of passion its subject exhibited in his fight for free speech against the House Un-American Activities Committee. A forceful biopic recounting Hollywood's fascinating but regrettable blacklist era, this Jay Roach directed drama is certain to turn awards voters' heads with its lush cinematography and exquisite acting, particular Bryan Cranston's towering central performance. Featuring a first-rate supporting cast led by Louis C.K. and Helen Mirren, and a sturdy screenplay that adds depth to a topic often referenced as a mere footnote, "Trumbo" is a superior period piece that is as entertaining as it is informative.
Set in the Red Scare years of the 40's and 50's, the film kicks off in 1943, when fear of communism was taking shape in America. It's during this time that Dalton Trumbo (Bryan Cranston) a National Book Award winner and Hollywood's highest paid screenwriter, joins the communist party as an ardent supporter of equal rights.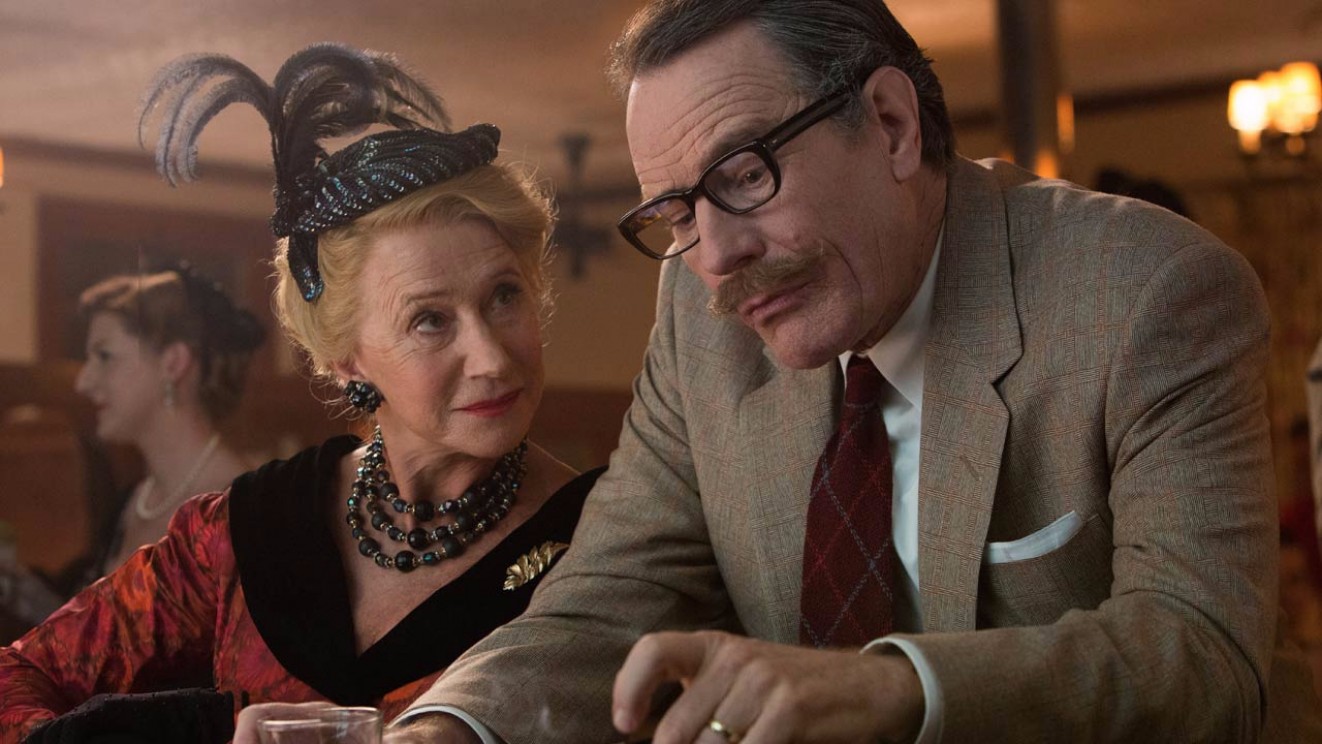 After crossing a picket line for Hollywood set builders, Trumbo is vilified in the press, especially by gossipmonger Hedda Hopper (Helen Mirren) and the Motion Picture Alliance for the Preservation of American Ideals, a conservative organization headed by John Wayne (David James Elliott). Soon thereafter, the Hollywood Reporter publishes an exposé identifying communists in the film industry, resulting in dozens being subpoenaed to testify before the House Un-American Activities Committee. Trumbo and nine others, better known as the Hollywood Ten, refuse to answer questions about their communist affiliations and are charged with contempt of congress and blacklisted from the motion picture business.
Following a ten-month stint in a Kentucky prison, Trumbo returns to a paranoid film industry from which he's been ostracized. Stripped of his livelihood, Trumbo turns to screenwriter friend Ian McLellan Hunter (Alan Tudyk), who agrees to sell Trumbo's scripts as his own, one of which wins the Academy Award for Best Screenplay ("Roman Holiday"). Seeing an opportunity to undermine the blacklist, Trumbo creates a cottage industry for exiled screenwriters, churning out cheap exploitation flicks under pseudonyms for B-movie moguls, the King Brothers (John Goodman and Stephen Root). But as Trumbo's fight to clear his name intensifies, it puts significant strain on his wife (Diane Lane) and three children (Elle Fanning, Mattie Liptak, Becca Nicole Preston).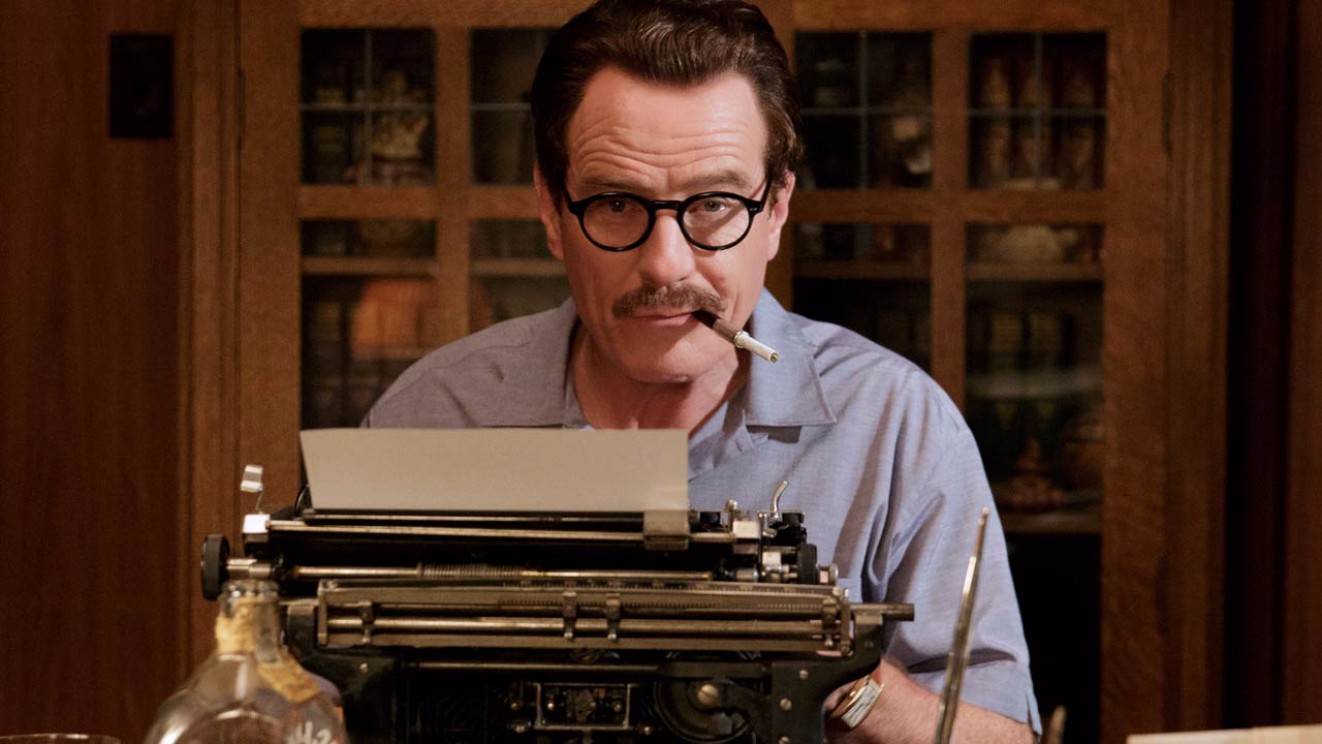 As John McNamara's script clarifies, the Hollywood blacklist was not nearly as clear-cut as the history books make it out to be, and "Trumbo" captures the subject's nuances with the humor, rage and incredulousness that it inspires. Story-wise, Trumbo's fight to clear his name was a long and arduous process, and there are times when the narrative is weighed down by a similar sense of exhaustion. Fortunately, Trumbo led a truly extraordinary life, and despite some somberness, the subject's trademark humor and post-prison adventures in the B-movie world provide levity that balances out the melodramatic moments.
Sporting a stylish mustache that could bring Tom Selleck to tears, Bryan Cranston is exceptional as the persecuted penman battling the blacklist. A man of many contradictions, the role of Trumbo is full of subtleties, and here Cranston not only shows off his full range but also makes it impossible to conceive of another actor in the role. Supporting actors are excellent across the board – Louis C.K. and Helen Mirren take top honors but also keep an eye out for Michael Stuhlbarg and Dean O'Gorman as screen legends Edward G. Robinson and Kirk Douglas.
Rated R for language including some sexual references
Running time: 124 minutes