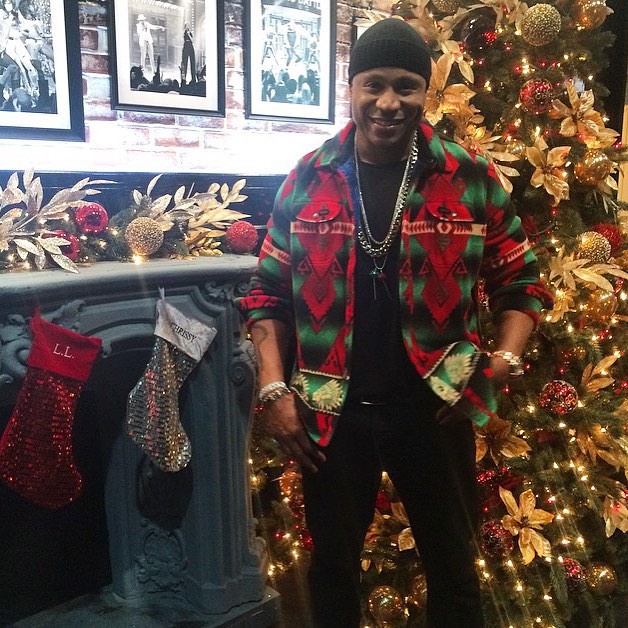 LL COOL J will host the 17th annual A HOME FOR THE HOLIDAYS, an entertainment special to be broadcast Friday, Dec. 18 (9:00-10:00 PM, ET/PT) on the CBS.
For the first time, this annual entertainment special goes behind-the-scenes at concert venues across the country to introduce children adopted from foster care to their music idols, each one inspiring the other. Special performances are dedicated to these children and their new adoptive families, whose stories are featured in pre-taped segments to help raise awareness of this important social issue.
The musical performances include Christina Aguilera singing "Beautiful" in Los Angeles; Jason Derulo singing "Want to Want Me" and "In My Head" at the Hard Rock Live in Hollywood, Fla.; Rascal Flatts singing "My Wish" and "I Like the Sound of That" at the Irvine Meadows Amphitheater in Irvine, Calif.; and Ed Sheeran singing "Thinking Out Loud" and "Photograph" at Verizon Center in Washington, D.C. Field segments are produced by award-winning documentary filmmakers Jeff Zimbalist and Michael Zimbalist.
CHILDREN WAITING:
Currently, there are more than 400,000 children in foster care in the United States. The inspirational "Children Waiting" segment gives voice to these forgotten children by creating an intimate portrait of their hopes, their dreams and their wish for a "Forever Family."
Each year, the special inspires thousands of families to consider adopting children in foster care, some of whom have been featured on the special.
Families featured on this year's special include:
MOOK FAMILY (PITTSBURGH, PA.)
Detective Jack Mook of the Pittsburgh Police Department didn't have plans to become a father when he started coaching street kids Joshua and Jesse, who had come to the gym looking for a safe place to spend the afternoon. He became close to them, taking them to dinner, buying them books and shoes. One day, they vanished, and Mook relentlessly tracked them down. He found them right before Christmas, living in deplorable conditions in a foster home, and got an emergency order to take them into his home. The boys have been thriving ever since. Jesse and Joshua are "A" students, and Joshua is in training, aiming for the Tokyo Olympic Boxing team.
VILES FAMILY (SEATTLE, WASH.)
College sweethearts Josh and Sarah Viles married and decided to adopt from foster care. Their social worker emailed them about Alex and his little sister, Brittney who had been pulled from appalling circumstances. Five-year-old Alex had often been left alone to take care of his little sister. "The day they took us into foster care, I didn't know what would happen, and I was worried about my sister," he said. The Viles knew that if they didn't say "yes," they would never know if the siblings might be separated, and didn't want to let that happen. Today, the children are thriving with their adopted brother, Baylen.
LEVY FAMILY (CANYON COUNTRY, CALIF.)
After Bob, a former foster child, and Carlotta Levy had their two sons, they decided to adopt a child from foster care. The Levys received a call about a little girl, Moriah, born drug-addicted, and who had shaken baby syndrome. The couple was told that she may never be able to walk. Adopted by the Levys, Moriah overcame the odds. Today, she is a gifted singer and dancer and has gained acceptance into a performing arts college.
ODEN FAMILY (LOS ANGELES, CALIF.)
Kenneth and Evette Oden both had children from previous marriages when they decided to adopt Kyle and Kynnedy. The children each needed immediate placement. "I remember looking in their eyes and the bond I felt was so strong," said Kenneth. Today, both children are high achievers in school, and Kyle is captain of his track team.
ALFONSO-MONREAL FAMILY (LONG BEACH, CALIF.)
Tonie and Bianca Alfonso-Monreal knew they wanted to be mothers someday. "When we looked into adoption, we knew that was the path for us as two women together," said Bianca. In 2013, the couple adopted their 4-year-old son, Jacob, who had moved through three foster homes in the first 18 months of his life. Today, Jacob is excelling in school. "I just can't imagine life without our son. If you're thinking about adopting, you have the chance to give a child the love that they deserve. And there are so many amazing children still waiting," said Tonie.