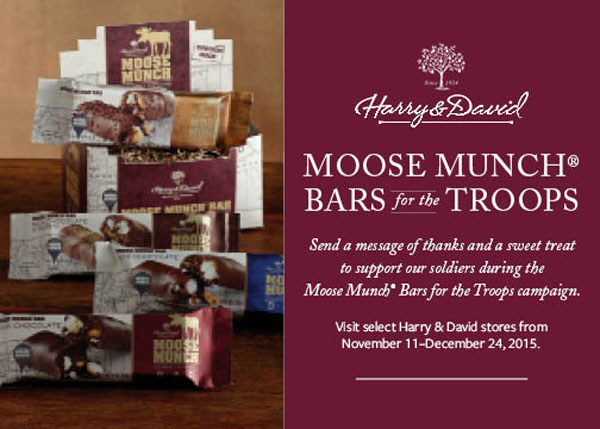 Harry & David launched its semiannual "Moose Munch® Bars for the Troops" program in honor of Veterans Day.
As part of a semiannual promotion with Soldiers' Angels, a non-profit agency that ships care packages to soldiers, the program allows families, friends, and supporters of our troops in the U.S. armed forces to send Harry & David® Moose Munch® treats to servicemen and women overseas.
From November 11, 2015 until December 24, 2015, Harry & David retail stores nationwide will offer customers the opportunity to purchase Moose Munch® Bars and give them to servicemen and women with a personalized message. Since the inception of the program in Spring of 2010, nearly 440,000 Moose Munch® Bars have been shipped to Army, Navy, Marine, Air Force and National Guard personnel overseas, as well to veterans and their families nationwide.
When a consumer decides to send a Moose Munch® Bar as part of the program, each bar and note are packaged with a plastic spoon and sent to Soldiers' Angels to be dispersed to military bases abroad, as well as to local U.S.-based military families. At many military bases, the 100-degree heat melts the signature chocolate, caramel popcorn, and nuts confection into a lusciously gooey treat that makes it easy for our soldiers to enjoy the sweet taste of home. Most perishable dessert items cannot be shipped abroad, but Moose Munch® Bars continue to be one of the most requested items from soldiers serving overseas.
Harry & David also offers a 15% discount to servicemen and women year-round, both in stores and online, at www.military.com/discounts/harry-and-david-military-discount, in addition to a full selection of gourmet care packages for soldiers that ship to military bases abroad.
Moose Munch® Bars retail for $2.95 each, or two for $5.00. For Harry & David store locations nationwide, visit Harry & David's store locator at http://www.harryanddavid.com/h/storelocator. For additional information on the Harry & David brand, visit us at www.HarryandDavid.com, connect with us at www.facebook.com/HarryandDavid, or follow us on www.twitter.com/HarryandDavid.