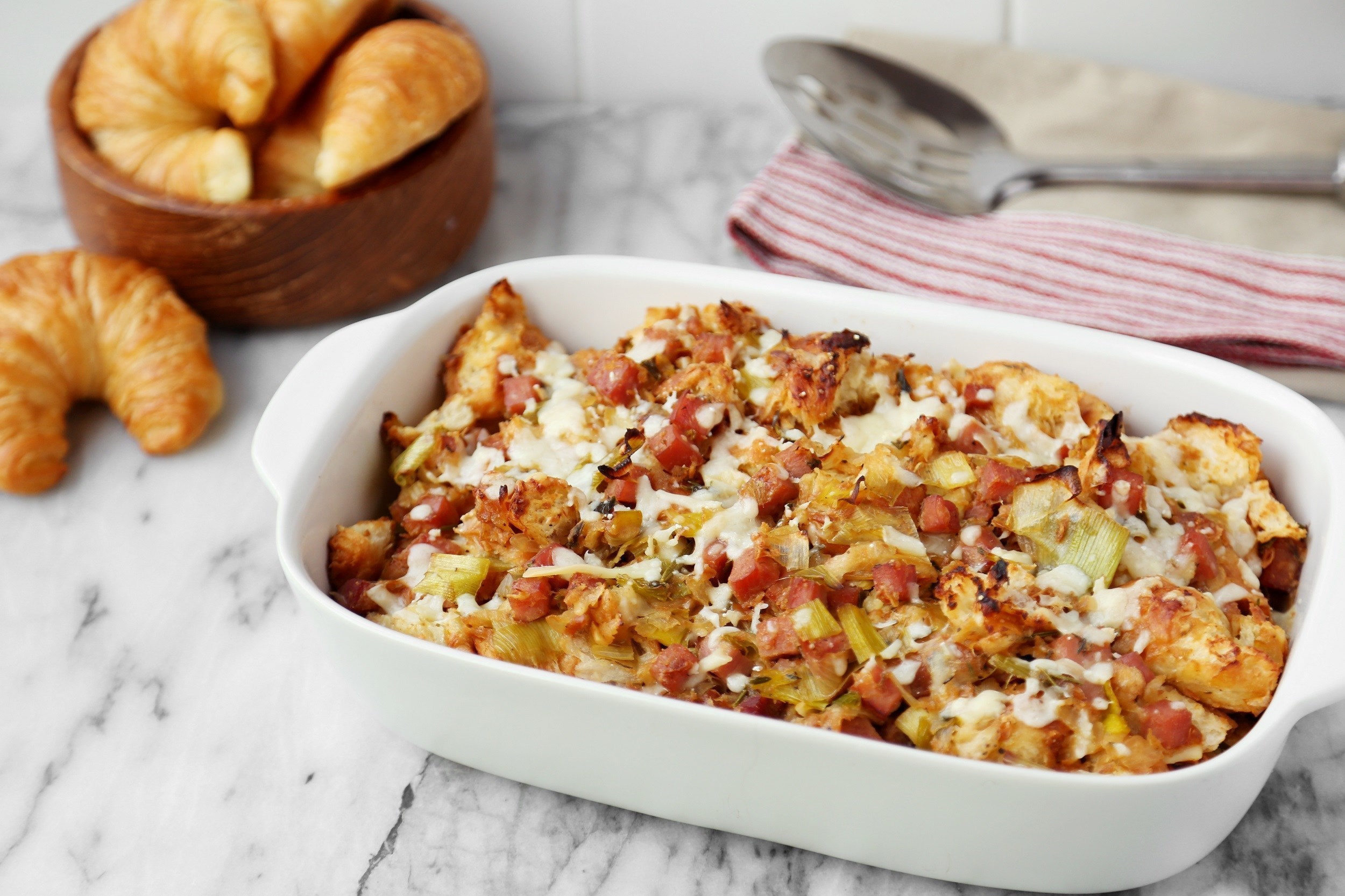 Stuffing is a Thanksgiving staple… after the turkey of course. In preparation for one of our favorite holidays, Jones Dairy Farm has added more than 20 new recipes to its one-of-a-kind stuffing recipe collection on StuffingandMore.com. The site, which launched last year, is the ultimate resource for stuffing, sharing nearly 50 delicious recipes featuring Jones Dairy Farm products such as all-natural sausage, dry-aged bacon, Canadian bacon and naturally-smoked ham.
New recipes include Poutine Stuffing with Jones Sausage, Jones Ham and Cheese Croissant Stuffing, Pumpkin Pie Stuffing with Jones Baconand Jones Sausage and Buttermilk Biscuit Stuffing.
Try this one out for the friends and fam!
Ham and Cheese Croissant Stuffing
Recipe by Jonathan, The Candid Appetite
Prep: 30 min
Cook Time: 25 minutes
Total Time: 55 minutes
Servings: 6-8 servings
WHAT YOU NEED:
6 large pain croissants, torn into pieces
1 tablespoon oil
1 tablespoon unsalted butter
2 (7oz) packages Jones Dairy Farm Ham Steaks, cubed
1 medium yellow onion, chopped
4 green onions, chopped
2 garlic cloves, minced
2 medium leeks, sliced and cleaned
1 teaspoon chopped fresh thyme
1 teaspoon chopped fresh rosemary
1/4 teaspoon dried oregano
1/2 teaspoon salt
1/2 teaspoon black pepper
6 tablespoons chicken stock
2 teaspoons Dijon mustard
1/2 cup shredded gruyere cheese
WHAT TO DO:
Preheat oven to 350oF. Lightly grease 2-quart baking dish with butter or cooking spray, set aside.
Spread croissant pieces in an even layer on baking sheet and bake for 5 to 8 minutes to toast. Remove from oven and allow to cool completely.
Place large saucepan over medium-high heat with oil and butter. Melt butter; add ham. Cook for 2 to 3 minutes, stirring occasionally, until brown and crispy.
Add onion, green onions, garlic and leeks; saute until soft and translucent, about 8 minutes. Stir in thyme, rosemary, oregano, salt and pepper. Cook for 1 to 2 minutes.
Add toasted croissant pieces, chicken stock, Dijon mustard and half cheese. Stir until evenly combined; should be somewhat moist. Transfer to prepared baking dish and sprinkle with remaining cheese. Bake for 20 to 25 minutes or until heated through and golden brown on top.