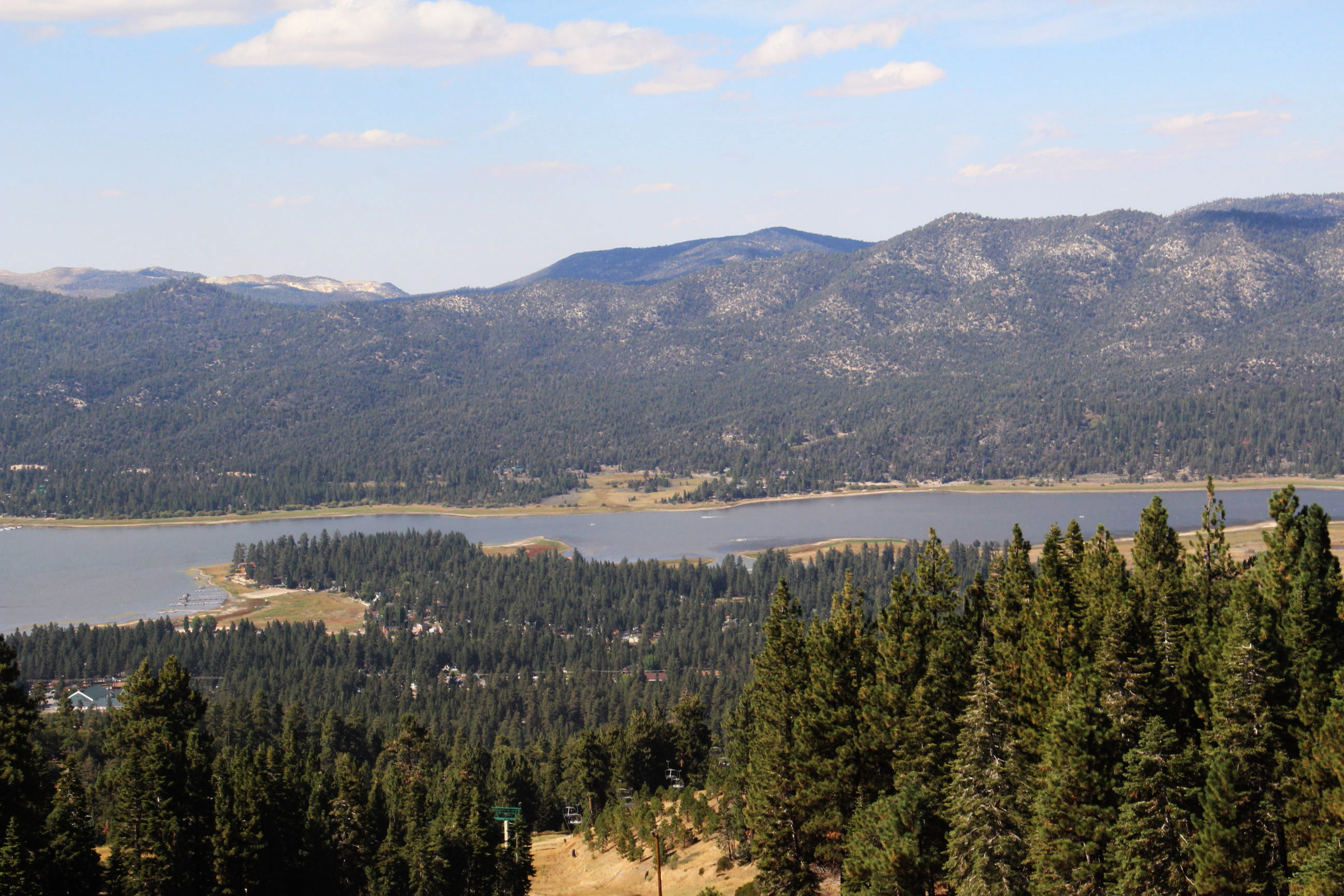 If you live in the city, whether it be Los Angeles or New York, you understand the feeling you get when Autumn arrives. I always have the urge to trade in the skyscrapers and bumper-to-bumper traffic for mountain views and the fresh scent of pine trees. Lucky for those who live in Southern California (LA), we are an easy two-hour drive to Big Bear Lake.
After visiting for the first time last year for their annual Oktoberfest celebration, Big Bear now holds a special place in my heart. It's the perfect weekend getaway escape for a peace of mind recharge. This time around, I was sure to experience some of the best activities and attractions that the town has to offer. After all, fall is one of the best seasons to visit the lake (Skiers and snowboarders might disagree ;-)). LATF's movie critic, Lauren Steffany was my partner in crime for the weekend!
When we arrived on a Friday evening, the air was crisp and the sky was clear. Unlike an LA night, we could see every constellation in the sky. This year, we had the ultimate cabin experience. If you're visiting with a group of friends or even family, I recommend Resort Town Rentals. With 35+ cabins, lodges and other properties around Big Bear, you can actually feel as if you're right at home. Situated just down the road from Oktoberfest at the Convention Center, our two bedroom cabin was clean, cozy and quiet. Wi-fi, large flat screen TVs, a fireplace, a full kitchen… what more could you ask for? http://resorttownrentals.com/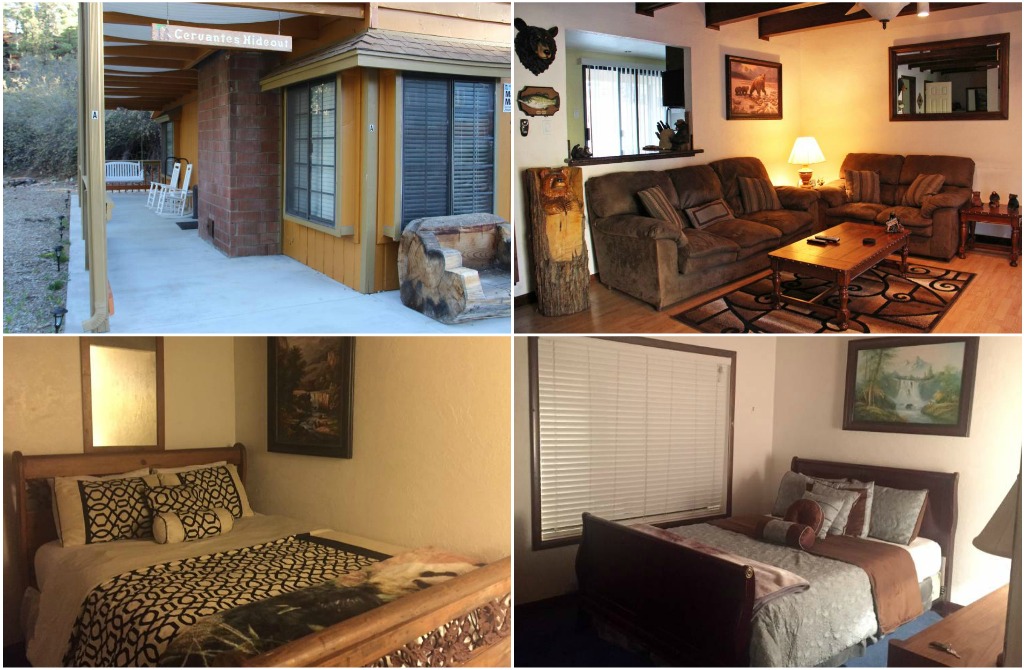 Our cabin: KC's Hideout
On Saturday morning, we headed to Holloway's Marina. Instead of a cup of coffee, all we needed was a boat ride around the lake. You can drive right up to the dock and check-in down by the water. The staff at Holloway's are more than accommodating. We had our very own pontoon boat and even got to drive the boat ourselves! For about two hours, we circled the lake and caught some beautiful photographs of the mountain views.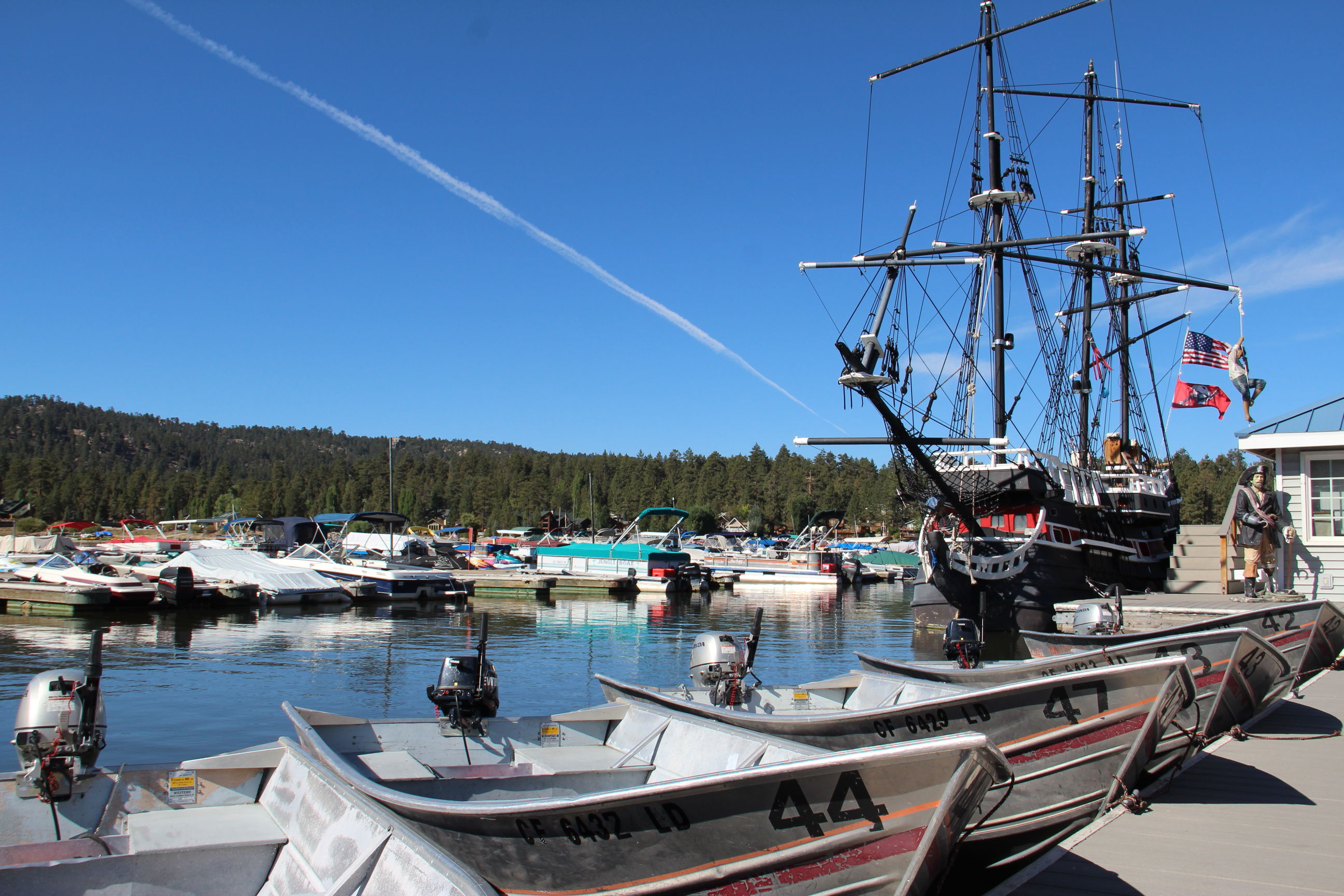 They also offer other boating choices. You can go fishing, rent fishing equipment, take wakeboard and waterski rides, rent kayaks and canoes, ride the pirate ship, and much more! http://www.bigbearboating.com/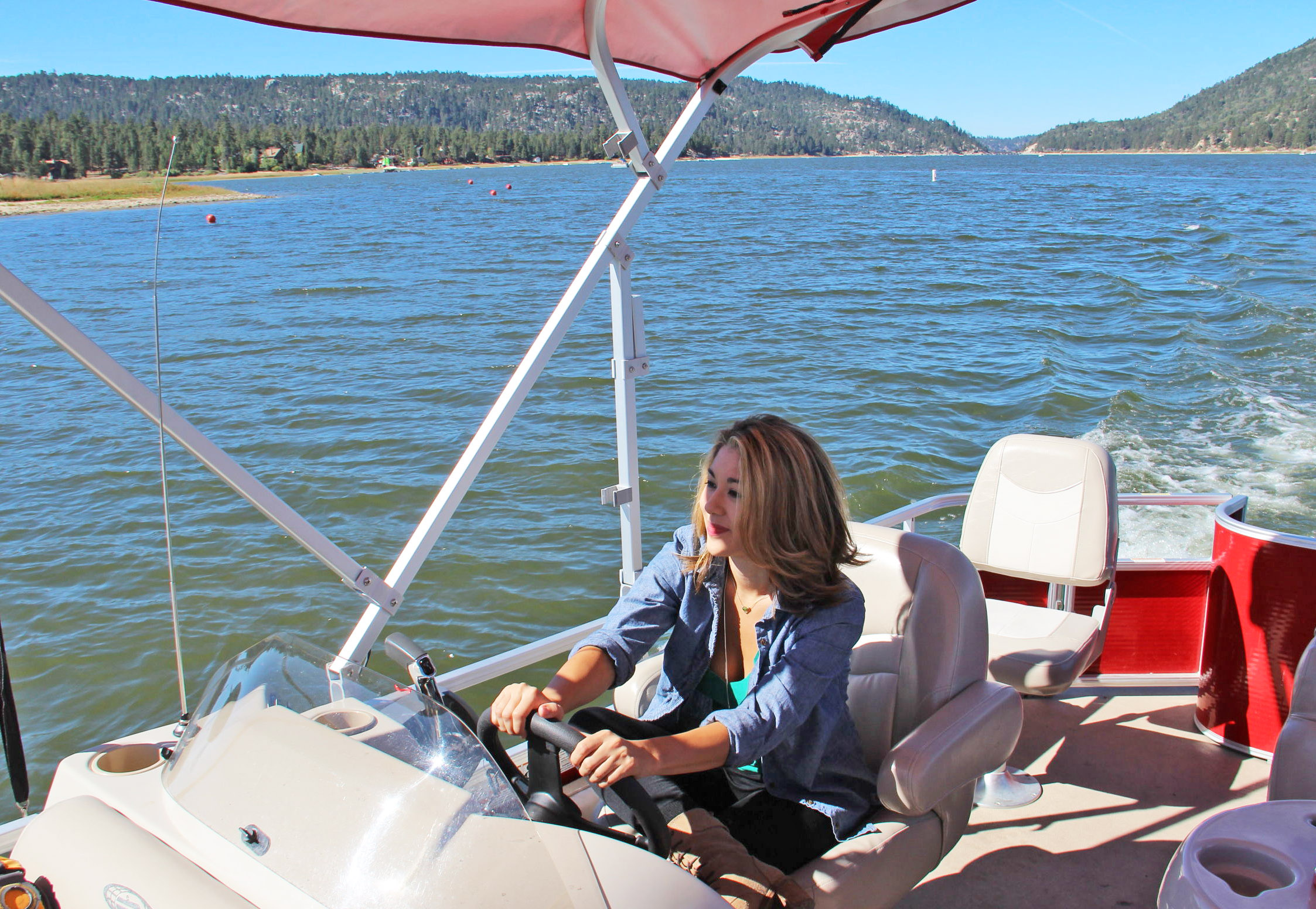 Before heading to our next destination, we stopped by the Main Village for some shopping and lunch. You have your pick of old-fashioned diners, pubs and more. On the shopping end, I got my favorite lace up winter boots from Belladonna Clothing Company, and I just couldn't say no to bringing home a carved bear from one of the souvenir shops. Walking and driving around Big Bear, it's hard not to notice the amount of beef jerky shops. I happen to be a beef jerky fanatic, so I stopped by House of Jerky to stock up!

If you think we stopped there, the day was only just getting started. In September and October, many tourists come to the lake for the beautiful foliage. While most of the trees still had their evergreen colors, we took the Scenic Sky Chair at Snow Summit for some breathtaking views. This is the best place to get your memorable panoramic shot of the lake and mountains. The mile-long Scenic Sky Chair transports sightseers, hikers, cross-country and downhill mountain bikers through the San Bernardino National Forest to an elevation of 8,200 feet! You can't come to Big Bear without checking Scenic Sky Chair off of your travel bucket list. http://www.bigbearmountainresorts.com/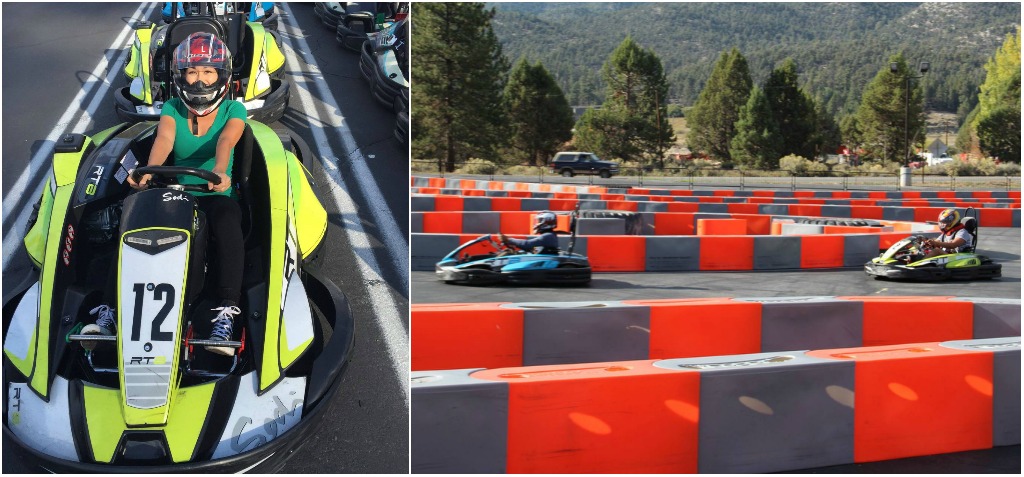 Now, if you're a daredevil… without snow to ski down, it's hard to get that adrenaline rush. But in the fall, Big Bear Speedway is all you need! I'm a bit of a fast car fanatic, so the speedway was at the top of my agenda. Right across from the Convention Center, BBS let's you drive SODI RT8 Karts and compete against the clock while reaching speeds of up to 30 mph (which feels more like 90mph on the track). The Formula 1 race car look alikes have innovative technology designed to handle twists and turns with precision. After watching a short safety video, you helmet-up and buckle-up. Each heat includes more than two miles of racing with an average of 10 to 14 laps per heat. Shout out to my racing partner (Lauren missed out!) Miguel Rosa, who sped past me in the second lap! http://bigbearspeedway.com/
After a quick rest back at the cabin… we were ready for the main event. This is a particularly special year for Big Bear Lake Oktoberfest. It's their 45th anniversary! For their birthday, they added an extra weekend… so you can book your trip from now until October 31. BBL Oktoberfest prides itself as the closest thing to the original celebration in Munich, Germany.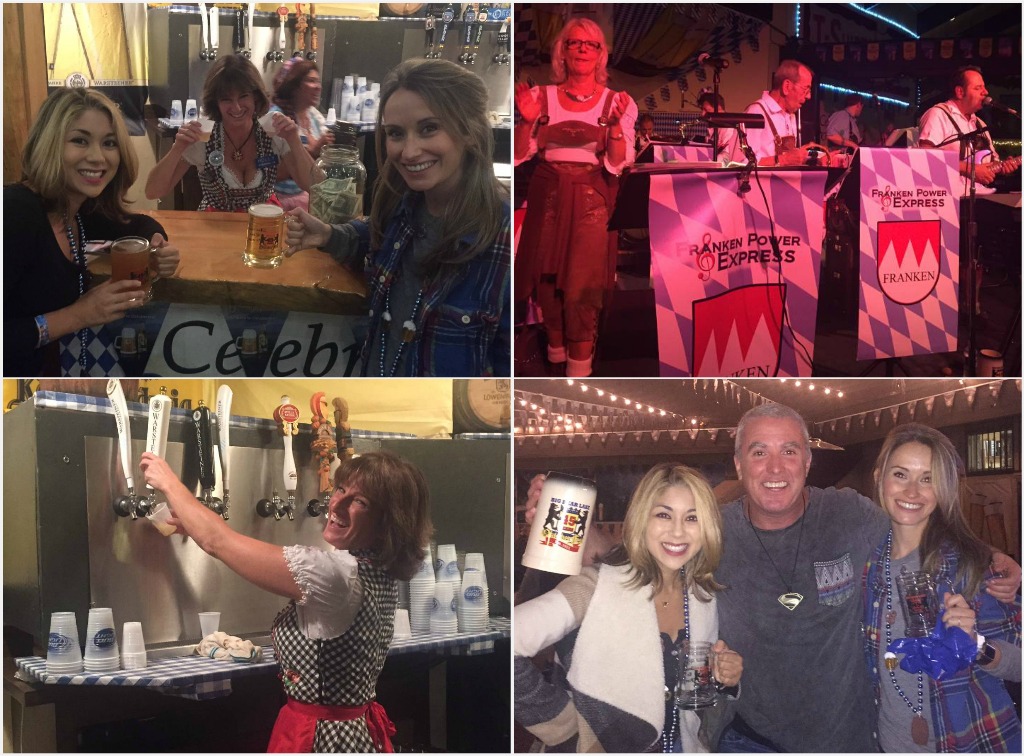 Pictured Bottom Right Image: Pamela Price, Big Bear's Director of PR Dan McKernan, Lauren Steffany
With the festivities right down the road, we followed the sounds of music and the cheers from the new beer garden, called the Warsteiner Buden Strasse Biergarten. The merriment, dancing and singing was in full speed. Outside, shopping vendors have tents lining the Convention Center. Scarves, roasted chestnuts, candle-makers… you name it, they sell it. With tables inside and outside, the crowds were merry with at least two pints in hand-per person.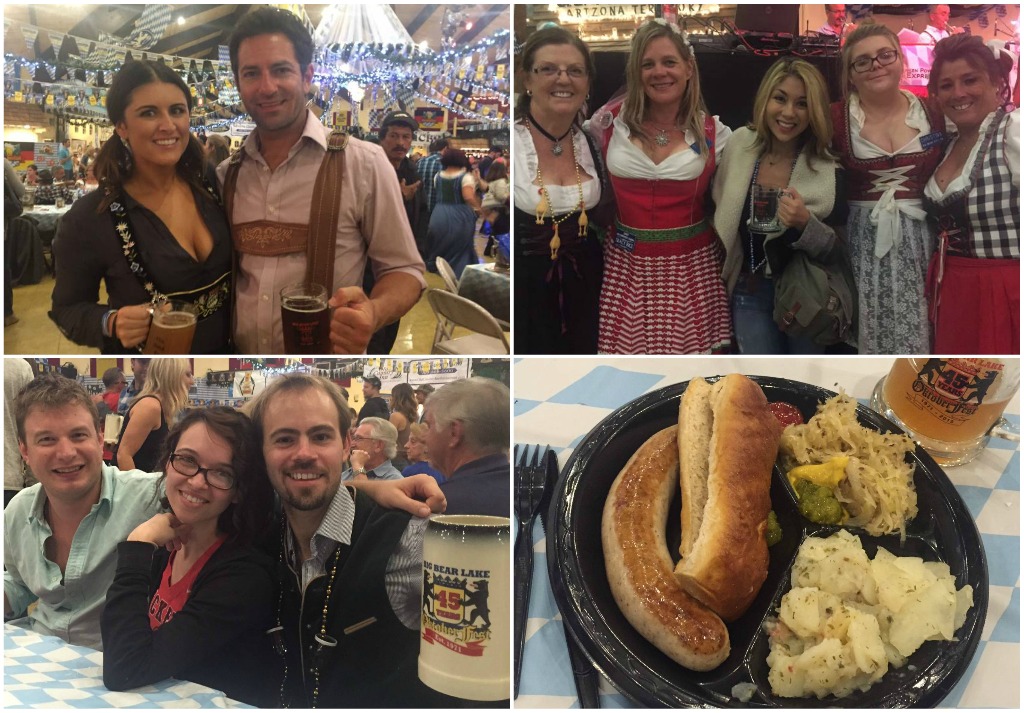 Pictured Bottom Left Image: The winner of the beer pong competition!
Inside, everyone is smiling from ear to ear. The Franken Power Express Band came all the way from Hammelburg, Germany and performed all night long, with a unique blend of traditional German polkas and American pop music. Here's the best order of the night if you want to play by my Oktoberfest rules: grab a pint of beer (I loved the pumpkin Shock Top!), have a plate of bratwurst, sauekraut and potatoes, take a break.. and then dance the night away.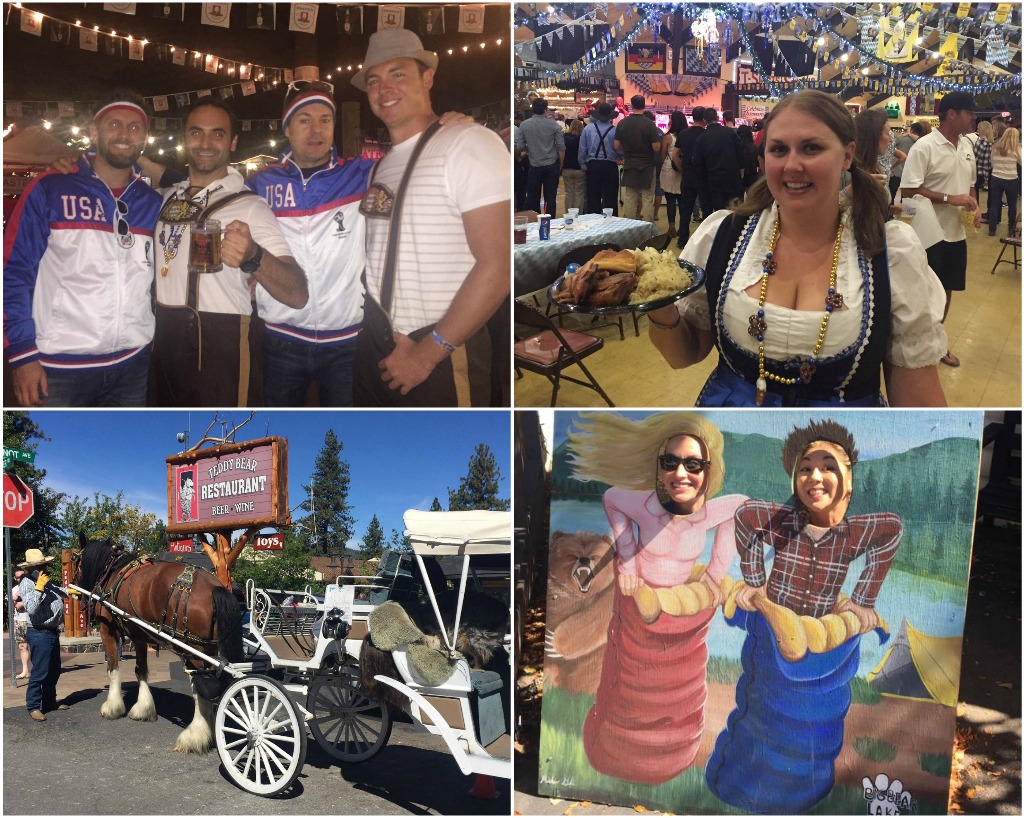 If you need another breath of fresh air, take a walk around the center and enjoy the vendors outside. This year, Oktoberfest added new competitions; even a beer pong event! Of course, at the end of the night, it's not ideal to walk back home. Luckily, this year Big Bear offered complimentary shuttles, giving rides to everyone. It was comforting to know that the city takes care of their residents and guests; making sure they get home safe and sound!
It was another memorable weekend at Big Bear Lake, and I'm always sad to wave goodbye to the magnificent evergreen landscape. But I know I'll be back soon.
Special thank you to Dan McKernan!
To book your trip to big bear, visit the official website for prices, reservations and more: http://www.bigbear.com