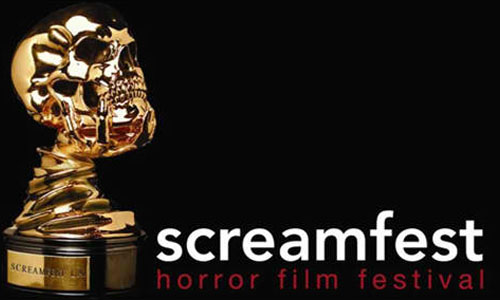 Screamfest Horror Film Festival will honor "PARANORMAL ACTIVITY" director Oren Peli and production company Blumhouse at this year's festival at the TCL Chinese Theater in Hollywood.
Jason Blum will accept the Future Icon Award on behalf of Blumhouse during Opening Night on Tuesday, October 13th. Oren Peli will be honored with the Trailblazer Award at the Closing Night screening of "PARANORMAL ACTIVITY: THE GHOST DIMENSION" on Thursday, October 22nd, which marks the series' return to the festival where the first "PARANORMAL ACTIVITY" film made its debut in 2007.
"Screamfest has played such an important part in the 'PARANORMAL ACTIVITY' franchise so it's only natural that we end it where it all began," said Blum. "Our company loves making all things scary so we are so grateful to receive this award and hope that the fans have an amazing time at the festival."
"It's an honor to receive the Trailblazer Award from Screamfest, which has supported independent films and filmmakers, all trailblazers in their own right, for years," said Peli. "The original 'PARANORMAL ACTIVITY' had its world premiere at Screamfest eight years ago, which led to the film's distribution and the creation of the franchise. I am thankful to Screamfest for its hand in launching the franchise and, after five sequels, I can't think of a more fitting closure than to come full circle for the screening of the final 'PARANORMAL ACTIVITY' film."
Commented Rachel Belofsky, Screamfest Founder and Festival Director: "Jason Blum and Blumhouse Productions have revitalized the horror genre by consistently delivering quality films that have turned into successful franchises, such as 'PARANORMAL ACTIVITY,' 'THE PURGE,' and 'INSIDIOUS.' By empowering filmmakers and giving them creative freedom, Blumhouse has quickly established itself as an icon in the genre and we look forward to its many future hits."
In addition to screening the latest film on Closing Night, Screamfest will host a special screening of the original "PARANORMAL ACTIVITY" on Wednesday, October 21st at the TCL Chinese 6, followed by Q&A with Oren Peli.
As a tribute to the original film's most passionate fans, for the first time ever, Screamfest will expand nationwide with special advance screenings of "PARANORMAL ACTIVITY: THE GHOST DIMENSION" in the 12 markets in which the first film opened with "Demand It" fan screenings before its theatrical run in 2009.
The 2015 Screamfest Film Festival will run October 13th through October 22ndat the TCL Chinese Theater. Tickets are available at http://screamfestla.com.