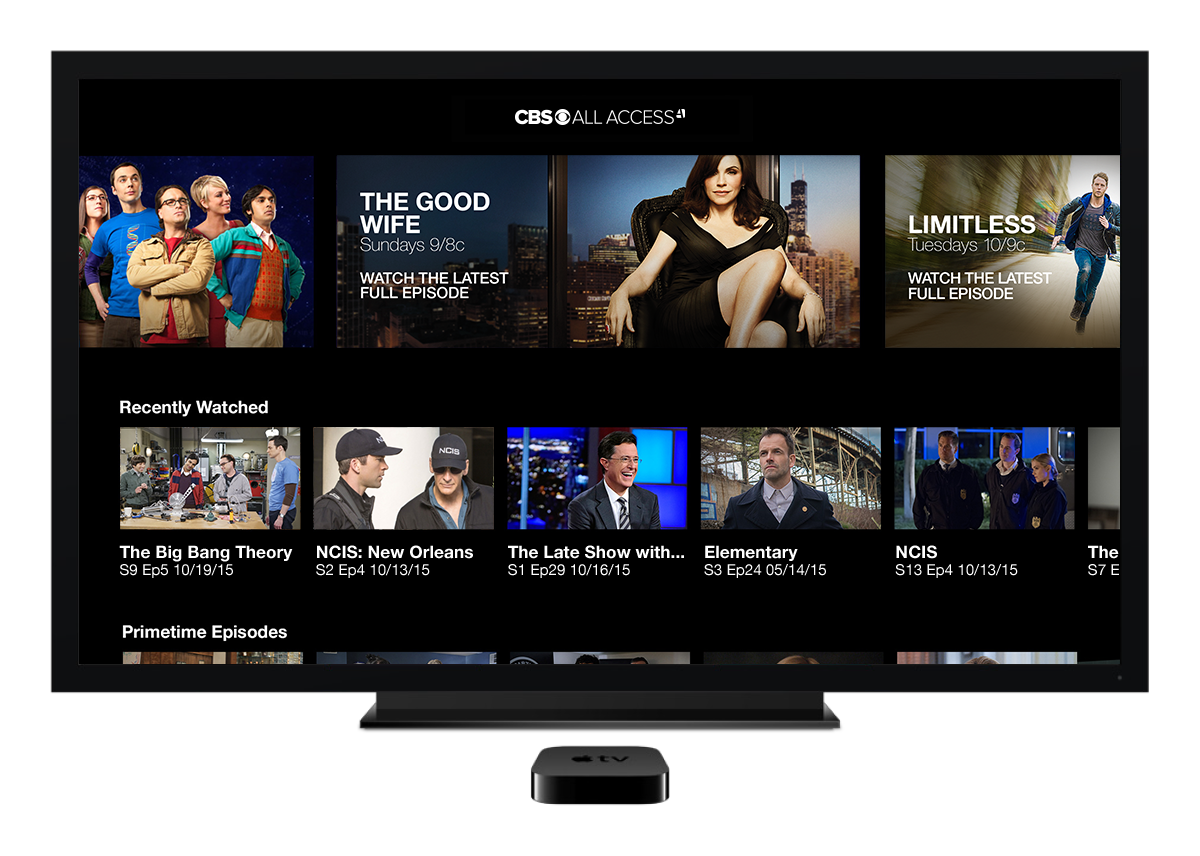 CBS launched CBS All Access, the CBS Television Network's digital subscription video on demand and live streaming service, on Apple TV.
For $5.99 a month, CBS All Access will offer Apple TV users more than 7,500 episodes from the current season, previous seasons and classic shows on demand, as well as the ability to stream their local CBS Television station live in more than 100 markets across the U.S., including New York, Los Angeles, San Francisco, Chicago and Philadelphia, with more to be added soon.
New subscribers can sign up for a CBS All Access subscription and a free week-long trial directly through Apple TV, while current CBS All Access subscribers can simply log in using their existing username and password.
The CBS All Access channel brings all of the benefits currently available to CBS All Access subscribers to Apple TV, including:
Full current seasons of 24 shows with episodes available the day after they air, including LIMITLESS, ELEMENTARY, THE GOOD WIFE and SCORPION.
The ability to live stream the local CBS station in more than 100 markets across the U.S., with more to be added as affiliates join the CBS All Access service.
Full past seasons of 10 major current series, including THE GOOD WIFE, NCIS and HAWAII FIVE-0.
More than 7,500 episodes available on-demand in an advertising-free environment, including all episodes of popular CBS classics such as STAR TREK, CHEERS, MEDIUM and CSI: MIAMI.
Access to exclusive additional content for CBS Television's biggest special events, including THE GRAMMY® AWARDS, THE ACADEMY OF COUNTRY MUSIC AWARDS and THE VICTORIA'S SECRET FASHION SHOW.
To learn more about CBS All Access on Apple TV and to sign up for a free week-long trial, visit CBS All Access on Apple TV, or go to http://cbs.com/all-access/appletv.
To view a video introduction to CBS All Access, visit: http://www.cbs.com/allaccess.