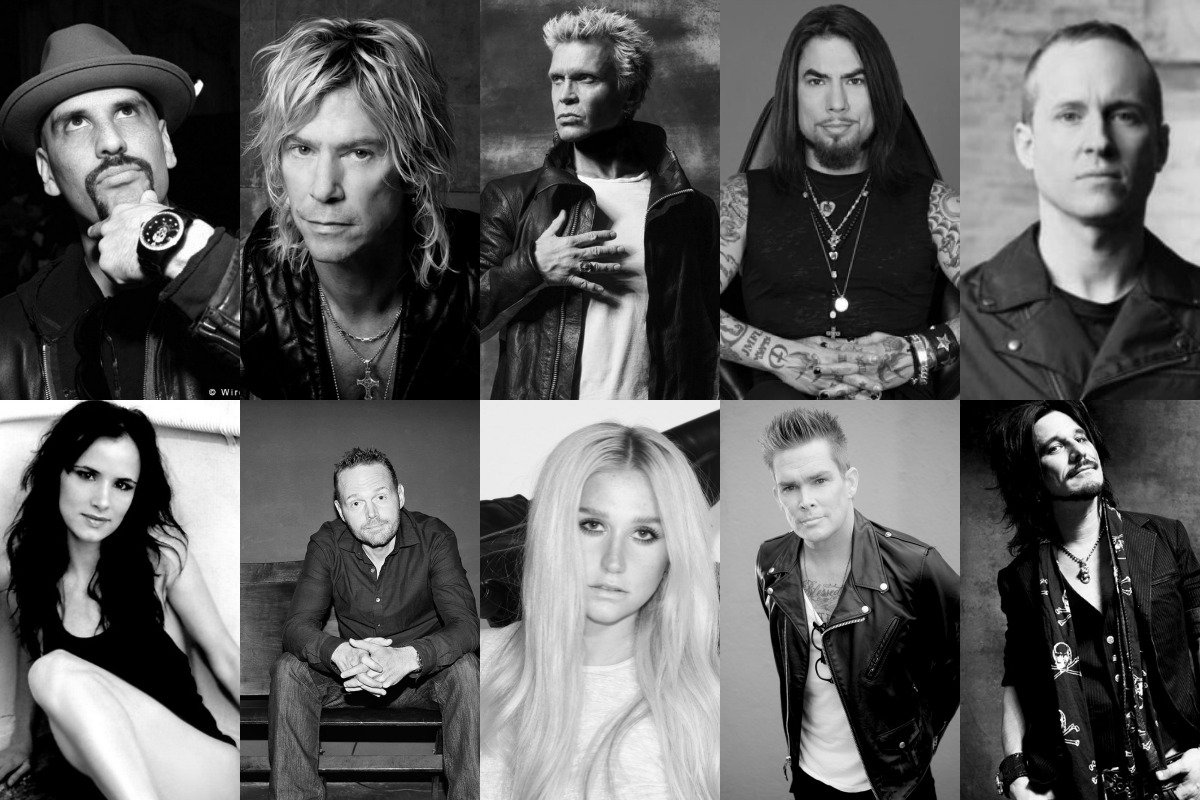 The multi-platinum British rock icon BILLY IDOL has joined the list of music luminaries set to perform at the benefit concert for RHONDA'S KISS–a foundation that raises money for cancer patients who can't afford treatment–on Tuesday, November 3 at The El Rey Theatre in Los Angeles (5515 Wilshire Blvd). All ticket and VIP packages for the night are on-sale now (here).

Presented by Double Platinum, for the one-night-only event, renowned comedian and actor BILL BURR (Breaking Bad, Walk of Shame) will perform a special 30-minute set as well as emcee the event.Meanwhile, THE HELLCAT SAINTS–a band featuring a revolving group of musicians created by DAVE KUSHNER (Velvet Revolver)–including DAVE NAVARRO (Jane's Addiction), JULIETTE LEWIS (Juliette & The Licks), DUFF McKAGAN (Velvet Revolver, Guns N' Roses), GILBY CLARKE (Guns N' Roses), MARK McGRATH (Sugar Ray), JOSH FREESE (NIN, Devo, A Perfect Circle) and pop-singer-songwriter KESHA, will perform.

The night will also feature a VIP Gift Lounge from Double Platinum (Grammy Foundation, VH1 Save the Music, Sundance Film Festival), a talent meet-and-greet and a silent auction. The proceeds from the concert and auction (see items below) will benefit RHONDA's KISS. For tickets and VIP packages, visit: (here).

RHONDA'S KISS (http://rhondaskiss.org) is supported by the Marc A. and Rhonda L. Stefanski Foundation, a recognized 501(c)(3). In 2014, Rhonda Stefanski was diagnosed with stage 4 Pancreatic Cancer. While she lost her battle, one of the greatest gifts she left was to create Rhonda's Kiss an event to raise money to help those who receive a cancer diagnosis, but may be unable to make ends meet for treatment and support. Rhonda's Kiss provides financial support to decrease late-stage cancer diagnosis in urban communities and for patients in financial need by using a three-pronged approach that integrates outreach (education, awareness and screening), navigation (medical and home) and patient services (treatment and financial assistance and emotional support). All funds will benefit City of Hope, a leading research and treatment center for cancer, diabetes and other life-threatening diseases.

"The goal of the event is to provide an outlet for healing for our family, and to raise money to assist people in need who require financial assistance during cancer treatment," said Marc A. Stefanski, husband of Rhonda and Executive Director of the Marc A. and Rhonda L. Stefanski Foundation. "We were able to afford the best of care for Rhonda, and we realize not everyone is as fortunate as we are."

Musician Dave Kushner (Velvet Revolver) adds, "Many people close to us have been touched personally by cancer, as I know first-hand, as the two most important women in my life have been affected cancer. I believe that, regardless of our backgrounds, access to treatment to beat this disease should be available to everyone."

Ticket prices for the RHONDA'S KISS event are below; all donations are tax deductable:

1) General Admission: $75. Per ticket- (Limited to 400)
Standing room show tickets
Includes Appetizers & Cocktails

2) VIP Ticket: $250. Per ticket – (Limited to 76 tickets)
Includes downstairs table seating, to relax and view show
Includes Appetizers & Cocktails

3) Mezzanine VIP Access: $1,000. Per ticket (Limited to 100 tickets)
Includes Access to VIP Gift Lounge & Gifts presented by Double Platinum.
Access to Meet & Greet with band
Access to MC/ Host Meet & Greet
Includes Appetizers & Cocktails
All tickets for the event are available (HERE).