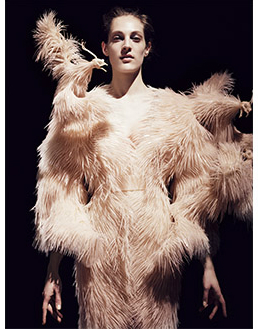 The Metropolitan Museum of Art announced that The Costume Institute's spring 2016 exhibition will be manus x machina: fashion in an age of technology, on view from May 5 through August 14, 2016 (preceded on May 2 by The Costume Institute Benefit).
Apple has made their way into the fashion world, now officially presenting the exhibit as a sponsor, with support from Conde Nast.
Shown in the Museum's Robert Lehman Wing and Anna Wintour Costume Center, the exhibition will explore the impact of new technology on fashion and how designers are reconciling the handmade and the machine-made in the creation of haute couture and avant-garde ready-to-wear.
"Fashion and technology are inextricably connected, more so now than ever before," said Thomas P. Campbell, Director and CEO of the Met. "It is therefore timely to examine the roles that the handmade and the machine-made have played in the creative process. Often presented as oppositional, this exhibition proposes a new view in which the hand and the machine are mutual and equal protagonists."
In celebration of the exhibition opening, the Museum's Costume Institute Benefit, also known as the Met Gala, will take place on Monday, May 2, 2016. The evening's co-chairs will be Idris Elba, Jonathan Ive, Taylor Swift, and Anna Wintour. Nicolas Ghesquière, Karl Lagerfeld, and Miuccia Prada will serve as Honorary Chairs. This event is The Costume Institute's main source of annual funding for exhibitions, publications, acquisitions, and capital improvements.
Jonathan Ive, Apple's Chief Design Officer, said, "Both the automated and handcrafted process require similar amounts of thoughtfulness and expertise. There are instances where technology is optimized, but ultimately it's the amount of care put into the craftsmanship, whether it's machine-made or hand-made, that transforms ordinary materials into something extraordinary."
manus x machina will feature more than 100 examples of haute couture and avant-garde ready-to-wear, dating from an 1880s Worth gown to a 2015 Chanel suit. The exhibition will reflect on the founding of the haute couture in the 19th century, when the sewing machine was invented, and the emergence of a distinction between the hand (manus) and the machine (machina) at the onset of industrialization and mass production. It will explore the ongoing rhetoric of this dichotomy in which hand and machine are presented as discordant instruments in the creative process, and will question this oppositional relationship as well as the significance of the time-honored distinction between the haute couture and ready-to-wear.