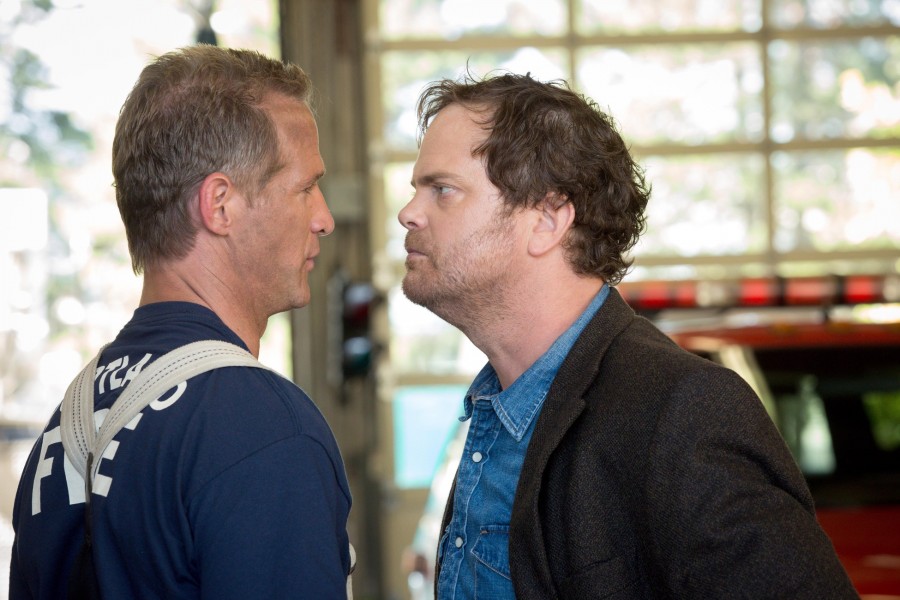 Photo: Liane Hentscher/FOX

FOX's hilarious new series, BACKSTROM premieres Thursday night at 9:00-10:00 PM ET/PT. 
From creator/executive producer Hart Hanson (BONES), BACKSTROM is a subversive and comic crime procedural about an unhealthy, offensive, irascible – albeit brilliant – detective who sees the worst in everyone, and he's usually right.
Detective Lieutenant EVERETT BACKSTROM (Emmy Award nominee Rainn Wilson, "The Office") is a man with no filter. After a five-year banishment to the traffic division for offensive behavior, he has returned from disgrace to lead Portland's newly minted Special Crimes Unit (S.C.U.).Tasked with navigating the city's most sensitive and serious cases, he must solve each crime as he tries, and fails, to change his own self-destructive behavior.
Whether outsmarting his foes, including his ex-fiancee (recurring guest star Sarah Chalke, "Scrubs"), or guiding his eccentric team of investigators and civilians, featuring Dennis Haysbert ("24," "The Unit"), Genevieve Angelson ("House of Lies"), Kristoffer Polaha ("Ringer," "Life Unexpected"), Page Kennedy ("Blue Mountain State," "Weeds"), Beatrice Rosen ("The Dark Knight") and Thomas Dekker ("Terminator: The Sarah Connor Chronicles"), Backstrom always manages to crack the case.
But his highly unorthodox process invariably leads to clashes with everyone around him, from his fellow law enforcement colleagues, to the Fire Department, to Portland's local charities, to the city's drag queens, to half of Chinatown and an entire Indian Reservation. When Backstrom's investigating, nobody comes out unscathed.
BACKSTROM is from Far Field Productions in association with 20th Century Fox Television. The series is created and written by Hart Hanson, and based on Swedish criminologist and novelist Leif G.W. Persson's hit series of books featuring the "Everett Backstrom" character. The series is executive-produced by Hanson, Kevin Hooks, Persson and Niclas Salomonsson. Mark Mylod executive-produced and directed the pilot. "Like" BACKSTROM on Facebook at facebook.com/BackstromFOX. Follow the series on Twitter @BackstromFOX and join the discussion using #backstrom. See photos and videos on Instagram by following @backstromfox.