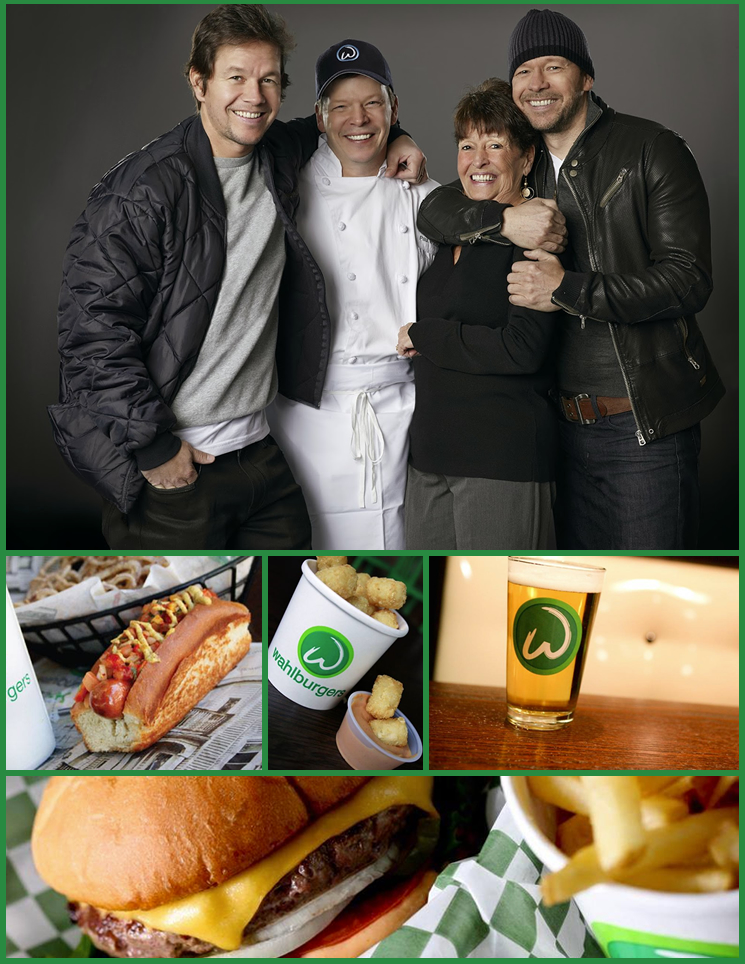 The Wahlberg family's famed Wahlburgers is coming to Las Vegas in late 2015 with its restaurant opening at Grand Bazaar Shops at Bally's Las Vegas. The popular, fast-casual burger restaurant founded by brothers Mark, Donnie and Paul Wahlberg and subject of A&E Network's Emmy-nominated reality show, will feature gourmet burgers and specialty drinks. The restaurant will bring yet another first-to-market, unique experience to Las Vegas' newest outdoor retail shopping attraction.
The new 5,000 square-foot restaurant, bar and retail store will be right in the middle of all the action adjacent to the newly-opened Starbucks. Wahlburgers restaurant will be situated at the tip of the center's Grand Allée, which highlights a myriad of boutique shops and open-air walkways and will be within steps from the main pedestrian entrance to Bally's Las Vegas. A retail shop, located on the Strip sidewalk, will open prior to the restaurant and offer branded Wahlburgers merchandise, including T-shirts, key chains, shot glasses and more.
"The family and I look forward to bringing Wahlburgers to one of the most exciting places on earth – the Las Vegas Strip," said Mark Wahlberg.
Wahlburgers at Grand Bazaar Shops will share signature characteristics of the flagship location in Hingham, Mass., including a walk-up window serving Wahlburger's tasty cuisine and specialty cocktails. It will also include a 600-square foot outdoor patio. The interior will feature stylish décor symbolizing the celebrity brother's life trajectories from Dorchester neighborhood kids to rising chef and international superstars.
Created by Executive Chef Paul Wahlberg, the chef-inspired menu features an emphasis on fresh, high-quality, yet simple food that highlights some of his family's favorites. The "Wahlfaves," include:
Donnie's choice: BBQ Bacon Burger, available as a turkey or beef burger and described as a "spiced-up weekend barbecue on a bun," topped with white cheddar cheese, bacon, avocado, fresh jalapeños and barbecue sauce
Mark's choice: Thanksgiving Day, "like Thanksgiving leftovers on a bun," made with fresh ground seasoned turkey, stuffing, Paul's orange-cranberry sauce, roasted butternut squash and mayo.
Paul's choice: Wahlburger's signature burger
A nod to Donnie's new bride, Jenny McCarthy: Jenn's chicken sandwich, topped with caramelized and crispy onions, lettuce and "Jenn's honey-garlic sauce"
Wahlburgers is well-known for its dessert selections, most notably its frappes, made with farm fresh milk and Nona's homemade ice cream, available in several flavors including chocolate mint, mocha and chocolate strawberry. A children's menu and hot dogs with several toppings is also available.
Wahlburgers at Grand Bazaar Shops will be open Sunday through Thursday from 10 a.m. to 10 p.m. and Friday and Saturday from 10 a.m. to 11 p.m. and is located at 3635 Las Vegas Blvd. South, Las Vegas, NV. 89109.
For more information on Grand Bazaar Shops™ visit: www.grandbazaarshops.com.