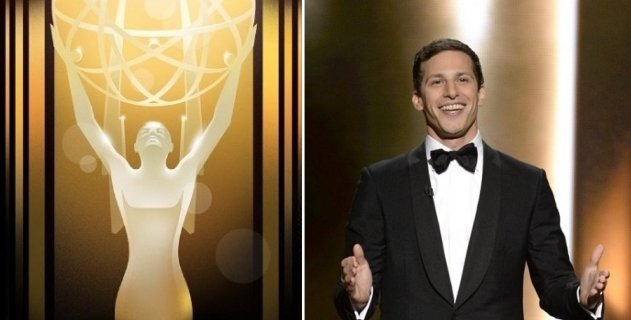 The 67th Primetime Emmy Awards kicked off with a hilarious musical montage starring this year's host, Andy Samberg as a TV binge addict. Moving into his opening monologue, Samberg weighed the awkward jokes (Bill Cosby and Jared Fogle, cough cough) with a handful of laugh-out-loud zingers. From Bernie Sanders' disheveled appearance, to Kim Davis' 'Eye of the Tiger' intro, the script writers made cracks at everyone in the political and industry headlines. On the design end, Emmys production team outdid themselves with an incredible futuristic set and beautiful lighting.
Celebrity presenters were surprisingly stand-out funny this year. Applause to Jimmy Kimmel for actually cutting out the winner's name on an envelope and chewing it… and James Corden for pumping up the audience while introducing the Ernst & Young team with a rousing and passionate monologue. Binge-watching and online streaming turned into the theme of the evening, especially when Samberg gave out his 'fictitious' HBO GO username and password to the nation.
Jokes aside, shows such as "Veep," "Transparent," "Olive Kitteridge" and "The Daily Show With Jon Stewart" took home multiple awards. Let's take a look at this year's winners!
Outstanding Writing For A Comedy Series: Veep
Outstanding Supporting Actor In A Comedy Series: Tony Hale, Veep
Outstanding Supporting Actress In A Comedy Series: Allison Janney, Mom
Outstanding Lead Actor In A Comedy Series: Jeffrey Tambor, Transparent
Outstanding Directing for a Comedy Series: Jill Soloway, Transparent
Outstanding Actress In A Comedy Series: Julia Louis-Dreyfus, Veep
Outstanding Supporting Actor In A Drama Series: Peter Dinklage, Game of Thrones
Outstanding Lead Actor In A Drama Series: Jon Hamm, Mad Men
Outstanding Actress In A Drama Series: Viola Davis, How to Get Away With Murder
Outstanding Comedy Series: Veep
Outstanding Drama Series: Game of Thrones
Outstanding Reality Competition: The Voice
Outstanding Writing In A Limited Series/Movie: Jane Anderson, Olive Kitteridge
Outstanding Supporting Actress In A Limited Series/Movie: Regina King, American Crime
Outstanding Lead Actress In A Limited Series/Movie: Frances McDormand, Olive Kitteridge
Outstanding Lead Actor In A Limited Series/Movie: Richard Jenkins, Olive Kitteridge
Outstanding Limited Series: Olive Kitteridge
Outstanding Variety Sketch Series: Inside Amy Schumer
Outstanding Variety Talk Series: The Daily Show With Jon Stewart
Outstanding Writing In A Drama Series: Game of Thrones
Outstanding Supporting Actress In A Drama Series: Uzo Aduba, Orange Is the New Black
Outstanding Directing In A Drama Series: David Nutter, Game of Thrones
Outstanding Structured Reality Program: Shark Tank
Outstanding Unstructured Reality Program: Deadliest Catch
Outstanding Television Movie: Bessie
Outstanding Guest Actor In A Comedy Series: Bradley Whitford, Transparent


Outstanding Guest Actor In A Drama Series: Reg E. Cathey, House of Cards
Outstanding Guest Actress In A Drama Series: Margo Martindale, The Americans
Outstanding Host For A Reality Or Reality-Competition Program: Jane Lynch, Hollywood Game Night