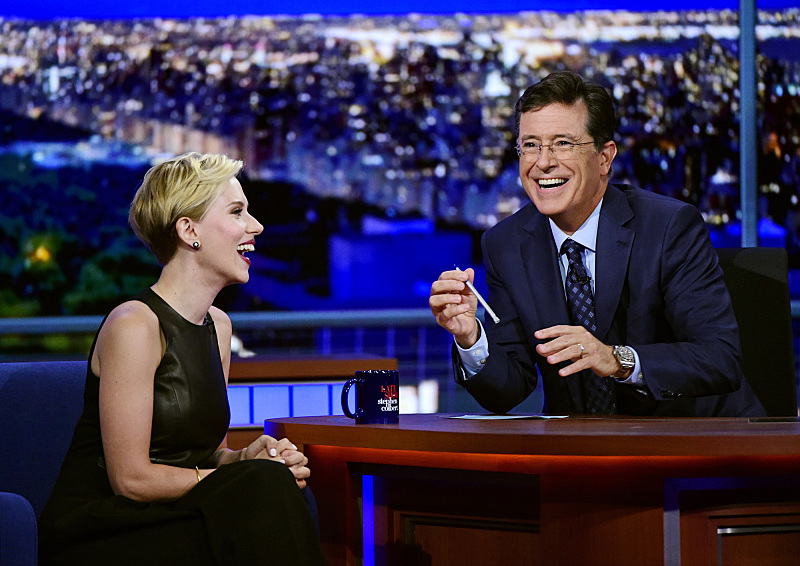 Photo: John Paul Filo/CBS ©2015 CBS
With all of the publicity, billboards, promotions and just overall 'in your face' build-up to Stephen Colbert's hosting debut and premiere of "THE LATE SHOW" on CBS… let's see how his ratings report card did in WEEK ONE. 
It's an A+! "THE LATE SHOW with STEPHEN COLBERT" is the most-watched show in late night during premiere week, according to CBS.
The premiere led CBS to a late night ratings victory, as the show ranked #1 in late night viewers and tied for first in adults 18-34 during premiere week ending Sept. 11th, according to Nielsen live plus same day ratings.
Across a four-day average during premiere week, THE LATE SHOW grew +95% in viewers (4.45m from 2.28m) versus the same week last year, and saw a tremendous +125% year-to-year increase in adults 18-49 (0.9 from 0.4), +250% in adults 18-34 (0.7 from 0.2) and +100% in adults 25-54 (1.2 from 0.6).
On the 14 CBS Owned and Operated Stations, THE LATE SHOW was up +150% in adults 25-54 (1.5 from 0.6), +120% in adults 18-49 (1.1 from 0.5), scoring #1 in these measures during the time period in the top three markets.
Digitally, the premiere episode of THE LATE SHOW with STEPHEN COLBERT marked the best series debut ever for any CBS show in terms of full episode streams on CBS.com and the CBS apps – even topping all CBS primetime shows – and broke THE LATE SHOW's previous traffic records on both platforms.