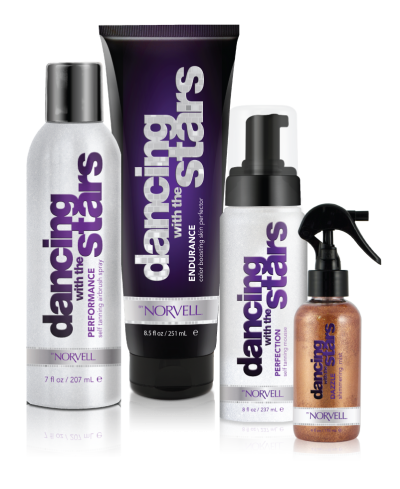 'Dancing with the Stars' is already in its second week! Chaka Khan was the first to go and the next elimination is happening tonight. The stars will be fox trotting, jiving and cha-cha'ing with elegance which makes it great TV to watch. The moves, the wardrobe and the look of each contestant requires endurance. We all have noticed and envied their perfect tan! Norvell has created Dancing With the Stars by Norvell, the perfectly safe sunless tanning products for all of the DWTS viewers at home.
I could not wait to share the news with all of my readers! Designed to provide flawless, foolproof bronzing at home, all of Norvell's products are vegan, as well as free of parabens, sulfates and gluten. These five new products are sure to steal the show. Here they are:
DAZZLE shimmering mist – Shake it – that is what you'll want to do with this super-fine shimmering spray. Whether accentuating the hottest tan in town or enhancing a hairstyle, this adds a little glitz and glam to every day.
PERFORMANCE self-tanning airbrush spray – This micro-fine mist sashays across the skin, delivering an all over, flawless tan worthy of a perfect ten. Utilizing advanced spray technology, it's never been simpler to give sunless tanning a whirl.
ENDURANCE color boosting skin perfector – This multipurpose body balm partners immediate skin illumination with a gradual build to a show-stopping bronze! Formulated to choreograph the skincare benefits of a CC cream, Endurance moisturizes, brightens, and firms – all while evening skin tone and extending self tanning color results.
PERFECTION self-tanning mousse – This super lightweight, velvety mousse glides as easily over one's body as a professional dancer moves across the floor. With a simple sweep across the skin – an instant, yet long-lasting bronze color appears. Talk about a quick-step!
PRECISION single-use mitt – a blend of bronzers and nourishing, skin firming moisturizers that provides a simple to apply delivery system achieving a streak-free, natural looking, long lasting color. Adding to the applause this product receives, the mitt is lined with a plastic protective shield that won't allow your hands to be tanned.
Dancing with the Stars Sunless Collection by Norvell, is available at specialty beauty salons, spas, and tanning salons. please visit www.NorvellSunless.com/dwts