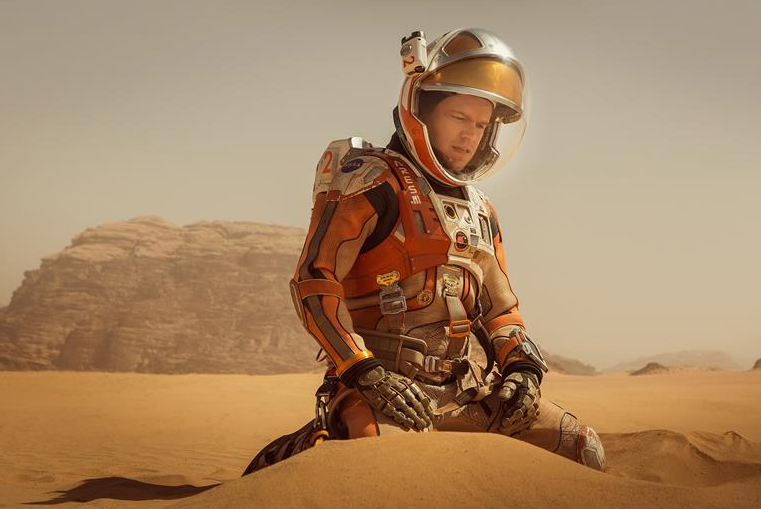 Matt Damon soars to new heights as an astronaut left for dead on the red planet in "The Martian," a sci-fi thriller co-starring Jessica Chastain, Kate Mara, Jeff Daniels and Chiwetel Ejiofor.
Adapted for the screen by Drew Goddard from Andy Weir's 2011 novel of the same name, this epic space flick has all the elements needed to blast off at the box office this weekend: an infectious premise, a spellbinding screenplay, first-rate acting and technical brilliance across all areas of production. Smart but not pretentious, dramatic but not downbeat, and surprisingly funny considering it fits squarely into the sci-fi genre, "The Martian" remains absorbing throughout its 141-minute running time without any emotional manipulation, just pure genius filmmaking. With the help of his talented cast and crew, especially cinematographer Dariusz Wolski, whose visionary work is also on display this weekend in "The Walk," legendary director Ridley Scott has officially broken his cold streak after the critical disappointments of "The Counselor" and "Exodus: Gods and Kings."
In "The Martian," Damon plays Mark Watney, an astronaut and one of five members of Ares III, the third manned mission to Mars. When we first encounter the Ares III crew, led by Commander Lewis (Jessica Chastain), they are on day 18 of a 31-day stay on Mars. Having assembled their Hab (aka living quarters and work area) and proceeded with their set tasks, all seems well in outer space – that is, until a deadly windstorm renders the planet temporarily uninhabitable. Assuming Watney perished in the ensuing debris shower, the Ares III crew abort their mission and begin their long journey back to earth, leaving him alone on Mars with a chunk of antenna lodged in his gut.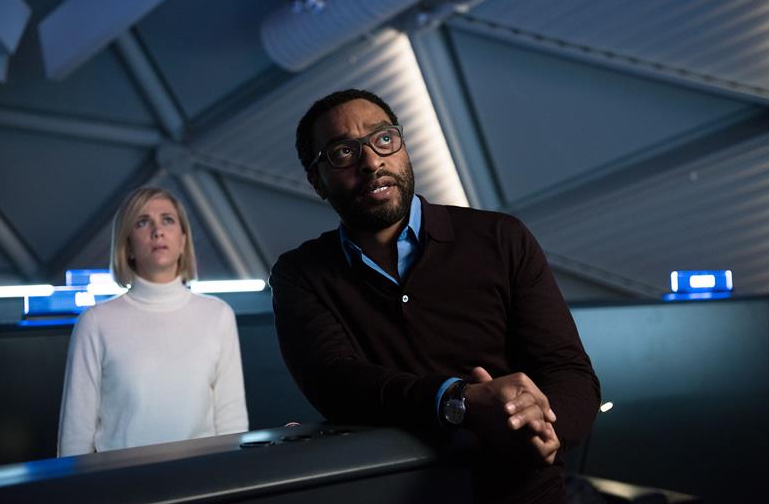 Somehow, Mark makes it back to the Hab and performs lifesaving surgery on his stomach wound. With his condition stabilized, the reality of Watney's otherwordly situation comes into focus. Estimating that it will take three to four years before another manned mission reaches Mars, Watney must rely on his wits to determine how to subsist on limited supplies of food, water and oxygen. Luckily, given his background in botany and mechanical engineering, Mark has the necessary tools to "science the s*** out of this planet" and increase his life expectancy.
As Mark comes up with all sorts of resourceful ways to create oxygen and cultivate crops, he also deciphers an ingenious method of contacting his colleagues at NASA to inform them of his survival. While NASA's Mars mission director (Chiwetel Ejiofor) attempts to formulate a rescue plan, one that also pleases the agency's ornery director (Jeff Daniels). Mark's survival strategy hits a few snags along the way.
Screenwriter Drew Goddard's impeccably structured script epitomizes how to combine intelligent storytelling with mainstream filmmaking. Much like Robert Zemeckis' "Cast Away," Goddard takes the potentially boring concept of a man alone in a faraway place and jam-packs it with action, drama, intrigue, humor – basically everything moviegoers want from their silver screen experience. By staging Watney's space odyssey as a series of obstacles to overcome, and tossing in a few jarring surprises for good measure, Goddard and director Ridley Scott, who knows a thing or two about the science fiction genre ("Alien," "Blade Runner"), keep audiences engaged throughout. Also, by using Watney's hilarious and psychologically revealing video diary entries as first-person narration, the filmmakers succinctly explain the math and science-heavy aspects of Watney's predicament without decelerating the action.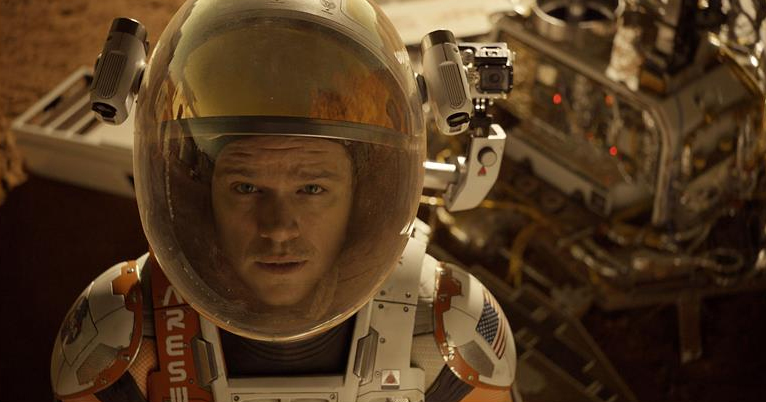 Although "The Martian" does touch base with the homebound crew of Ares III, and also makes a few earthly visits to NASA headquarters and their Jet Propulsion Laboratory in Pasadena, this is essentially Matt Damon's show, and he's more than up for the task. Having shown his full range as a performer throughout a genre-spanning, nearly thirty-year career, the role of Mark Watney in many ways synthesizes Damon's finest actorly assets, putting his humorous arrogance, effortless wit, resoluteness and adventurousness front and center. Despite limited screen time, the secondary players all deliver the goods as well, especially Jeff Daniels and Chiwetel Ejiofor ("Twelve Years a Slave") as combative NASA directors, and Jessica Chastain and Kate Mara as guilt-ridden astronauts desperate to save their abandoned comrade.
Do yourself a solid and let the gravitational force of this Oscar-bound opus pull you into a 3D theater this weekend.
Rated PG-13 for some strong language, injury images, and brief nudity.
Running Time: 141 Minutes