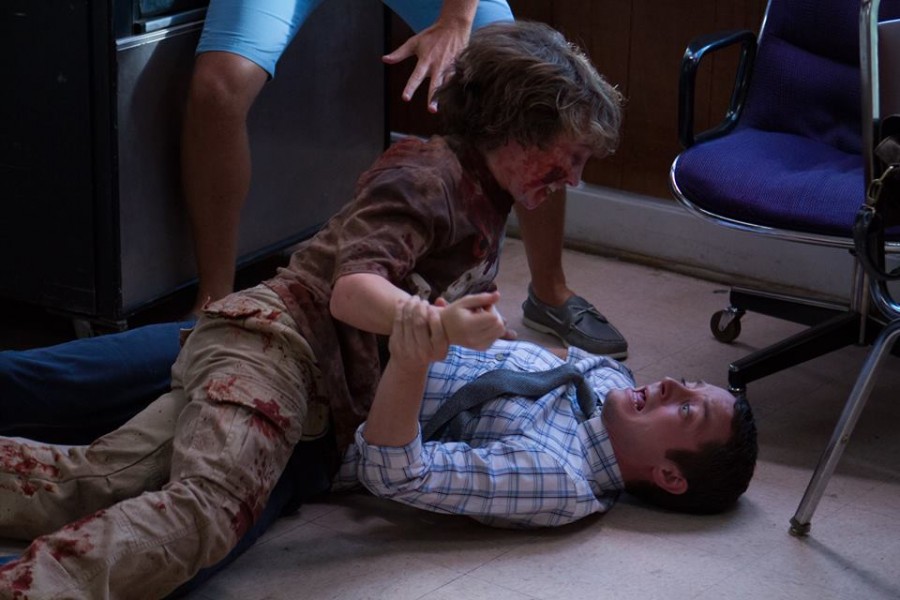 Being a teacher is one of the toughest jobs in the world, and that job is only made more difficult when your students become flesh-eating zombies. That is precisely the world imagined by writers Leigh Whannell (co-writer of Saw and Insidious) and Ian Brennan (co-creator of Glee) in the horror comedy Cooties. Starring Elijah Wood (Lord of the Rings Trilogy; Wilfred), Alison Pill (The Newsroom) and Rainn Wilson (The Office), Cooties is a hilarious gore fest. Directed by Jonathan Milott and Cary Murnion, Cooties is chock full of astute one-liners and insane, prepubescent carnage. With shameless absurdity and outlandish humor, this is a pint-sized Shawn of the Dead in the best way possible.
The opening sequence of chicken nuggets being mass produced is enough to make anyone consider becoming a vegetarian, especially once the nuggets are infected with a contagion. In the small town of Fort Chicken, these nuggets find their way onto a hapless preteen's lunch tray on Clint's (Elijah Wood) first day of teaching. Clint has moved back to his hometown to assume a part-time teaching gig while he works on his first book, a sea bound horror novel titled 'I Keel You All.' He totes the manuscript with him everywhere, clinging to his writing dreams, despite his lack of success. His childhood sweetheart, Lucy (Alison Pill) and her misguided jock boyfriend, Wade (Rainn Wilson) also work at the school and make for a hilariously bizarre love triangle. In Clint's very first class, the outbreak begins when a zombie takes a bite out of the class bully, Patriot (Cooper Roth). From there, the teachers assemble in the lounge and watch as the chaos breaks out in the recess yard below them in what Lucy later calls 'the worst Monday ever.' It quickly becomes a game of survival with fellow teachers Doug (Leigh Whannel), Tracy (Jack McBrayer) and Rebekkah (Nasim Pedrad) in supporting roles. This ragtag team fight for their lives through hordes of their own flesh-eating students at every turn, and the directors are fearless in their pursuit of laughter and shock.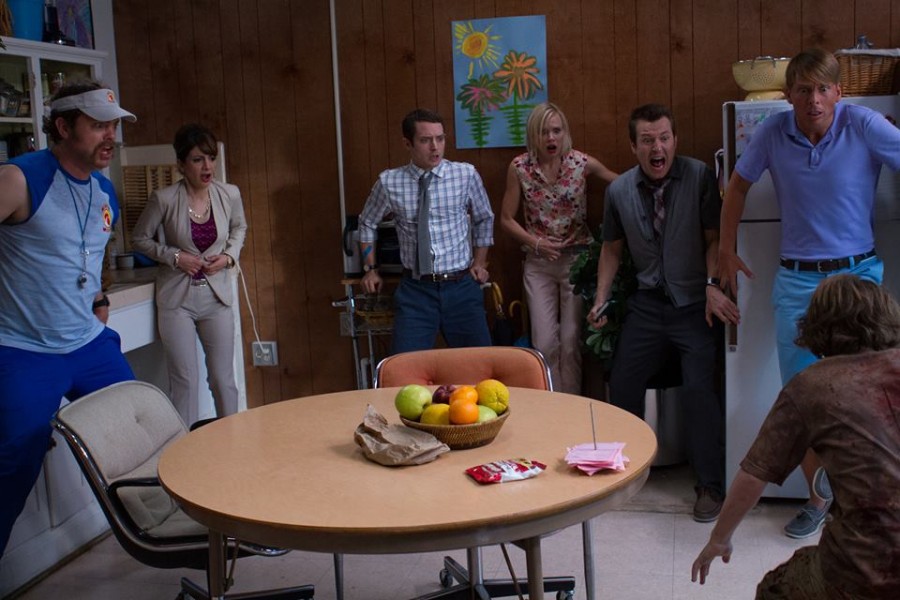 Shot on a tight 25-day shooting schedule, Cooties is an unusual delight. Wood brings such an earnest quality to the somewhat geeky Clint, which is balanced out by the larger-than-life testosterone of Wilson's character as they battle for the love of Lucy. All of these roles would be easy to simplify as character stereotypes, but each actor manages to make them real despite the insane scenario. Wilson straddles hysterical and endearing effortlessly, making Wade a real person with heart. The supporting cast rounds out the genuine tone, perhaps none quite so well as Whannel's portrayal of the socially inept science teacher, Doug. From the first shot of Doug reading a book titled 'How to Have a Normal Conversation,' he is a constant stream of hilarious one-liners delivered with an incredible deadpan. Whannel steals nearly every scene, especially when he scientifically explains the cause of the zombie outbreak.
McBrayer brings his trademark quirk to the role of Tracy – his southern charm provides a fantastic foil to the aggressive Rebekkah, as played by SNL's own Nasim Pedrad. Overall, these actors were fearlessly committed to every moment of both humor and horror.
Cooties carves out its place in this niche of comedy and horror with style and wit. The movie keeps you guessing in every facet and never loses a coherent sense of narrative. The humor all works together in a consistent voice that finds the real moments between characters in a very unreal circumstance. It is quite clear that the cast had a blast working together, creating a sense of fun that translates in this carnage-filled comedy.
By Lauren Steffany
Running Time: 94 Minutes
In Theatres/On Demand: September 18th
Released by Lionsgate Premiere