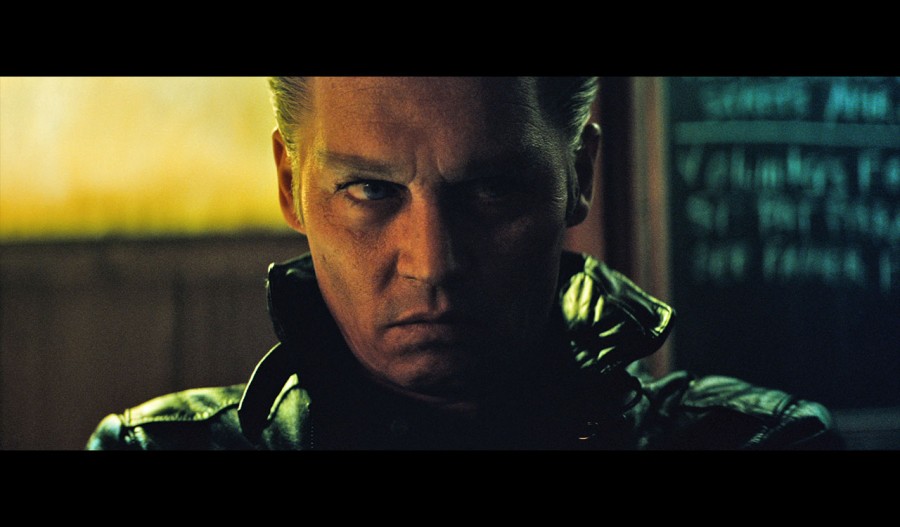 Boston crime lord Whitey Bulger may be locked up in a Florida prison serving two life sentences, but that isn't stopping him from terrorizing the big screen this weekend in "Black Mass," a blood-soaked crime biopic starring Johnny Depp, Joel Edgerton, Benedict Cumberbatch and a host of other great actors.
Based on the book of the same by Dick Lehr and Gerard O'Neill, this gangster drama directed by Scott Cooper ("Out of the Furnace") starts the awards season off with a bang, featuring first-rate filmmaking and a statue-worthy performance from a transformative Johnny Depp. Although most people know the bullet points of Bulger's well-publicized criminal career, Jez Butterworth ("Edge of Tomorrow") and Mark Mallouk's cleverly constructed screenplay manages to condense the decades-long saga into a tight and wickedly entertaining narrative that is anything but a CliffsNotes telling. Considering the all-star acting and exemplary filmmaking on display, not to mention moviegoers' insatiable appetite for gangster stories, it's safe to assume "Black Mass" will intimidate its way to the head of the box office.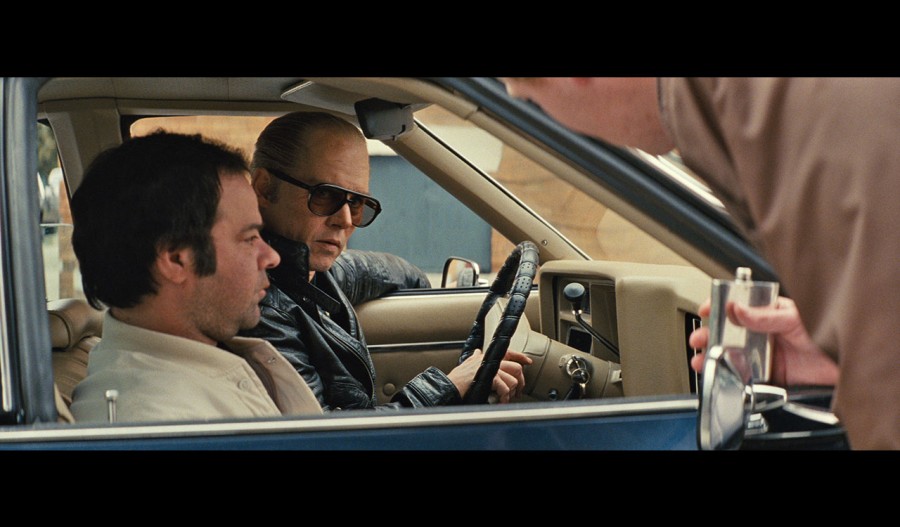 "Black Mass" charts Bulger's twenty-year reign of terror as the head of Boston's Irish mob, prior to going on the lam for fifteen years and earning the number two spot on the FBI's Most Wanted list. A lifelong criminal who served a dime for armed robbery at Alcatraz and Leavenworth, when we first meet James "Whitey" Bulger (Johnny Depp), it's 1975, and he's battling the Italians of Boston's North End for control of the city's underworld.
While Bulger and his Winter Hill gang – including partner Stephen Flemmi (Rory Cochrane) and top enforcers John Martorano (W. Earl Brown) and Kevin Weeks (Jesse Plemons) – use any means necessary to gain a stranglehold on the city's illicit activities, newly minted FBI agent John Connolly (Joel Edgerton) is across town building a case against the same mafiosos Whitey is warring with. Since they're both working towards similar ends, albeit from different sides of the law, Connolly reaches out to Bulger, a childhood friend, to try and turn him into an informant. Despite despising rats, when Connolly assures Whitey that he'll let him operate with impunity in exchange for prosecutable information, Bulger agrees to this "unholy alliance."
As Bulger's power continues to climb, so too does the body count, which not only makes it increasingly difficult for Connolly to protect him, but heightens his complicity as well. When a strait-laced federal prosecutor (Corey Stoll) takes a special interest in Bulger's illegal operation, the walls starts closing in, leading to desperate measures from all involved.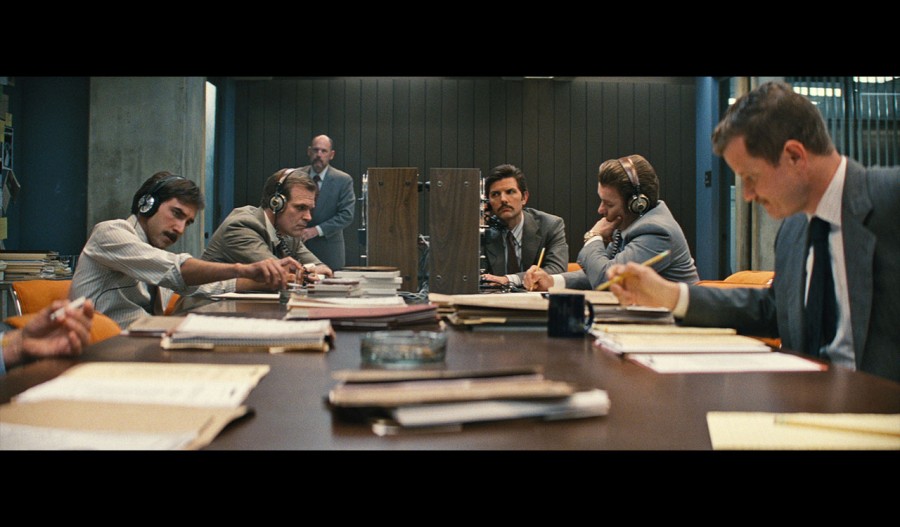 Jez Butterworth and Mark Mallouk smartly structure their script around the interrogations of Bulger's associates and eventual snitches, allowing the film to effortlessly pivot between both sides of the law and the interesting ways in which they intersect. Some may argue that this structure leads to somewhat of an anticlimax, but it still makes for compelling drama and packs plenty of surprises along the way.
Following his auspicious debut, "Crazy Heart," and the criminally underrated "Out of the Furnace," director Scott Cooper's third feature proves that he's among the most consistent filmmakers out there. A director who uses all the cinematic means at his disposal to craft richly textured works, Cooper's "Black Mass" is heavy with a doom-laden atmosphere, achieved with the help of Masanobu Takayanagi's ("The Grey") gritty yet gorgeous images and Tom Holkenborg's ("Mad Max: Fury Road") indelibly creepy score. Having already steered Jeff Bridges to an Oscar, and well on his way to scoring a nomination for Depp, Cooper's status as an actor's director will continue to attract A-list talent to his future projects.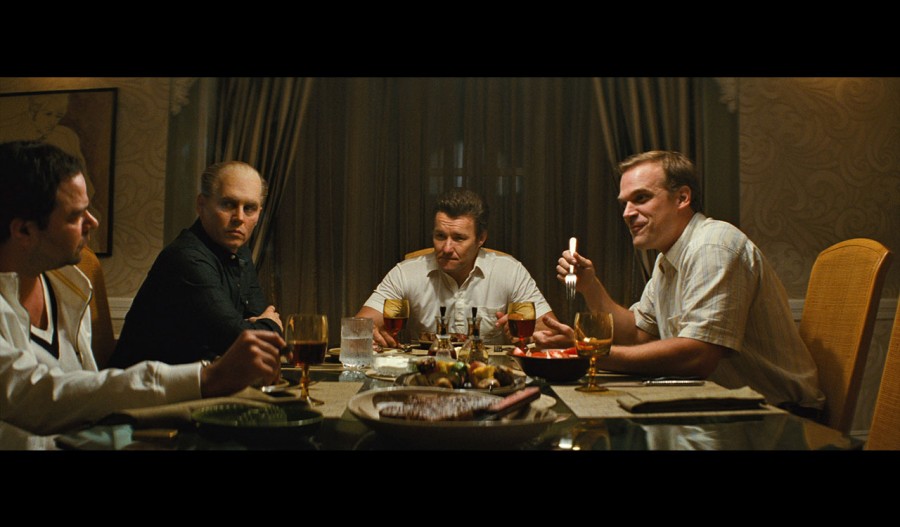 With the exception of his inspired work in Kevin Smith's horror comedy "Tusk," Johnny Depp has starred in a string of stinkers over the past couple years, but here he returns in fine form as the coldblooded king of the Boston underworld. A charismatic sociopath both loved and feared by his tight-knit community, Depp brings Bulger's many contradictions to the fore, creating an unforgettable portrait of a man who is every bit the loving father as he is a ruthless gangster. Adding immeasurably to Depp's transformation is the work of famed makeup designer Joel Harlow, who uncannily captures Bulger's distinct look, from the diminishing hairline and prominent nose down to the icy blue eyes. With a career as varied as Depp's, it's hard to state that it's his best performance, but it's certainly his most memorable one in years.
Depp's chilling performance is strengthened by the extraordinary supporting actors working alongside him, most notably Joel Edgerton ("The Great Gatsby") as corrupt FBI agent John Connolly and Benedict Cumberbatch as Billy Bulger, Whitey's senator brother. Every "Black Mass" cast member truly does a knockout job – Peter Sarsgaard and Rory Cochrane also put in notable work as a coked out informant and Bulger's partner-in-crime – but I wouldn't be surprised to see Edgerton earn a Best Supporting Actor nod; he's sensational.
Whitey Bulger is not a man you'd ever want to come face-to-face with, but as portrayed by Johnny Depp, you won't be able to take your eyes off him.
By Lucas Mirabella
Rated R for brutal violence, language throughout, some sexual references and brief drug use.
Running Time: 122 minutes