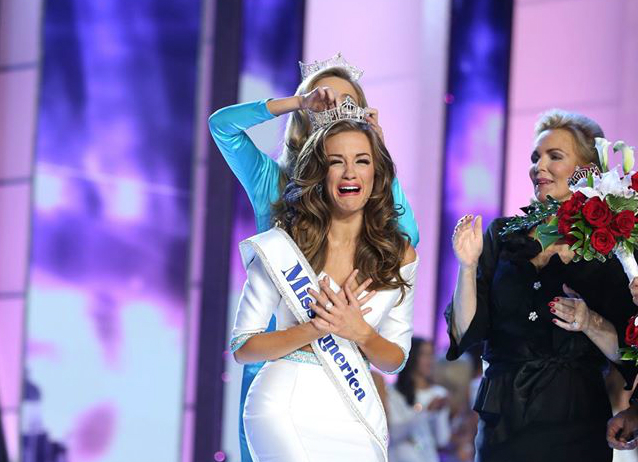 Photo: Miss America 2016 Betty Cantrell via Facebook Miss America Organization
Miss Georgia, Betty Cantrell, was crowned Miss America 2016 on Sunday night at the birthplace of the legendary competition in Atlantic City's Boardwalk Hall for its 95th Anniversary broadcast on the ABC Television Network. Cantrell surprised audiences during the Q&A portion, stating that she believed Tom Brady cheated in the NFL deflategate scandal.
Vanessa Williams returned to the Miss America stage after 32 years since her crowning as Miss America 1984 and served as Head Judge. Williams opened the show with a performance of "Oh How the Years Go By." Williams joined host Chris Harrison, co-host Brooke Burke-Charvet, music curator Nick Jonas and celebrity judges Brett Eldredge, Taya Kyle, Danica McKellar, Kevin O'Leary, Amy Purdy and Zendaya.
In another surprise, Sam Haskell, executive chairman of the Miss America pageant, apologized to Williams for the way the organization treated her three decades ago. Williams had resigned after nude photos of her appeared in "Penthouse" magazine.
Miss America 2016 is a student of Mercer University. During her year as Miss America, she will serve as spokesperson for Healthy Children, Strong America. Along with the coveted title of Miss America 2016, Cantrell won a $50,000 scholarship provided in part by Joseph Ribkoff Inc. and the Miss America Organization to continue her education. For the talent portion of the competition, Cantrell performed the operatic vocal performance of "Tu Tu Piccolo Iddio."