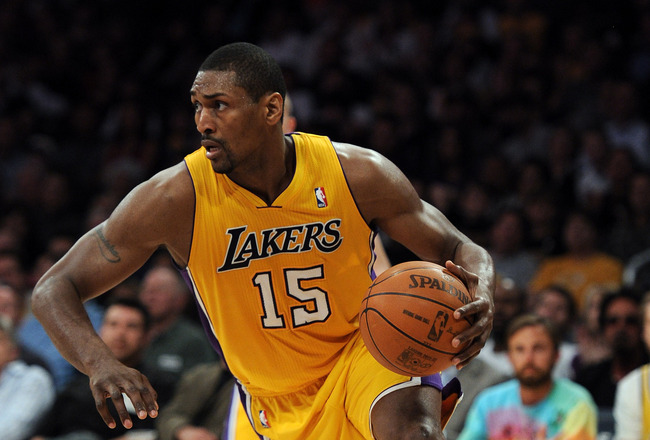 The Los Angeles Lakers have signed forward Metta World Peace, it was announced Thursday by General Manager Mitch Kupchak. Per team policy, terms of the deal were not released.
A 15-year NBA veteran who spent four seasons in Los Angeles between 2009-13, World Peace holds career averages of 13.8 points, 4.7 rebounds, 2.8 assists, and 1.8 steals in 33.0 minutes per game over 931 contests (833 starts) with the Bulls, Pacers, Kings, Rockets, Knicks, and Lakers. Born Ron Artest before changing his name during the 2011 offseason, World Peace was an integral member of the Lakers' 2010 NBA Championship team, starting all 23 playoff games and averaging 11.2 points, 4.0 rebounds, 2.1 assists, and 1.5 steals in 36.5 minutes per game during the postseason.
Selected with the 16th pick of the 1999 NBA Draft by Chicago, the 35-year-old was named the NBA's Defensive Player of the Year in 2003-04 in addition to being chosen as an All-Star and member of the All-NBA Third Team that same year. He has also garnered four NBA All-Defensive Team selections and made the postseason nine times (including all four of his seasons in L.A.) with four different franchises.
His most recent NBA action came during the 2013-14 season when he appeared in 29 games for the New York Knicks, and has since played in the Chinese Basketball Association and Lega Basket Serie A, Italy's top division.
World Peace was honored with the NBA's J. Walter Kennedy Citizenship Award in 2011, and is actively involved in mental health awareness initiatives.