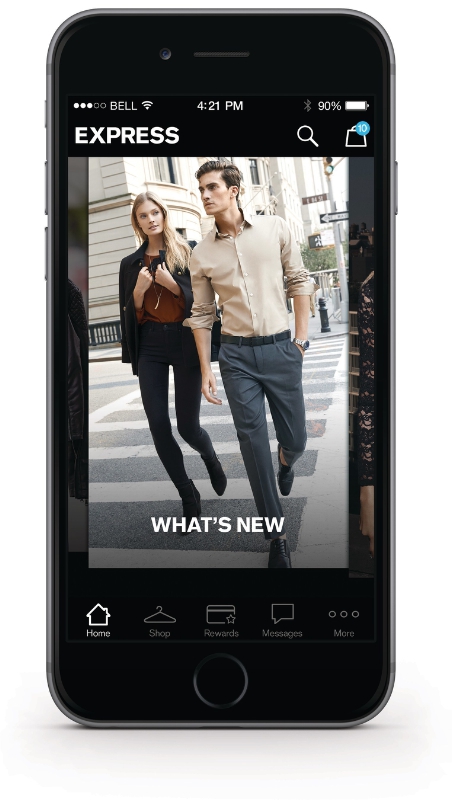 EXPRESS unveiled enhanced features for the EXPRESS mobile app for iOS and Android, offering customers an improved mobile shopping experience and smoother navigation – anytime, anywhere.
The app, which will now be fully integrated with the retailer's loyalty program, , will allow customers to enroll, access their loyalty points, available rewards and points needed to reach their next reward, all while shopping on the move.
EXPRESS NEXT Credit Card holders can now access card balances and scan their smartphones to make cardless payments for all in-store purchases. Cardholders can also make payments and view their credit card transaction history. New customers will be able to apply for an EXPRESS NEXT Credit Card directly in-app.
"We know that mobile devices are increasingly important to our customers," said Elizabeth Crystal, Chief Marketing Officer at EXPRESS. "The main driver behind the mobile app upgrade was to enhance the overall experience with EXPRESS and present an app that is relevant to our most loyal customers, whether browsing, shopping, or engaging with the Brand."
Users will benefit from additional app features, including:
Message Center: Users will have easy access to relevant and geo-targeted EXPRESS messages, videos, exclusive offers and news.
Get Social: The app's dedicated social media section features engaging behind-the-scenes video, EXP Life blog content, access to the retailer's YouTube videos and Instagram feed, as well as the option to share product pages and content via SMS, email, Facebook, Twitter, etc. – all in one convenient place.
Shop Like a Pro: New styling features allow users to scroll the latest fashion tips and trends, see what's new, customize preferences for the number of items viewed on a page, scan bar codes in-store to view product pages and view in-store inventory of coveted items
Store Location: Customers can locate the nearest store by activating the geo-services option on their smart phone, or by utilizing the search function directly in app.