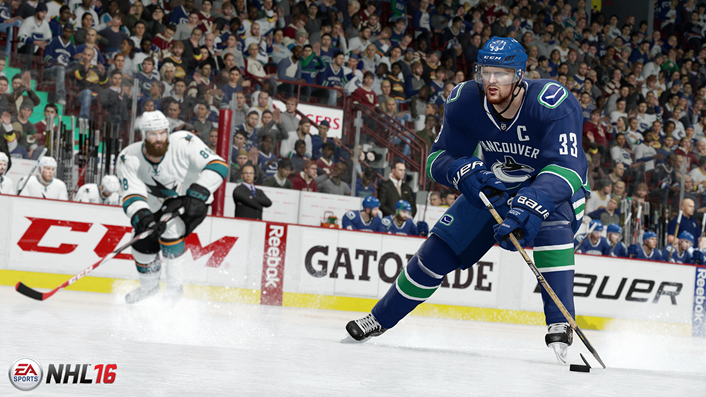 Gamers, if you are not a hockey fan already, you will definitely be one now. It's time to grab your skates and stick, aka your controller, and hit the virtual ice because Electronic Arts Inc. have just released EA SPORTS™ NHL® 16 throughout North America on Xbox One, the all-in-one games and entertainment system from Microsoft, and PlayStation®4 computer entertainment system. NHL 16 is built with more fan involvement than ever before, delivering the most requested features, modes, and new levels of depth and innovation to each experience. Last month, over 180,000 fans participated in the first ever EA SPORTS Hockey League (EASHL) Beta. Feedback from that trial, combined with top requests coming from our forums, social channels and Ask NHL, resulted in key additions to the game just before launch including: EASHL Drop-In, a new EASHL badge system, online/offline shootout mode and the United Center.
"This year has been an incredible journey for the development team," said Sean Ramjagsingh, Senior Producer, EA SPORTS NHL. "We've worked closer with our fans than ever before to truly understand what they wanted in this year's game. The team is incredibly proud of what we've accomplished with NHL 16 and we can't wait for fans to get their hands on the finished product they helped shape."

Hockey fans will discover new levels of depth and more ways to play in NHL 16. For those craving team play, they can jump into either 6 v. 6 Online Team Play, Online Couch Co-op, or the fan favorite, EASHL, that delivers a new player class system for a more competitive and balanced experience. Fans looking to dive into single player modes will discover a new Be A Pro progression system where how they play on the ice shapes who they become in the NHL. Be A GM introduces an all new morale management feature and now fans can play through single player offline seasons in Hockey Ultimate Team.
From what you play to how you play. NHL 16 includes the all new On-Ice Visual Trainer and smarter Coach Feedback; both tools will teach new players how to learn the fundamentals and give returning players tips on how to build on their NHL skills. Combined with improved gameplay balance and control at every position as well as an unrivaled game day atmosphere, NHL 16 puts you into the heart of a team, where you'll play together and win together.
For players on the Xbox 360 and PlayStation 3, EA SPORTS™ NHL® Legacy Edition brings together the most popular modes and award-winning gameplay features from nine years of NHL hockey for fans looking for a hockey fix on these consoles.
NHL 16 will hit retailers on September 17 in Europe. NHL16 is developed at EA Canada in Vancouver. Become a fan of EA SPORTS NHL® on Facebook and follow us on Twitter.