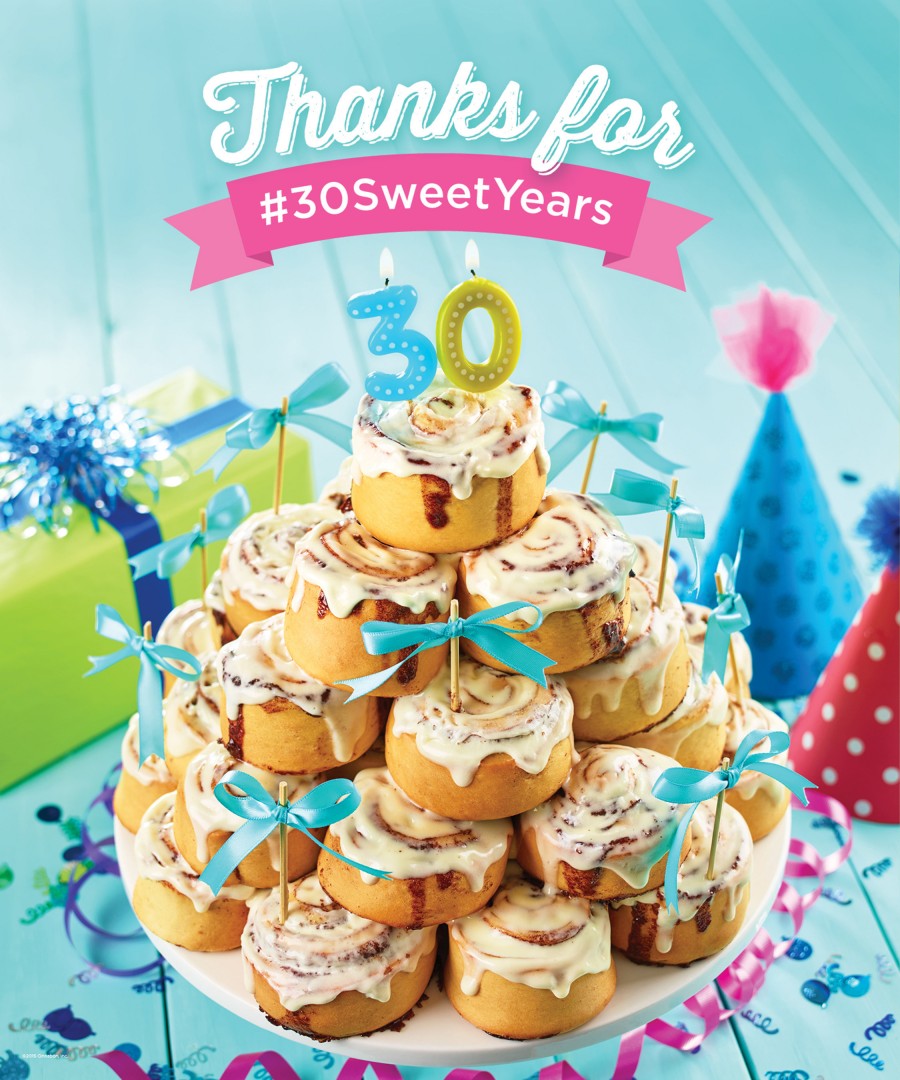 Break out the party hats and streamers! There's a BIG birthday coming up this month and the whole world is invited to 'cinnabrate!' On September 26, Cinnabon®, one of the world's most beloved and irresistible brands, will be celebrating its 30th birthday. In honor of this special occasion, and to thank fans for all their sweetness over the past three decades, Cinnabon will be hosting a worldwide giveaway of FREE MiniBons on Saturday, September 26th from 11 a.m. – 1 p.m.
Cinnabon will kick off birthday festivities this Monday, September 21st with a limited time offer of Birthday Cake Frosted CinnaSweeties™, along with a brand new Birthday Cake Chillatta™ flavor that pairs perfectly with the fun, bit-sized treats. These delightful menu additions will be available at bakeries nationwide (and in select international bakeries) through November 1st.
Father-son duo Rich and Greg Komen opened the first Cinnabon bakery in Seattle, Washington in 1985. They recruited master baker Jerilyn Brusseau to help them perfect the magical, scratch recipe that is now the company's celebrated calling card. An instant obsession, the Classic Roll has provided millions of people with memories of its' enticing aroma, irresistible pleasure and ultimate satisfaction. Today, Cinnabon is one of the world's most-recognized and sought-after brands.
With over 1,200 franchise locations across more than 60 countries worldwide, Cinnabon can be found where consumers shop, travel, dine and play. As the brand continues to grow to delicious new heights, Cinnabon has expanded its menu to offer fresh and exciting ways for guests to enjoy their favorite freshly baked, hot out-of-the oven snacks and unique specialty beverages, including the debut of a savory breakfast item, Sausage Bites, earlier this year. In addition, Cinnabon has developed a large portfolio of foodservice partnerships and consumer packaged goods, expanding across more than 70 grocery and retail items from air fresheners to vodka (with more to come this holiday season!).
Fans are invited to send a birthday wish using the hashtag #30SweetYears or sign the brand's virtual birthday card starting on Monday, September 21st by visiting www.LetsCinnabrate.com. For the latest updates from Cinnabon, be sure to follow the brand on Twitter and Instagram at @Cinnabon and on Facebook at www.facebook.com/Cinnabon.