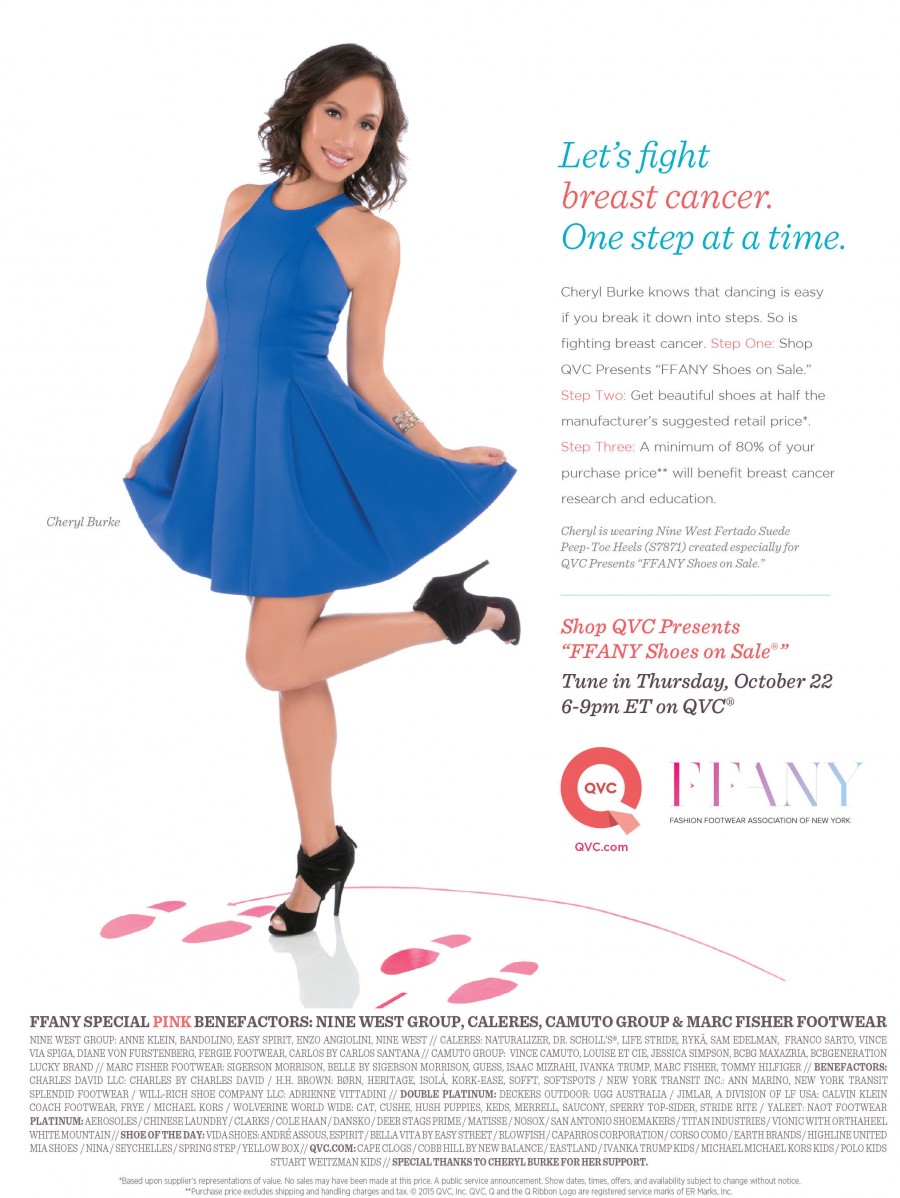 Love to shop and fight causes? Well now you can do both at the same exact time. This October, Cheryl Burke is lacing up to support a cause that affects so many–breast cancer. Through her involvement with QVC Presents "FFANY Shoes on Sale," Burke is striving to prove that great shoes have the potential to make a true difference one step at a time.
The annual QVC Presents "FFANY Shoes on Sale" broadcast, which is scheduled to air Thursday, October 22 from 6 to 9 PM (ET), will feature over 150 donated styles of shoes from more than 80 brands and each pair comes with a charitable perk. Shoes will be offered at halfthe manufacturer's suggested retail price with a minimum of 80 percent of the purchase price** benefitting various breast cancer research and education institutions.
"I am very grateful to be championing an initiative supporting the fight against a disease that has impacted so many lives, including those in my own family," commented Burke. "As a woman, this cause is especially important to me because it empowers women to shop for something that will make themselves and others feel good."
As part of QVC's ongoing commitment to support charitable causes that promote the success and wellness of women through the power of relationships, this event has generated more than $47 million, to date, for breast cancer research and education institutions.
"Each October, QVC and the Fashion Footwear Association of New York come together to stand in solidarity for an important mission," says Mike George, President and CEO, QVC. "We are honored to have Cheryl Burke's support this year to help promote and spread awareness for such an important cause."
Beneficiaries for the 2015 QVC Presents "FFANY Shoes on Sale" event include: The Abramson Cancer Center of the University of Pennsylvania, The Breast Cancer Research Foundation, The Samuel Oschin Comprehensive Cancer Institute at Cedars-Sinai Medical Center, The Susan F. Smith Center for Women's Cancers at Dana-Farber Cancer Institute, The University of Michigan Comprehensive Cancer Center's Breast Oncology Program, The University of Pittsburgh Cancer Institute, The Winthrop P. Rockefeller Cancer Institute of the University of Arkansas for Medical Sciences, The Alvin J. Siteman Cancer Center at Barnes-Jewish Hospital and Washington University School of Medicine, and The Margie and Robert E. Petersen Breast Cancer Research Program at the John Wayne Cancer Institute at Providence Saint John's Health Center. Those wishing to support cutting-edge research at these organizations can go to ffany.org to make contributions and find out ways to join in and be part of this important effort.