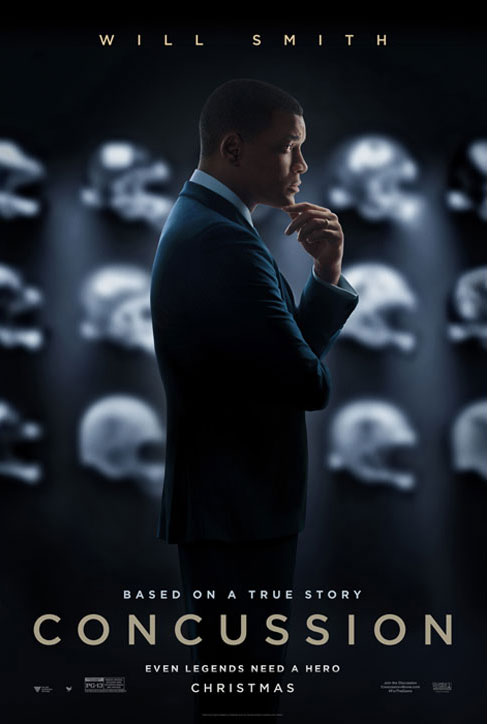 The American Film Institute (AFI) announced that the World Premiere of Sony Pictures' CONCUSSION — starring two-time Academy Award® nominee Will Smith, written and directed by Peter Landesman, and produced by Ridley Scott, Giannina Scott, David Wolthoff, Larry Shuman and Elizabeth Cantillon — will be the Centerpiece Gala of AFI FEST 2015 presented by Audi. The honored event will take place at the TCL Chinese Theatre in Hollywood, California on Tuesday, November 10. Available now at AFI.com are festival passes for purchase, which ensure reserved seats for sold-out Galas and other high-demand films and events. The Centerpiece Gala is the third announced World Premiere at AFI FEST.
"AFI FEST is for movie lovers who understand and appreciate the power of stories on the big screen. CONCUSSION packs that punch by shining a light on a topic that has caught the country's attention, here expertly expressed through the direction of Peter Landesman and an unforgettable performance by Will Smith. We are proud to present the World Premiere of CONCUSSION as a Centerpiece Gala at AFI FEST," said Jacqueline Lyanga, director, AFI FEST.
"AFI FEST is the perfect stage to unveil CONCUSSION, and we are privileged to have been chosen as the Centerpiece Gala," said Ridley Scott and Giannina Scott, two of the film's producers. "CONCUSSION is a powerful and uncompromising film about an issue that was ignored for far too long and continues to play out today. It's a story that had to be told, and we were determined to tell it right."
As previously announced, the Opening Night Gala will be the World Premiere of BY THE SEA (DIR Angelina Jolie Pitt) on Thursday, November 5 and the Closing Night Gala will be the World Premiere of THE BIG SHORT (DIR Adam McKay) on Thursday, November 12. The full festival lineup and schedule will be unveiled in October. The 29th edition of AFI FEST takes place November 5–12, 2015, in the heart of Hollywood. Screenings and Galas will be held at the historic TCL Chinese Theatre, the TCL Chinese 6 Theatres, Dolby Theatre, the Lloyd E. Rigler Theatre at the Egyptian and the Hollywood Roosevelt.