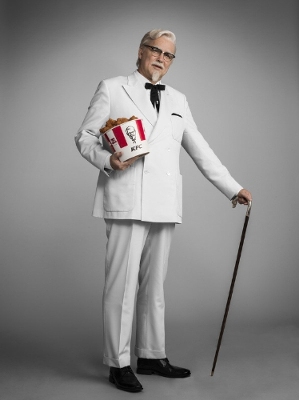 On the heels of the widely lauded May ad campaign, Kentucky Fried Chicken® continues to weave Colonel Sanders into the fabric of American pop culture with its latest advertising spots featuring "Last Comic Standing" judge and "Saturday Night Live" veteran Norm Macdonald as its iconic, ribbon-tied founder.  The "Real" Colonel Sanders is now back to sell the world's greatest chicken.
As many now know, Colonel Harland Sanders lived the American dream so we could all eat the American dream.  Whether it was his stint as a US Army mule-tender in Cuba, a ferryboat entrepreneur, an amateur obstetrician, or an unsuccessful political candidate – Colonel Sanders lived far too amazing a life to be told in just one act!
The latest spots (http://therealcolonel.press) continue to pay homage to KFC's history.  "For the first ads, we rebooted things that made Kentucky Fried Chicken the most favorite chicken brand in the world.  We brought back the Colonel's iconic office, his white stretch limo, and the children's mandolin band he outfitted with instruments and white Colonel Suits to create authentic Kentucky bluegrass music," said Hochman, "And the new set of ads are more of that same homage to the things that made Kentucky Fried Chicken such an important part of American families."
"I was blown away when I learned that Colonel Sanders didn't even start KFC until he was 65. That's a whole lot of legend to fit into a couple decades, and it takes a strong work ethic, the kind you don't see every day, to do it like he did," says Norm Macdonald.  "He never gave up, never accepted less than the best and never held back an opinion. Plus he looks great in white."
Along with the fall advertising campaign, KFC is honoring its would-be 125-year old founder's invention of the "home meal replacement" with the introduction of a family-sized version of the immensely popular $5 Fill Up® – the $20 Family Fill Up™. The menu item supports the Colonel's belief that a family meal replacement can be plentiful AND valuable when it's made "the Hard Way" by KFC cooks.
"It makes me feel good that my food has helped make life a little easier for people," the Colonel once said.  And with eight pieces of the Colonel's Original Recipe® chicken, two large orders of mashed potatoes and gravy, one large coleslaw, and four biscuits – all for just $20 – KFC can continue feeling good about satisfying the entire family for a great price.