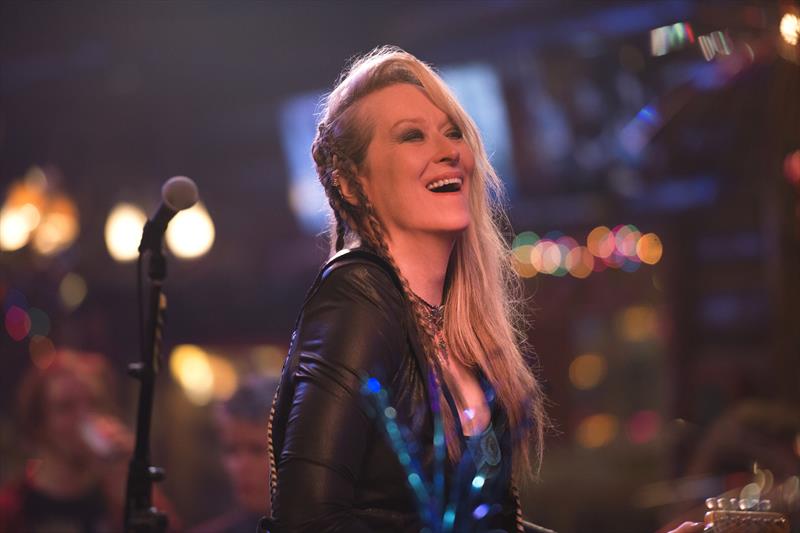 Photos: Courtesy of Sony Pictures
­Enduring actress Meryl Streep takes the stage as a past-her-prime rock singer trying to mend strained family relations in "Ricki and the Flash," a comedy-drama costarring Kevin Kline and Mamie Gummer ("Cake").
From Oscar-winning director Jonathan Demme ("Silence of the Lambs") and screenwriter Diablo Cody ("Juno"), this rock-centric celebration of arena anthems and glam rock garb is part camp comedy, part family drama, part musical; and despite the film's fleeting pleasures, collectively the jumbled genre hybrid never quite blends together to a satisfying whole. While Demme's veteran touch is most acutely felt during the musical performances and scenes of domestic disharmony, Diablo Cody's uneven script only cuts surface deep, resulting in a film that fades from memory as soon as the gig is up. Still, Streep's likability quotient paired with her character's relentless optimism enliven the picture enough to justify a trip to the theater for audiences of a certain age.
In the film, Streep stars as Linda Brummell, a former Indianapolis housewife who left her family behind years ago to reinvent herself as Ricki Rendazzo, the guitar-strumming lead singer of Ricki and the Flash, a dive bar house band in the San Fernando Valley. Although Ricki still rocks the stage with the furious passion of someone half her age, her dreams of stardom never quite came to fruition, forcing her to eke out a living as a register jockey at a local grocery store.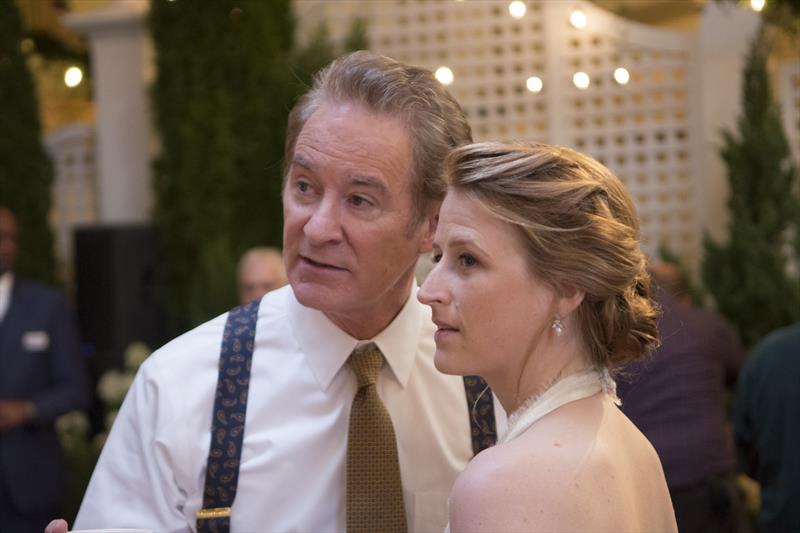 Ricki's decision to abandon her family was clearly callous and regrettable, so when she learns her daughter's husband left her, Ricki's maternal instincts kick in and she returns to Indianapolis to console her. Upon arriving at her ex-husband's (Kevin Kline) suburban mansion, it becomes clear that, while he is happily remarried, her daughter (Mamie Gummer) and two sons (Sebastian Stan and Adam Westrate) still harbor plenty of resentment. With the whole clan reunited to help the daughter through her rough patch, the family drama kicks into high gear, especially between Ricki and her ex's current wife (Audra McDonald).
As Ricki comes to terms with the fallout from her past decisions, she reassesses her commitment issues with her bandmate boyfriend (Rick Springfield). Along the way, she sings through the sadness with spirited renditions of classic rock hits like "American Girl," "Drift Away" and "Wooly Bully."
Over a forty-year career at the helm of everything from concert films ("Stop Making Sense") to Hollywood blockbusters ("Silence of the Lambs") and indie dramas ("Rachel Getting Married"), it's hard to imagine a director better suited to a cross-genre film like "Ricki and the Flash" than Jonathan Demme. From a story standpoint, most will leave "Ricki" disappointed – not an awful lot happens – but the director imbues the film with an undercurrent of familial love that at least creates a certain degree of emotional satisfaction. "Ricki" hits its high notes during the musical performances, particularly those at the band's permanently-1983 dive bar, but at some point even these scenes feel like filler to Diablo Cody's screenplay, which is populated with surprisingly stock characters and stodgy situational humor.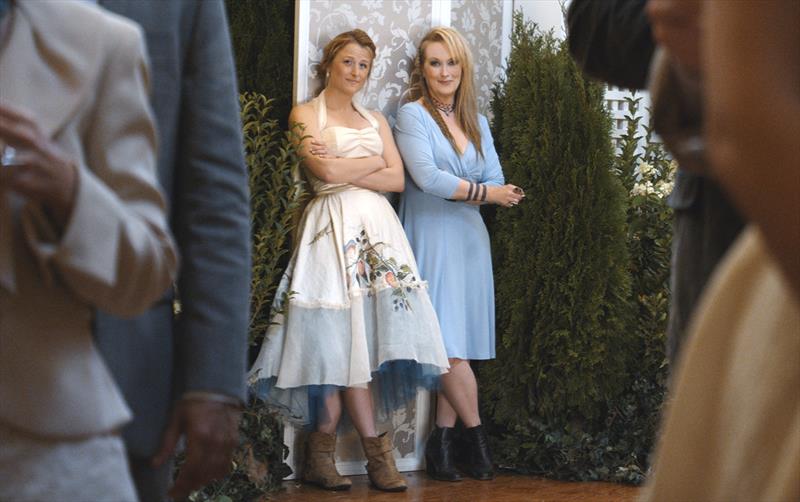 Fortunately, when you have an actress of Meryl Streep's caliber at center stage, much can be forgiven, and the Oscar winner captivates once again with a ferocious commitment to her over-the-top title character. To accommodate Demme's desire to film the musical performances live, Streep learned to play the guitar, which not only adds an authentic air but enables a touching moment when Streep plays an original tune to her daughter and ex-husband after a family pot-smoking session. Speaking of her ex-husband, although Kevin Kline isn't afforded too many scene-stealing opportunities, his winning charm makes him as delightful a screen presence as ever. And in the role of Ricki's eccentric daughter, Streep's real-life daughter Mamie Gummer displays standout thespian skills, delicately balancing her character's black humor and marital heartache.
A passable late-summer entry, "Ricki and the Flash" marks another superior performance from the seasoned screen legend.
By Lucas Mirabella
Rated PG-13 for thematic material, brief drug content, sexuality and language.
Running Time: 102 minutes