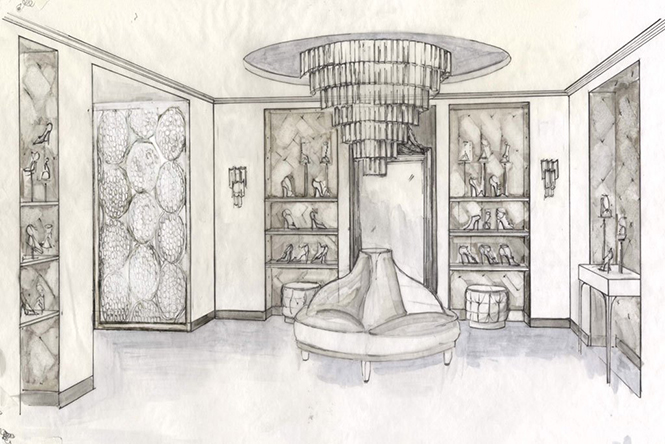 Photo: Sneak peek – http://sakspov.saksfifthavenue.com

Saks Fifth Avenue's New York flagship is making history with Manolo Blahnik. For the first time, the Manolo Blahnik brand joins Saks New York's famed 10022-SHOE designer shoe salon on Eight with a permanent boutique, one of the largest Manolo Blahnik boutiques in the world.
Saks Fifth Avenue will celebrate the momentous occasion with New York windows, exclusive Manolo Blahnik footwear, the launch of Blahnik's new book Fleeting Gestures and Obsessionsand companywide events, including a rare, in-store appearance by the designer at his Saks New York boutique in September.
"It's terribly exciting to finally be landing at Saks in New York City. It has always been one of my favourite specialty stores, and I cannot wait to see the new space which I am sure will be splendid," stated Manolo Blahnik.
The first room represents a sophisticated woman's boudoir enveloped by walls and walls of shoes with a large antique Murano glass chandelier as its centerpiece. Custom metal and mother-of-pearl screens seamlessly transition customers from the boudoir into the sitting room featuring a Venetian glass-mirrored focal wall.