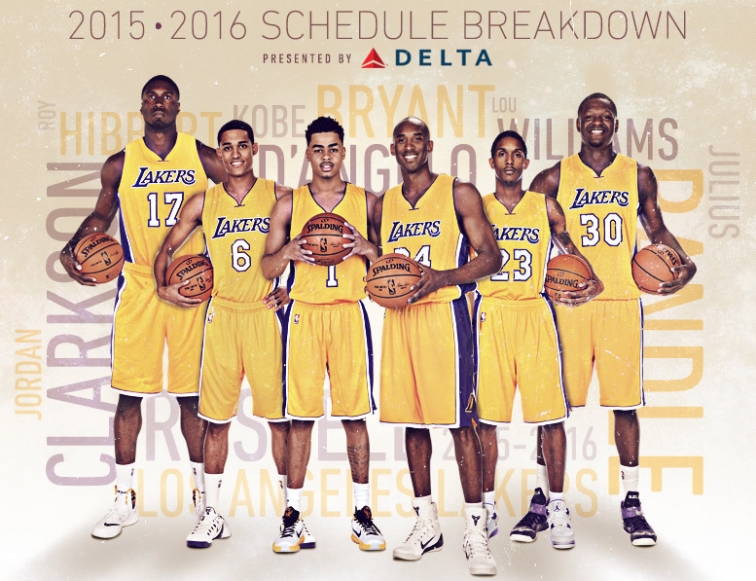 The Lakers will open the 2015-16 regular season on Wednesday, October 28 at STAPLES Center when they host the number one pick of the 2015 NBA draft, Karl-Anthony Towns, and the Minnesota Timberwolves, it was announced today. Highlights of the Lakers' home schedule include a Christmas day game against the Los Angeles Clippers; the NBA Champion Golden State Warriors on January 5 and March 6; LeBron James and the Cleveland Cavaliers on March 10; and Kevin Durant and the Oklahoma City Thunder on December 23 and January 8.  
The Lakers will play in 18 sets of back-to-backs (eleven home/away and seven away/away). The team's longest road trip of the season will be an eight-game, 13-day trip from November 30 to December 12 that includes games at Philadelphia, Washington, Atlanta, Detroit, Toronto, Minnesota, San Antonio and Houston.
 The Lakers are scheduled to appear on national television a total of 28 times during the 2015-16 season, including one game on ABC, nine games on TNT, nine games on ESPN and nine games on NBA TV.
The Lakers' complete 2015-16 schedule is as follows (all times local):
| | | | | | | | | | | | |
| --- | --- | --- | --- | --- | --- | --- | --- | --- | --- | --- | --- |
| DAY | DATE |   | OPPONENT | TIME |   |   | DAY | DATE |   | OPPONENT | TIME |
| Wed. | 28-Oct-15 |   | Minnesota | 7:30 PM |   |   | Sat. | 16-Jan-16 | at | Utah | 7:00 PM |
| Fri. | 30-Oct-15 | at | Sacramento | 7:00 PM |   |   | Sun. | 17-Jan-16 |   | Houston | 6:30 PM |
| Sun. | 1-Nov-15 |   | Dallas | 6:30 PM |   |   | Wed. | 20-Jan-16 |   | Sacramento | 7:30 PM |
| Tue. | 3-Nov-15 |   | Denver | 7:30 PM |   |   | Fri. | 22-Jan-16 |   | San Antonio | 7:30 PM |
| Fri. | 6-Nov-15 | at | Brooklyn | 7:30 PM |   |   | Sat. | 23-Jan-16 | at | Portland | 7:30 PM |
| Sun. | 8-Nov-15 | at | New York | 3:30 PM |   |   | Tue. | 26-Jan-16 |   | Dallas | 7:30 PM |
| Tue. | 10-Nov-15 | at | Miami | 7:30 PM |   |   | Thu. | 28-Jan-16 |   | Chicago | 7:30 PM |
| Wed. | 11-Nov-15 | at | Orlando | 7:00 PM |   |   | Fri. | 29-Jan-16 | at | L.A. Clippers | 7:30 PM |
| Fri. | 13-Nov-15 | at | Dallas | 7:30 PM |   |   | Sun. | 31-Jan-16 |   | Charlotte | 6:30 PM |
| Sun. | 15-Nov-15 |   | Detroit | 6:30 PM |   |   | Tue. | 2-Feb-16 |   | Minnesota | 7:30 PM |
| Mon. | 16-Nov-15 | at | Phoenix | 7:00 PM |   |   | Thu. | 4-Feb-16 | at | New Orleans | 7:00 PM |
| Fri. | 20-Nov-15 |   | Toronto | 7:30 PM |   |   | Sat. | 6-Feb-16 | at | San Antonio | 7:30 PM |
| Sun. | 22-Nov-15 |   | Portland | 6:30 PM |   |   | Mon. | 8-Feb-16 | at | Indiana | 7:00 PM |
| Tue. | 24-Nov-15 | at | Golden State | 7:30 PM |   |   | Wed. | 10-Feb-16 | at | Cleveland | 8:00 PM |
| Sat. | 28-Nov-15 | at | Portland | 7:00 PM |   |   | Fri. | 19-Feb-16 |   | San Antonio | 7:30 PM |
| Sun. | 29-Nov-15 |   | Indiana | 6:30 PM |   |   | Sun. | 21-Feb-16 | at | Chicago | 7:00 PM |
| Tue. | 1-Dec-15 | at | Philadelphia | 7:00 PM |   |   | Mon. | 22-Feb-16 | at | Milwaukee | 7:00 PM |
| Wed. | 2-Dec-15 | at | Washington | 7:00 PM |   |   | Wed. | 24-Feb-16 | at | Memphis | 7:00 PM |
| Fri. | 4-Dec-15 | at | Atlanta | 8:00 PM |   |   | Fri. | 26-Feb-16 |   | Memphis | 7:30 PM |
| Sun. | 6-Dec-15 | at | Detroit | 6:00 PM |   |   | Tue. | 1-Mar-16 |   | Brooklyn | 7:30 PM |
| Mon. | 7-Dec-15 | at | Toronto | 7:30 PM |   |   | Wed. | 2-Mar-16 | at | Denver | 7:00 PM |
| Wed. | 9-Dec-15 | at | Minnesota | 7:00 PM |   |   | Fri. | 4-Mar-16 |   | Atlanta | 7:30 PM |
| Fri. | 11-Dec-15 | at | San Antonio | 8:30 PM |   |   | Sun. | 6-Mar-16 |   | Golden State | 12:30 PM |
| Sat. | 12-Dec-15 | at | Houston | 7:00 PM |   |   | Tue. | 8-Mar-16 |   | Orlando | 7:30 PM |
| Tue. | 15-Dec-15 |   | Milwaukee | 7:30 PM |   |   | Thu. | 10-Mar-16 |   | Cleveland | 7:30 PM |
| Thu. | 17-Dec-15 |   | Houston | 7:30 PM |   |   | Sun. | 13-Mar-16 |   | New York | 6:30 PM |
| Sat. | 19-Dec-15 | at | Oklahoma City | 4:00 PM |   |   | Tue. | 15-Mar-16 |   | Sacramento | 7:30 PM |
| Tue. | 22-Dec-15 | at | Denver | 7:00 PM |   |   | Fri. | 18-Mar-16 |   | Phoenix | 7:30 PM |
| Wed. | 23-Dec-15 |   | Oklahoma City | 7:30 PM |   |   | Tue. | 22-Mar-16 |   | Memphis | 7:30 PM |
| Fri. | 25-Dec-15 |   | L.A. Clippers | 7:30 PM |   |   | Wed. | 23-Mar-16 | at | Phoenix | 7:00 PM |
| Sun. | 27-Dec-15 | at | Memphis | 5:00 PM |   |   | Fri. | 25-Mar-16 |   | Denver | 7:30 PM |
| Mon. | 28-Dec-15 | at | Charlotte | 7:00 PM |   |   | Sun. | 27-Mar-16 |   | Washington | 6:30 PM |
| Wed. | 30-Dec-15 | at | Boston | 7:30 PM |   |   | Mon. | 28-Mar-16 | at | Utah | 7:00 PM |
| Fri. | 1-Jan-16 |   | Philadelphia | 7:30 PM |   |   | Wed. | 30-Mar-16 |   | Miami | 7:30 PM |
| Sun. | 3-Jan-16 |   | Phoenix | 6:30 PM |   |   | Sun. | 3-Apr-16 |   | Boston | 6:30 PM |
| Tue. | 5-Jan-16 |   | Golden State | 7:30 PM |   |   | Tue. | 5-Apr-16 | at | L.A. Clippers | 7:30 PM |
| Thu. | 7-Jan-16 | at | Sacramento | 7:30 PM |   |   | Wed. | 6-Apr-16 |   | L.A. Clippers | 7:30 PM |
| Fri. | 8-Jan-16 |   | Oklahoma City | 7:30 PM |   |   | Fri. | 8-Apr-16 | at | New Orleans | 7:00 PM |
| Sun. | 10-Jan-16 |   | Utah | 6:30 PM |   |   | Sun. | 10-Apr-16 | at | Houston | 2:30 PM |
| Tue. | 12-Jan-16 |   | New Orleans | 7:30 PM |   |   | Mon. | 11-Apr-16 | at | Oklahoma City | 7:00 PM |
| Thu. | 14-Jan-16 | at | Golden State | 7:30 PM |   |   | Wed. | 13-Apr-16 |   | Utah | 7:30 PM |