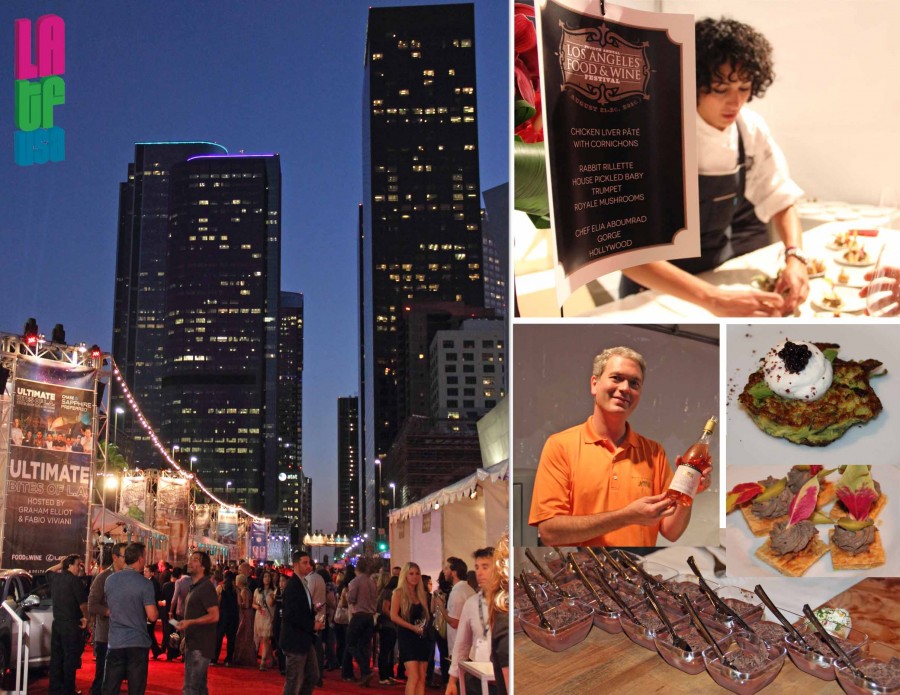 It's already that time of the year again.. Food Festival season in Los Angeles!
Los Angeles Food & Wine, produced by Coastal Luxury Management and presented with founding partners FOOD & WINE and Lexus, announced additional programming for festival goers, including three exclusive wine seminars set to be held at Faith & Flower. The Lexus Signature Series will feature three intimate guest dining experiences at Milk Studios with Lexus Culinary Masters Carlo Mirarchi, Michelle Bernstein, and Michael Chiarello. In addition, festival partner Chef Works will debut products from their new line, as participating chefs don the newest Chef Works apparel collection.
Celebrating its 5th anniversary, Los Angeles Food & Wine is set to take place August 27-August 30. Master sommeliers, local chefs, and the food world's biggest culinary stars once again meet head-to-head as the best of the Los Angeles culinary scene takes over the city of Los Angeles for the unprecedented three-night and four-day extravaganza.
On sale now, tickets for individual events range from $50-$350, with package and VIP options starting at $650.
The Lexus Signature Series of events will give festival guests the opportunity to experience three memorable dining events, including:
A Dining Experience with Lexus Culinary Master Carlo Mirarchi (Thursday, August 27, 7pm-10pm): Lexus has partnered with the creative minds behind New York City's Spring Street Social Society to present The Lexus Signature Series, A Dining Experience with Lexus Culinary Master Carlo Mirarchi, dedicated to fine food, wine and cocktails—all with some surprising twists. Hosted by Spring Street Social Society founder and Instagram notable @AGuyNamedPatrick, the menu highlights the inventive epicurean style of  Mirarchi, the talent and owner behind Brooklyn restaurants Blanca and Roberta's. 
A Supper with Lexus Culinary Master Michael Chiarello (Friday, August 28, 7pm-10pm): This installment in the Lexus Signature Series promises to be a memorable evening with a prolific multicourse dinner prepared by celebrity chef and one of the founding Lexus Culinary Masters, Michael Chiarello.
The Definitive "Boozy Brunch" with Lexus Culinary Master Michelle Bernstein (Saturday, August 29, 12noon-2pm): For the first time ever, Los Angeles Food & Wine will feature an adventurous and soul-pleasing brunch, curated by Lexus, showcasing Lexus Culinary Master, Michelle Bernstein from Cena by Michy in Miami. As you soak in the L.A. sunshine, be prepared to energize your senses with a brunch experience you won't soon forget. With hand-crafted cocktails and a live performance from DJ Ahmir "Questlove" Thompson of The Roots, brunch will never be the same.
Just added, the three wine seminars will all be held at Faith & Flower in Downtown Los Angeles, and with extremely limited seating, oenophiles will have intimate one-on-one access to the wine world's most revered experts as guests taste and learn more about some of the world's most prestigious wines:
Next Generation Cult Cabernets (Saturday, August 29, 11am-12:15pm): Is cult cab dead?  Despite the rough economic waters that have indubitably changed the wine market, purveyors of "perfect" cabernet sauvignon still have a critical role to play on the international stage. 
The World of Super Tuscans (Saturday, August 29, 4:30pm-5:45pm): When a Typical Regional Wine (IGT – Indicazione Geografica Tipica) is of such spectacular quality that the term 'typical' just does not fit, enter The SUPER TUSCANS. A Super Tuscan is the final expression of quality and skill of winemaking of a wine producer and his enologist. While a vertical of several vintages of one such wine is a much desired experience, Los Angeles Food & Wine has decided to make this occasion extra special by bringing them ALL to the table at once.
Krug Champagne & Black River Caviar (Sunday, August 30, 11am-12:15pm): Legendary Champagne Krug paired with a decadent tasting of Black River Caviar. Luxury epitomized, this is THE event to attend for anyone who loves champagne and caviar, its parallel in extravagance.
Set to debut at the festival, Chef Works (ChefWorks.com) will release their new Q3 pieces by outfitting all participating culinary officials. Drawing on the success of the 2014 Urban Collection, the new Chef Works products join an existing collection of stylish aprons, chef coats, and kitchen/front-of-house shirt offerings. The new product line includes over 60 new pieces and features new details such as added pockets, back-of-the-neck apron tabs, 2-way zippers and stretch, mesh panels.                                                                                              
Please continue to visit LAFW.com for updates and details on full programming of events, chefs, wineries, sommeliers, mixologists, and culinary talent participating at the 5th Annual Los Angeles Food & Wine festival.
Tickets are available to purchase by visiting LAFW.com or by calling 855-433-LAFW (5239)