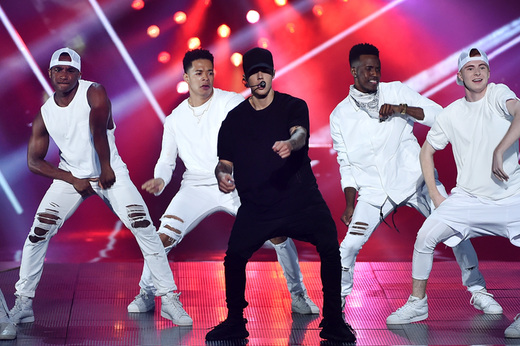 Photos: Courtesy of MTV Press – Viacom
With all her talk of "crazy," the only thing truly shocking about Miley Cyrus hosting the 2015 MTV VMAs were her flourescent clown/Hello Kitty-like outfit changes. Sure, we were a centimeter away from seeing her lady-parts, but it really isn't much to talk about in the headlines. To recap on all of the shock-value moments: Taylor Swift was clearly lip-synching during the opening number with Nicki Minaj, after accepting an award, Minaj called Cyrus a bitch for talking trash about her in the press… and.. wait for it, Kanye West announced that he will be running for President in 2020. Somehow, we're not surprised.
Gossip aside, MTV did manage to produce some great staged productions, from The Weeknd's fire heavy performance, to Macklemore's choreographed show outside of The Orpheum. At the end of the night, we all just want to know who took home a Moon Man, designed by Jeremy Scott.
BEST FEMALE VIDEO
Taylor Swift – "Blank Space"
BEST HIP-HOP VIDEO
Nicki Minaj – "Anaconda"
BEST MALE VIDEO
Mark Ronson ft. Bruno Mars – "Uptown Funk"
BEST POP VIDEO
Taylor Swift – "Blank Space"

BEST ROCK VIDEO
Fall Out Boy – "Uma Thurman"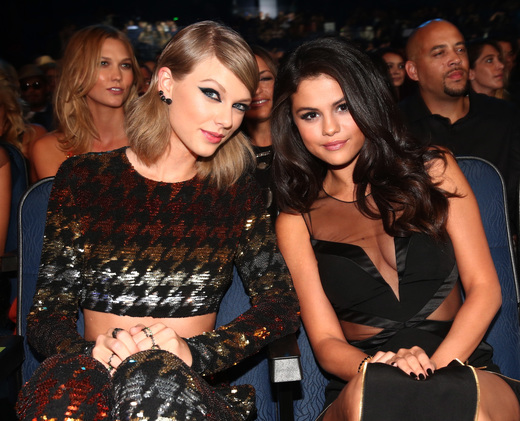 VIDEO OF THE YEAR
Taylor Swift ft. Kendrick Lamar – "Bad Blood"
ARTIST TO WATCH
Fetty Wap – "Trap Queen"
VIDEO WITH A SOCIAL MESSAGE
Big Sean ft. Kanye West and John Legend – "One Man Can Change the World"
PROFESSIONAL CATEGORIES
BEST ART DIRECTION
Snoop Dogg – "So Many Pros" (François Rousselet, Jason Fijal)
BEST CHOREOGRAPHY
OK Go – "I Won't Let You Down" (OK Go, air:man, and Mori Harano)
BEST CINEMATOGRAPHY
Flying Lotus ft. Kendrick Lamar – "Never Catch Me" (Larkin Sieple)
BEST DIRECTION
Kendrick Lamar – "Alright" (Colin Tilley & the Little Homies)
BEST EDITING
Beyoncé – "7/11″ (Beyoncé, Ed Burke, Jonathan Wing)
BEST VISUAL EFFECTS
Skrillex & Diplo "Where Are U Now" with Justin Bieber (Brewer, Gloria FX, and Max Chyzhevskyy)