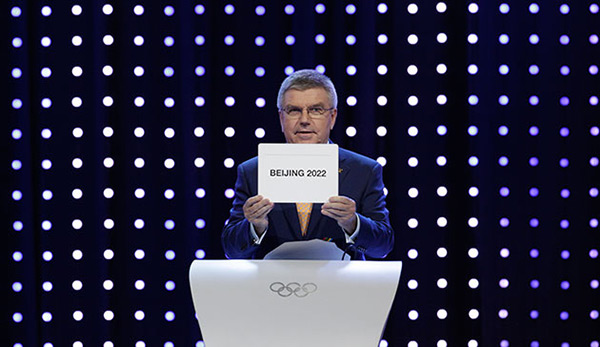 The International Olympic Committee (IOC) has named Beijing, People's Republic of China, as the host city of the Olympic Winter Games 2022.
The Chinese capital was chosen over Almaty, Kazakhstan, in a vote at the 128th IOC Session in Kuala Lumpur. Beijing received 44 votes to Almaty's 40. As a result, Beijing will become the first city to host both a summer and winter edition of the Olympic Games, following the city's successful staging of the Summer Games in 2008.
Beijing aims to use the Games to accelerate the development of a new sport, culture and tourism area, and to encourage interest in winter sports in a region that is home to more than 300 million people in northern China.  
Although the bid process for 2022 began before the approval of Olympic Agenda 2020, the reforms have already had a significant impact on Beijing's Olympic plans. Olympic Agenda 2020 calls for a stronger focus on sustainability, legacy, and transparency, while making it easier for host cities to tailor Games that meet their needs rather than trying to fit a template.
Beijing took advantage of the flexibility provided by Olympic Agenda 2020 to improve its plans for the Games and reduce costs. The city will rely heavily on existing venues, including those built for the Games in 2008, such as the iconic Bird's Nest stadium.