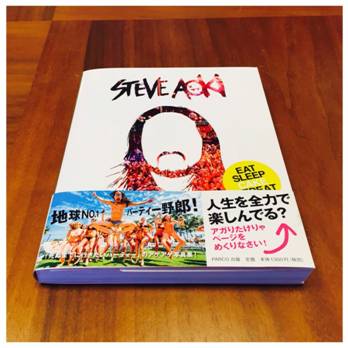 Angelenos and fans of the cake-throwing DJ, STEVE AOKI… get excited.
AOKI will be on hand at The Last Bookstore on July 30th to sign copies of his first-ever photography book Eat Sleep Cake Repeat, which offers a visual glimpse into his past 10 years on the road; it's a fun journey into the world of Steve Aoki, and of course his cakes, adventuring around the world and back with a colorful cast of personalities.
Eat Sleep Cake Repeat is an in-depth look into Steve Aoki's life on the road with selected moments from the past 10 years. Pictures with friends, other DJs and artists, live performance shots, the Aoki Jumps and Naps, Eat Sleep Cake Repeat is Aoki's perspective into the worldwide EDM culture; and worldwide are the characters featured in this book from Pharrell Williams, Nigo from Bathing Ape, Dan Bilzerian, Kendrick Lamar, Michelle Rodriguez, Zedd, Tiesto, Okachan, Wiz Khalifa, Skrillex, Jessica Alba, Will Smith, Jared Leto, Hulk Hogan, Stan Lee, Linkin Park, Ariana Huffington, ASAP Rocky & Ferg, Beyonce, Jay Z, DJ AM, Deadmau5, Iggy Azalea, among others.
Stop by from 6:00 pm – 7:00 pm
 The Last Bookstore
453 S Spring St, Los Angeles, CA 90013