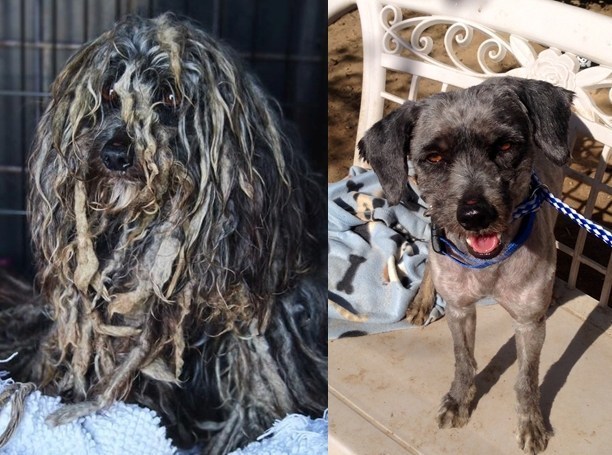 Bob Marley, a schnoodle from Fowler, Calif. (a small town mid-way between Los Angeles and San Francisco), was aptly named for his dreadlocked appearance, but while the look worked for the musician, this pup was uncomfortably miserable and homeless.
Thanks to some much needed grooming and TLC, Bob's new clean-cut appearance has given him a new outlook on life, and the title of America's top doggie makeover in the 2015 Dirty Dogs Contest (view all the finalists). The effort from pet industry leaders Wahl and GreaterGood.orgdemonstrates how the transformative power of grooming can help shelter dogs find homes.
"Bob Marley is an example of the millions of healthy and lovable dogs living behind the appearance of neglect, and that with a little grooming their true selves can shine through," says Shay Moeller, pet product manager for Wahl. "Because first impressions are so important, these transformations are crucial in determining if a dog will find a forever family."
Pinky Paws ResQ, the shelter that saved Bob, will receive a $5,000 grant to further support their efforts. In addition, second place winner Angie from the Animal Rescue League of Iowa will receive a $2,000 grant, and third place dog J.J. from Sangamon County Animal Control in Springfield, Ill., will receive $1,000.
About Bob Marley's Story
Krystle Rivera, founder of Pinky Paws ResQ in Selma, Calif., received a call in March 2015 about a homeless dog that had wandered into a nearby shipping yard and was hiding amongst raisin bins. When she arrived, the dog later named Bob Marley was severely matted, neglected, and had a rope tied to him. With a groomer on standby, Rivera quickly took Bob back to the sanctuary she runs on a volunteer basis.
Motivated by her love of animals, Rivera began Pinky Paws ResQ after learning that the City of Fowler euthanized all abandoned dogs. She is now applying this dedication to Bob Marley. Due to neglect issues she will be fostering him for the next year and training him for fear aggression and behavioral modification until he is ready for adoption.
More than 8 million dogs enter shelters each year, and a vast majority of them are dirty and matted. Unfortunately, less than half of these dogs are getting the grooming they need. For the past four years it has been Wahl's mission to draw attention to this problem with their annual Dirty Dogs Contest.
This year Wahl donated 1,800 bottles of their all-natural pet shampoos to shelters in need, helping to wash and ready more than 20,000 dogs for adoption. In turn, the shelters posted hundreds of amazing transformations into the Dirty Dogs Before & After Gallery. Ten of the most dramatic makeovers from the gallery were selected to participate in the contest, and public votes determined the top three winners.
View the contest winners' and finalists' before and after photos on the Wahl Pets Facebook page. To see even more adoptable dogs visit the Dirty Dogs Before & After Gallery. For information about Wahl or Wahl's pet grooming products, visit WahlPets.com or follow Wahl Pets on Facebook and Twitter.