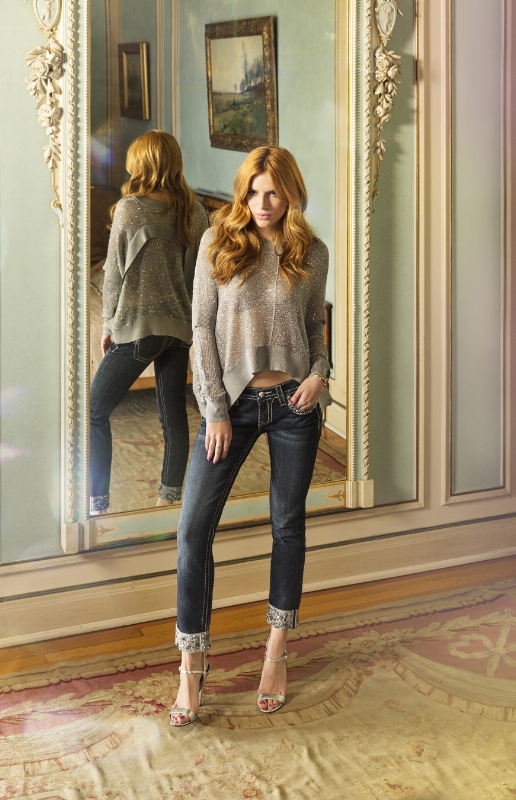 Leading American denim brand, Miss Me, today announces actress and author, Bella Thorne as the face of the Fall/Winter 2015 'Let Yourself Shine' campaign. This will be the first celebrity endorsement partnership since the brand's launch in 2001.
The actress was selected to represent the denim brand because they believe she exemplifies the new generation of young Hollywood, that is multi-dimensional in her various professional roles and authentic in her personal life through social media, embodying the essence of the Miss Me woman. Thorne inspires and empowers women to be confident in their skin.
"Don't care so much about what people think of you. Be confident. Be sexy. Be bold. Be yourself. Be everything you see in the mirror," says Thorne.
"Bella modeled for our children's line, Miss Me Girls, about six years ago. It's great to be working with her again after we've watched her grow through many successful projects and into the young woman she is today," says Sarah Brown, Marketing and PR Manager for Miss Me. "She's a confident young woman who is truly unafraid to be herself and always stands out in a crowd which makes her the perfect fit for our new installment of the 'Let Yourself Shine' campaign."
In addition to national print ads in Cosmopolitan, People StyleWatch, and Teen Vogue, Cosmopolitan magazine will launch a sweepstakes in the October 2015 print issue where fans and readers will have the chance to win a trip to Los Angeles to attend the private event hosted by Miss Me, Cosmopolitan, and Bella Thorne. Details for the sweepstakes will be released in September 2015.