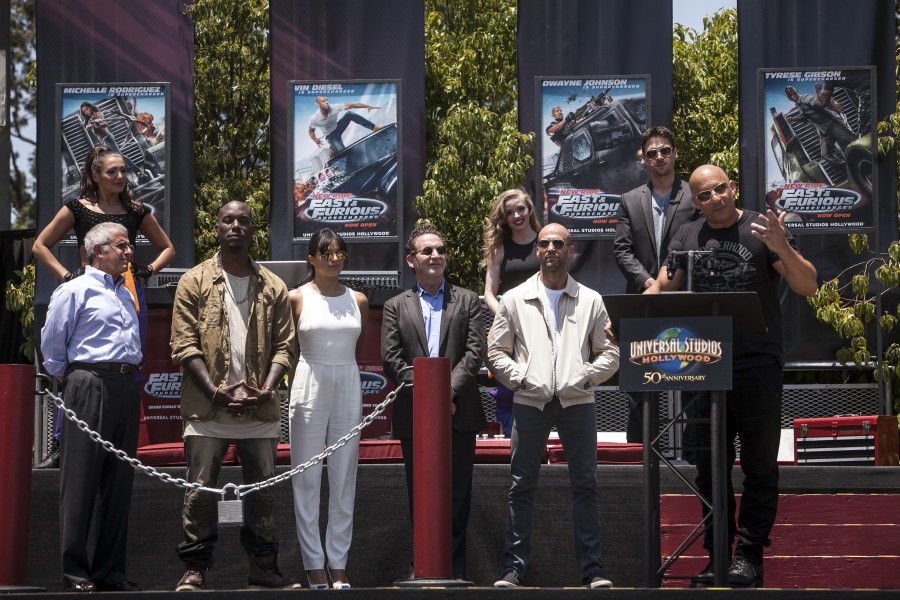 Vin Diesel, Michelle Rodriguez, Tyrese Gibson and Jason Statham attended this week's red carpet premiere of Universal Studios Hollywood'sSM  all-new thrill ride, "Fast & Furious—Supercharged", and were among the first to experience the attraction, which debuts as the grand finale to the world famous Studio Tour.
After experiencing "Fast & Furious—Supercharged," Vin Diesel reacted by saying, "Wow…wow was that cool.  It's incredible, it's really remarkable. It's not like anything I've ever seen.  Everyone on the tram said, 'Can we do it again?'  It's super cool!"
This dynamic new ride, inspired by Universal Pictures' blockbuster film and featuring cast members from the series, including Vin Diesel, Dwayne Johnson, Michelle Rodriguez, Tyrese Gibson and Luke Evans, is a technologically advanced mega-attraction designed to catapult guests into the high-stakes underground world of street racing at perceived speeds of 120 miles per hour.
A high-octane adventure, "Fast & Furious—Supercharged," is conceived as a new installment to the Fast & Furious franchise that can only be experienced at the Entertainment Capital of L.A. The ride opens on June 24, 2015.
"Fast & Furious is an exhilarating global film phenomenon that has been consistently characterized as a thrill ride.  Now we can officially say it is," said Larry Kurzweil, President of Universal Studios Hollywood.  "As Universal Studios Hollywood's ambitious epic transformation continues as part of our 50th anniversary, we are thrilled to bring Universal's incredibly compelling film franchise to life."
To supercharge your ride on Universal Studios Hollywood's new web app, visit: Fast.UniversalStudiosHollywood.com.