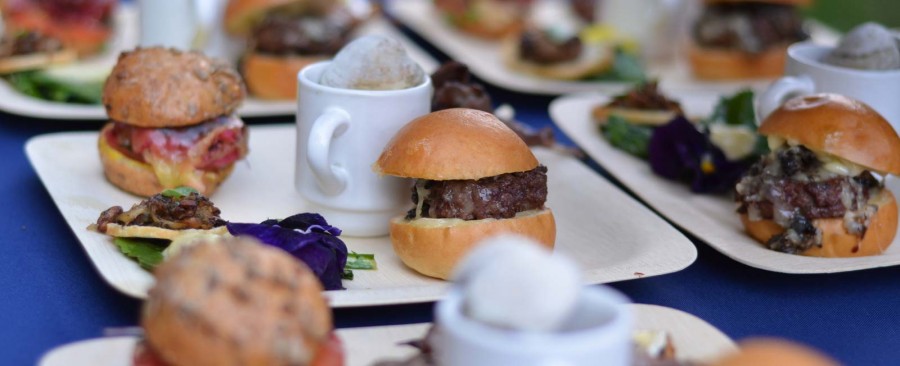 The Smithsonian's National Museum of American History will unveil a demonstration kitchen July 3rd in the Wallace H. Coulter Performance Plaza with the debut of "Food Fridays," a cooking program in the museum's Innovation Wing. The first of its kind at the Smithsonian, this working kitchen will connect food programming to the ideas of invention and innovation presented there.
"Food Fridays" is a free 45-minute program that combines cooking demonstrations with conversations between chefs, culinary experts and the public. Each Friday from July to December, at 11 a.m. and 1 p.m., the museum will showcase a guest chef and Smithsonian host Jessica Carbone as they prepare a recipe and discuss the history and traditions behind its ingredients, culinary techniques and other relevant topics.
Visitors will have the opportunity on Fridays to purchase a dish inspired by the recipes featured in the demonstrations in the museum's Stars & Stripes Cafe.
The demonstration kitchen, as part of the museum's American Food History Project, will be host to live food demonstrations, discussions and cooking programs for visitors of all ages, as well as to ticketed evening events and the Smithsonian Food History Weekend to be held Oct. 22–24.
All ingredients used in the new kitchen are courtesy of Wegmans Food Markets. The demonstration kitchen is outfitted with new equipment and tools courtesy of Le Creuset, Kitchen Aid, Kitchen IQ, Silpat, and Sur La Table and its vendors. Guest chefs for "Food Fridays" demonstrations will be coordinated through a unique partnership with chefs and food professionals courtesy of Wegmans Food Markets, Sur La Table, L'Academie de Cuisine and Restaurant Associates, as well independent chefs, to create a rotating roster each month with different recipes that follow a changing theme developed by the museum.
During July, "Food Fridays" will look at "Summertime" in America:
July 3

: Special guest chef,

Curtis Aikens

will cook up sauces, rubs, summer salads and sweet treats that take him back to his native

Georgia

and the traditions of Southern barbecue and picnic.

July 10

:

Llewellyn Correia

, chef at Wegmans, and

Krystal Register

, registered dietitian nutritionist, will take the stage to guide visitors through the basics of marinating, seasoning and grilling chicken and vegetables, and together with the Smithsonian host, will examine how firing up the backyard grill became a major ritual for summertime celebrations.

July 17

:

Angie Lee

, chef at Sur La Table, will take participants on a journey up the Eastern seaboard as she prepares seafood dishes from the Chesapeake Bay and New England. The program will also look at the long voyage of signature summer seafood, such as the

Maine

lobster roll, as each ingredient moves from coastal waters to boat to market and ultimately to table.

July 24

: L'Academie de Cuisine

July 31

: Restaurant Associates
"Food Fridays" will explore these monthly themes during the pilot project ending in December: Food Movements in the 20th Century; Hispanic Heritage Month; Harvest Season in America; "The Land of Plenty": Thanksgiving and Native American Heritage; and Food Celebrations in America. More information is available at http://bit.ly/foodfridays.
The National Museum of American History explores the infinite richness and complexity of American history. For more information, visit http://americanhistory.si.edu. The museum is located on Constitution Avenue, between 12th and 14th streets N.W. Admission is free.