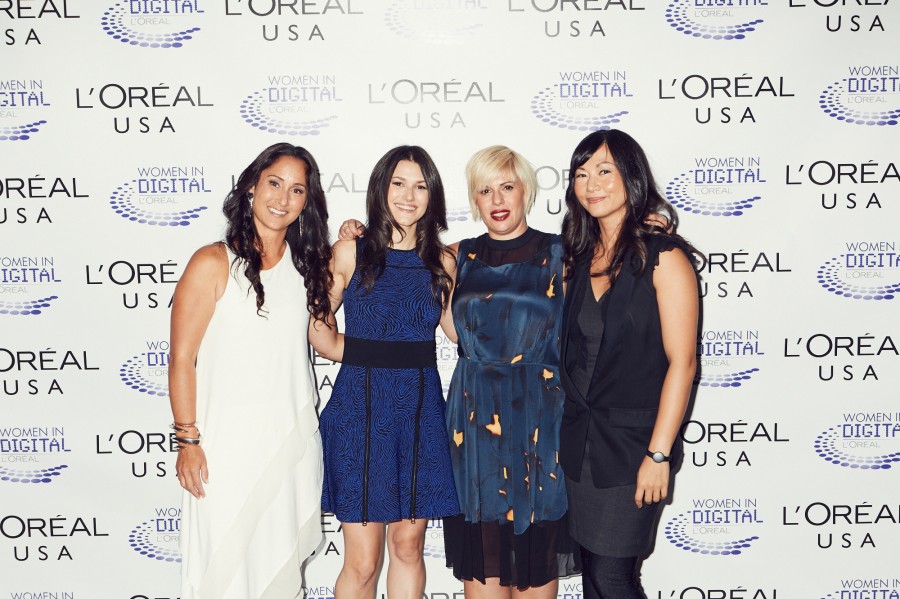 Winners of L'Oreal USA's NEXT Generation Awards, and Rachel Weiss, VP of Digital Innovation and Entrepreneurship at L'Oreal USA
L'Oreal USA announced an open call for nominations for the fourth annual Women in Digital NEXT Generation Awards to encourage and empower women to pursue careers in the fields of digital marketing, technology and IT. The program promotes, supports and recruits female entrepreneurs by providing them with the opportunity to launch and scale new technologies and digital innovations in partnership with L'Oreal to impact the future of the tech and beauty industries.
The NEXT Generation Awards are given to three female-founded companies that are creating innovative business solutions within all areas of the technology space, including but not limited to virtual reality, the on-demand economy, data, robotics and e-commerce. The program offers winners mentorship from top executives and a network of advisers, resources to advance their mission, and the opportunity to grow their brand and audience in partnership with L'Oreal.
"The Women in Digital program continues to inspire us each year and has become an invaluable resource for L'Oreal's innovation pipeline of entrepreneurial women and ideas," said Rachel Weiss, Vice President of Digital Innovation and Entrepreneurship at L'Oreal USA and Chair of the Women in Digital program. "Past winners of the Women in Digital NEXT Generation Awards have provided L'Oreal with unique insights into areas in need of innovation with their fresh thinking and creativity, while L'Oreal has helped elevate their profiles and grow their businesses."
The 2015 winners will have the opportunity to present at L'Oreal's Inspiration Day in November to over 450 marketing executives across L'Oreal USA's portfolio of brands who will vote and award one entrepreneur a chance to pilot their technology within the company. Finalists will also have access to L'Oreal's network of venture capitalists, top executives and the Women in Digital Advisory board, which includes leaders in technology such as Joanne Bradford, Advisor at Pinterest; Margit Wennmachers, Partner at Andreessen Horowitz; Arianna Huffington, Chair, President and Editor-in-Chief of the Huffington Post Media Group; Padmasree Warrior, Strategic Advisor at Cisco; Karin Klein, Partner at Bloomberg Beta; and Brooke Hammerling, Founder of Brew Media Relations.
With the program entering its fourth year, past winners have seen impressive growth and tapped L'Oreal resources to help them along the way.
Glamsquad, an on-demand beauty app and 2014 NEXT Generation Awards winner, saw immediate benefits to its partnership with L'Oreal: "The partnership between L'Oreal and Glamsquad accelerated our mission from very early on, giving us a window to key brands in the beauty industry just shortly after our launch – this connection has played an integral role in both the growth of our business and the development of our brand," said Alexandra Wilkis Wilson, co-founder and CEO.