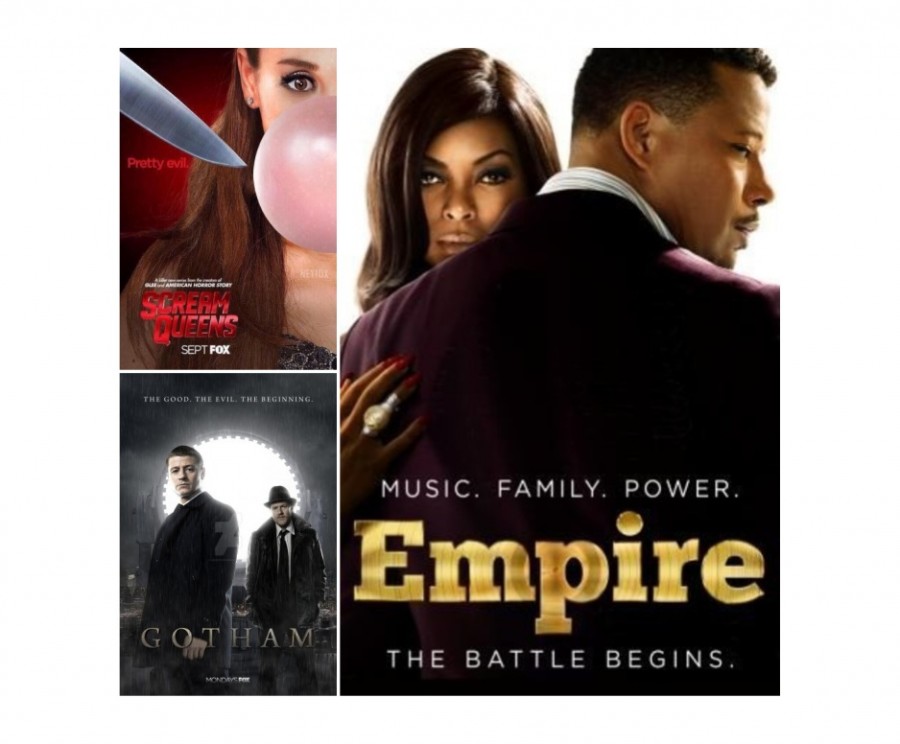 Mark your calendars, FOX has announced the premiere dates for their 2015-2016 season!
The 67TH PRIMETIME EMMY® AWARDS willair LIVE coast-to-coast from the Microsoft Theater (Previously the Nokia Theatre) in Los Angeles on Sunday, Sept. 20th (8:00-11:00 PM ET live/5:00-8:00 PM PT live). The special will be hosted by Emmy® Award-winning writer, actor and comedian Andy Samberg (BROOKLYN NINE-NINE).
The stakes are higher than ever as GOTHAM explores the origin stories of some of the most ambitious and depraved Super Villains, including The Riddler, The Joker and Mr. Freeze, and Bruce Wayne (David Mazouz) uncovers more secrets from his father's past, in the Season Two debut on Monday, Sept. 21 (8:00-9:00 PM ET/PT), followed by the series premiere of futuristic crime drama MINORITY REPORT (9:00-10:00 PM ET/PT). Based on Steven Spielberg's international blockbuster film and the first of his films to be adapted for television, MINORITY REPORT follows the partnership between a man (Stark Sands, "Inside Llewyn Davis") haunted by the future and a cop (Meagan Good, "Think Like A Man" franchise, "Californication") haunted by her past, as they race to stop the worst crimes before they happen.
Award-winning executive producers Ryan Murphy ("Glee," "American Horror Story"), Brad Falchuk ("Glee," "American Horror Story") and Ian Brennan ("Glee") meld comedy, mystery and horror in SCREAM QUEENS, which debuts with a special, two-hour series premiere event on Tuesday, Sept. 22 (8:00-10:00 PM ET/PT). All hell is about to break loose on the Wallace University campus when, exactly 20 years after a mysterious tragedy, a devil-clad killer begins to target the sisters of Kappa House.
On Tuesday, Sept. 29, new comedies GRANDFATHERED (8:00-8:30 PM ET/PT) and THE GRINDER (8:30-9:00 PM ET/PT) kick off an all-new Tuesday. GRANDFATHERED is a coming-of-middle-age story starring John Stamos ("Full House," "ER") as the ultimate bachelor whose life is turned upside down when he discovers he's not only a father, but a grandfather. The series also stars Josh Peck ("The Mindy Project"). 
Set against the vibrant backdrop of one of the world's hottest cities – Miami – new medical procedural ROSEWOOD premieres on Wednesday, Sept. 23 (8:00-9:00 PM ET/PT). The series stars Morris Chestnut ("Nurse Jackie," "The Best Man" franchise) as DR. BEAUMONT ROSEWOOD, JR., the city's top private pathologist. Brilliant, cool with tons of charisma, Rosewood teams up with the tough-as-nails DETECTIVE ANNALISE VILLA (Jaina Lee Ortiz, "The After"), to uncover clues no one else sees and help the Miami PD solve the city's most challenging cases. 
EMPIRE, broadcast television's biggest hit, returns at 9:00-10:00 PM ET/PT, following ROSEWOOD. The series will pick up three months after the shocking arrest and incarceration of Empire Entertainment head LUCIOUS LYON (Terrence Howard).
The fun returns to Sundays beginning Sept. 27, with the season premieres of Emmy Award-winning comedy BOB'S BURGERS (7:30-8:00 PM ET/PT), the unprecedented 27th season of THE SIMPSONS (8:00-8:30 PM ET/PT), the Golden Globe-winning live-action comedy BROOKLYN NINE-NINE (8:30-9:00 PM ET/PT), the 13th season of FAMILY GUY (9:00-9:30 PM ET/PT) and the critically acclaimed live-action comedy THE LAST MAN ON EARTH (9:30-10:00 PM ET/PT).
Judges Gordon Ramsay, Graham Elliot and Christina Tosi find the next best junior chef in America, when MASTERCHEF JUNIOR returns Friday, Nov. 6 (8:00-9:00 PM ET/PT), followed by all-new episodes of WORLD'S FUNNIEST (9:00-10:00 PM ET/PT), in which host Terry Crews (BROOKLYN NINE-NINE) and weekly guest panelists, such as Wayne Brady, Margaret Cho, Natasha Leggero and Sherri Shepherd, bring fresh, unexpected takes on the best in hilarious, heartwarming and other viral videos of the week.