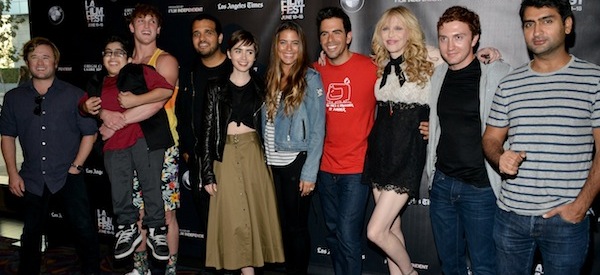 Photo: http://www.filmindependent.org

The Los Angeles Film Festival faded to black in spectacular fashion on Thursday night with a Live Read of Cameron Crowe's seminal screenplay of the 1982 coming-of-age classic, "Fast Times At Ridgemont High."
Film Independent president John Welsh and Los Angeles Film Festival director Stephanie Allain set the celebratory tone by announcing this year's award winners and praising head programmers Jennifer Cochis and Roya Rastegar for their stellar lineup that contributed to this year's record attendance.
The mic was then passed to Film Indepenent curator Elvis Mitchell, who has also served as the perennial host of Live Read since director Jason Reitman approached him with the idea for the series back in 2011. An enormously successful venture – the series has sold out LACMA's 600 seat Bing Theater over thirty-plus events – Mitchell admitted that it would be difficult to top the 2012 all-black version of "Reservoir Dogs," but last night was still a treat for all involved.
Taking over directing duties from Reitman was horror maestro Eli Roth, who proclaimed "Fast Times" to be one of his favorites – a film as fresh today as it was upon its initial release. Over the years, the series has brought together a wide range of A-listers, and although Roth's casting for "Fast Times" may not have been as star-studded, his choices were just as inspired. Cast members from last night included Lily Collins ("Mirror Mirror") as Stacy Hamilton; Haley Joel Osment as her brother Brad; Lorenza Izzo ("The Green Inferno") as her best friend Linda Barrett; Daryl Sabara ("Spy Kids") as lovable nerd Mark "The Rat" Ratner; Kumail Nanjiani ("Silicon Valley") as ticket scalping sleazeball Mike Damone; Vine star Logan Paul as stoner icon Jeff Spicoli; and in the most out-there casting choice, Courtney Love as the fearsome Mr. Hand.
Things got off to a slightly shaky start with Roth tripping over some of the action descriptions and the actors unsure which bit part belonged to whom, but once they found their rhythm, everyone inside the Premiere House at Regal Cinemas LA Live was mesmerized by these amazing actors honing their craft.
Prior to the read, Roth stressed that despite funny as hell, "Fast Times" is actually a drama that stemmed from Cameron Crowe's research as a 20 year-old Rolling Stone reporter who went undercover as a high school student. And while the dramatic material went over well with last night's crowd, especially the scenes involving Stacy's abortion and burgeoning sexuality, the evening will be remembered for the howls of laughter elicited by this talented cast.
With some of the actors taking the impersonation route while others putting their own spin on the classic characters, the laughs came in places both expected and surprising, and not always for the right reasons. Logan Paul's interpretation of Jeff Spicoli did earn some laughs but was very unbalanced as a whole, oscillating between rowdy and affected aloofness. Best chemistry went to Lily Collins and Lorenza Izzo; their scenes together had the most meat and best capture Crowe's signature combination of humor and heart. Haley Joel Osment's take on Brad the burger slinger big brother was a definite standout, as was Courtney Love's unexpected turn as the scholarly Mr. Hand, but the biggest yucks belonged to Daryl Sabara as the impossibly timid ticket taker Mark Ratner and Kumail Nanjiani as his braggadocious best friend.
As an added bonus, Judge Reinhold – the original Brad Hamilton – sent in a hilariously creepy video message to the audience that played right after his embarrassing masturbation scene.
If you're in Los Angeles and would like to check out the genius of Live Read first-hand, you can find information on the series here.
By Lucas Mirabella