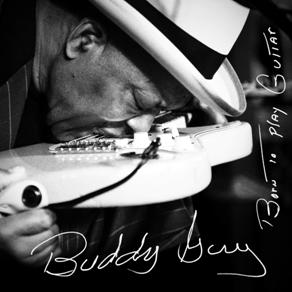 Grammy Award winning blues icon Buddy Guy has revealed the album cover and track listing for his brand new studio album Born To Play Guitar.  Set for release July 31st on Silvertone/RCA Records, "Born to Play Guitar" features guest appearances by Van Morrison, Joss Stone, Kim Wilson and Billy Gibbons. 
Morrison joins Buddy on the heartfelt "Flesh & Bone," a song dedicated to the late great B.B. King.  On "Come Back Muddy" Guy reminisces about the good ole days with his friend Muddy Waters.  The album is produced by Grammy Award winning producer/songwriter Tom Hambridge.
The album's title track will debut on Sirius XM Bluesville on June 29. "Born To Play Guitar" will be available for pre-order on June 29 at iTunes and Amazon.
Born To Play Guitar track listing:
01 Born To Play Guitar                                                                      
02 Wear You Out feat. Billy Gibbons                                     
03 Back Up Mama                                                                             
04 Too Late feat. Kim Wilson                                                
05 What's Whiskey, Beer & Wine                                                     
06 Kiss Me Quick feat. Kim Wilson                                                    
07 Crying Out Of One Eye                                                                 
08 (Baby) You Got What It Takes feat. Joss Stone                             
09 Turn Me Wild                                                                                
10 Drug In My Drink                                                                          
11 Flesh & Bone feat. Van Morrison                                                 
12 Smarter Than I Was                                                                      
13 Thick Like Mississippi Mud                                                           
14 Come Back Muddy