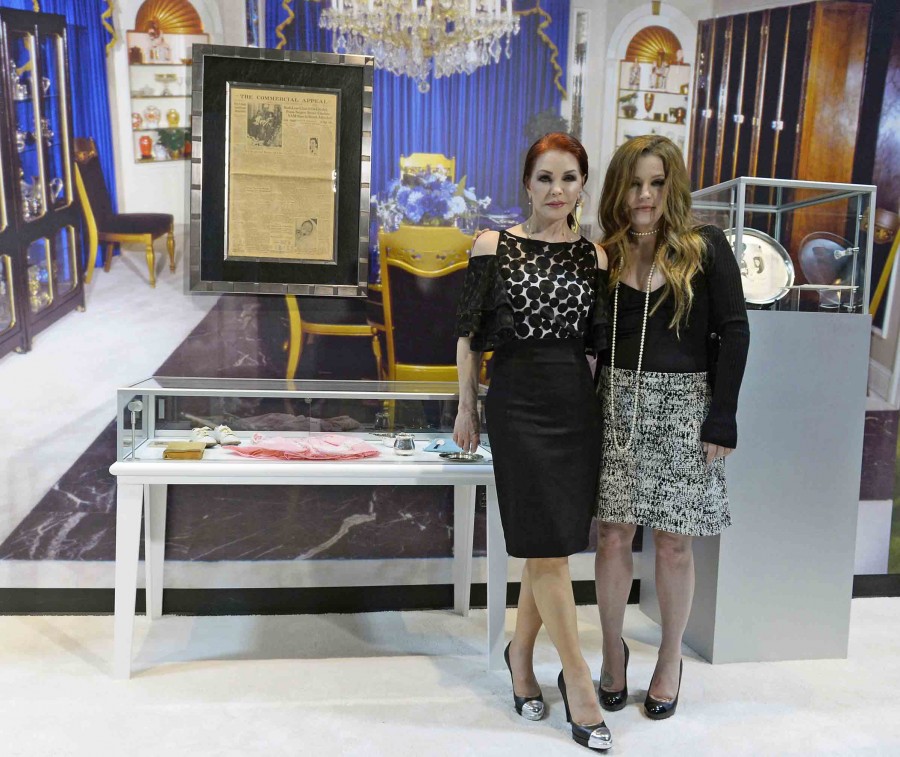 Priscilla Presley and Lisa Marie Presley presided over a formal "blue suede" ribbon-cutting ceremony to unveil their personal treasures from the family archives, from rarely seen artifacts including Elvis' personal television remote from his Graceland bedroom to Lisa Marie's baby shoes.
"Just think, it was 59 years ago that Elvis performed his first show in Las Vegas," said Priscilla Presley. "Elvis loved Las Vegas and he loved his fans – he would be the first to welcome you to this great exhibition of his life. Lisa and I are so happy to share these wonderful artifacts from our family with you and are thrilled to bring the authentic Elvis back to Las Vegas for the first time in 40 years."
The first-ever permanent Elvis exhibition outside of Graceland encompasses more than 28,000 square feet and includes hundreds of artifacts from the Presley family's treasured Graceland Archives. The exhibition takes visitors on an unprecedented journey through Elvis' life and career, beginning with his early days in Tupelo, Mississippi through his first recording session in Memphis, rise to fame, Hollywood career, life at Graceland, the Las Vegas years and more. Graceland-produced videos immerse guests in the experience, concluding with a 26-minute retrospective film featuring Elvis' greatest performances. Select artifacts will be rotated regularly with artifacts from the Graceland Archives to ensure the exhibit is constantly evolving and remains fresh. The exhibition is open seven days a week from 10 am to 10 pm. Tickets are priced at $22 plus taxes and fees, and are available for purchase at Graceland.com/Vegas.
Exhibition Highlights:
Tupelo and Memphis. This collection of artifacts follows Elvis' humble beginnings in Tupelo, Mississippi to his family's move to Memphis, where Elvis' discovery of gospel blues would influence his music and drive his rock & roll sound. Guests can peruse family portraits; the Presley family bible; Elvis' 1950 and 1952 high school yearbooks, and graduation tassel; his mother Gladys' poodle purse, dress shoes and social security card; family loan papers; and paystubs from Elvis' first job as a delivery truck driver for Crown Electric.
Elvis Mania. In 1956, Elvis released his first album on the RCA recording label and appeared on a variety of nationally televised shows, including the Ed Sullivan show. This is the same year that Elvis first graced the silver screen in his acting debut, "Love Me Tender," and had a No. 1 hit by the same name. The Elvis Mania exhibit documents this rise to fame including personal copies of his first singles on the Sun record label,1955 RCA contract, a variety of Elvis Presley collectibles, his custom leather guitar case, the gold record for his eponymous first album, and wardrobe pieces from "Jailhouse Rock," which was released in 1957.
Elvis in the Army. From 1958 to 1960, Elvis took a break from his singing and acting career and proudly served his country n the U.S. Army. This marks a particularly poignant time in his life, as he met his future wife – Priscilla Beaulieu – while stationed in Germany. Guests in this exhibit see Elvis' army fatigues, fan letters, a check written to Moulin Rouge from his time on leave in Paris, and iconic photos of his famous military haircut at Fort Chaffee, Arkansas.
Graceland. At the young age of 22, Elvis purchased his first home where he would live with his mother, father and grandmother. A 17,000-square-foot property sitting on 13 acres, Graceland was a place where Elvis could relax and get away from his busy life as a singer and actor. Later in life, Priscilla and Elvis would marry and raise their daughter Lisa Marie at Graceland, a home Elvis vowed to never sell. Today, Graceland is visited by hundreds of thousands of people every year. At the Las Vegas exhibit one area that showcases Elvis' Memphis home allows guests to see baby Lisa Marie's footprints and baby shoes, a silver tray etched with Elvis and Priscilla's photo on their wedding day, their wedding china and more.
Elvis in Hollywood. Between 1958and 1968, Elvis left live performance touring to serve in the U.S. Army and then focus on his movie career, starring in 31 feature films – such as "Jailhouse Rock," "King Creole," "Viva Las Vegas" and "Blue Hawaii" – and two theatrical musical documentaries, including Golden Globe winner "Elvis on Tour." This exhibit features a collection of scripts, movie posters, a pair of coveralls worn in "Viva Las Vegas," his bomber jacket from "It Happened at the World's Fair" and more.
Elvis in Las Vegas. For Elvis' first stint in Las Vegas at the New Frontier in April 1956, Colonel Parker billed him as the "Atomic–Powered Singer." This title would prove true as Elvis signed a deal with the International Hotel in 1969 and became the reigning king of live entertainment in Las Vegas, breaking all box office records for the city. Guests exploring Elvis' Las Vegas history can see iconic stage costumes from Elvis' live performances, Priscilla's dress from Elvis' opening night at the International Hotel, the suit Elvis wore when signing his 1969 contract, and never-before-displayed advertisements placed by Parker throughout the city from bus stops to billboards. Of particular note is the gold–plated belt encrusted with diamonds, rubies and sapphires that Elvis received in 1969 for breaking Las Vegas breaking box office records and later wore for a meeting with President Nixon in the Oval Office; and a contract written by Parker on a table cloth – complete with coffee stains – when owners of the International Hotel agreed to initial terms on Elvis' long-term engagement.
Elvis on the Road. Even before he became the king of rock & roll, Elvis loved anything with a motor that moved fast. This would become a theme in his life especially after he achieved fame. It's estimated that Elvis purchased more than 200 cars – some for family and friends, others for strangers and dozens for himself – including Cadillacs, Rolls Royces, Mercedes and Harley Davidson motorcycles. Elvis was often behind the wheel driving his band members for early tours and cross-country trips. Guests to this exhibit can view cars from Elvis' collection, including a 1957 Harley Davidson motorcycle, 1962 Lincoln Continental and the1971 prototype Stutz Blackhawk delivered to Elvis at the International Hotel.
1968 Comeback Special. After an eight-year hiatus from live musical performances, Elvis took to the stage once again for a concert taped on NBC's Burbank lot dubbed the "1968 Comeback Special." Elvis reenergized his singing career performing a collection of classic hits and new material for the TV special, which was NBC's highest rated show of the year, priming Elvis for his Las Vegas run. The exhibit space documenting this performance includes Elvis' iconic "If I Can Dream" white suit, and the blue chair used in the sit-down jam sessions in the special.