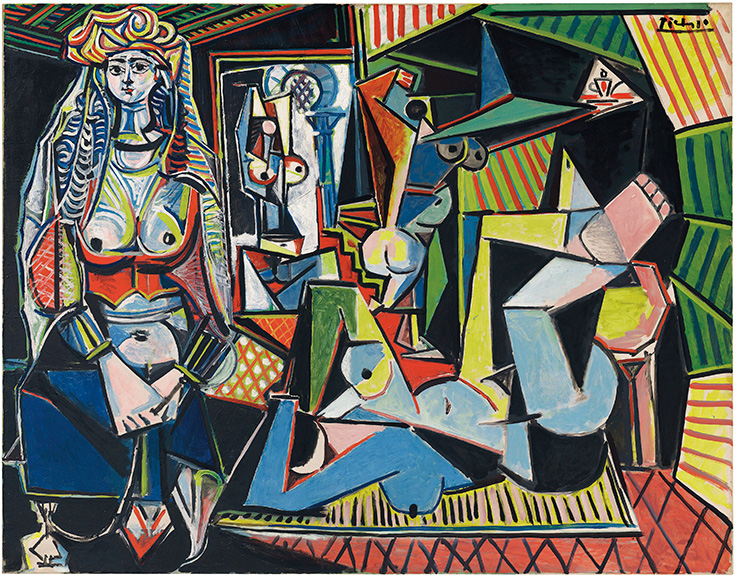 Photo: Christie's
A Christie's auction in NYC is making headlines. Picasso's 1955 masterpiece, Women of Algiers (Les femmes d'Alger) is now the most expensive painting to ever sell at auction. The final price tag: $161 million.
Twenty minutes in the sale, auctioneer Jussi Pylkkanen, Global President of Christie's, dropped the gavel on a new world auction record for the most valuable work of art sold at auction. Pablo Picasso's Les femmes d'Alger, Version O sold for $179.4 million after 11 and ½ minutes of bidding to a client on the phone with Brett Gorvy, International Head, Post-War and Contemporary Art.
Several clients chased the work from its starting bid of $100 million, trading at least 30 bids in increments of $1 million until it reached its final hammer price of $161 million. The sale marks the second time that Christie's has sold this particular Picasso painting; in 1997, it was offered from the celebrated Ganz collection and sold for US $31.9 million against an estimate of $10-12 million.
Christie's New York broke its own record with the sale of the Picasso. The previous record for any work of art sold at auction was $142.4 million, set in 2013 for Francis Bacon's Three Studies of Lucian Freud. Christie's also broke its own record for the most valuable work by Picasso ever sold at auction. The previous record was set in 2010 with the sale of the artist's Nude, Green Leaves and Bust from 1932 for $106.5 million.