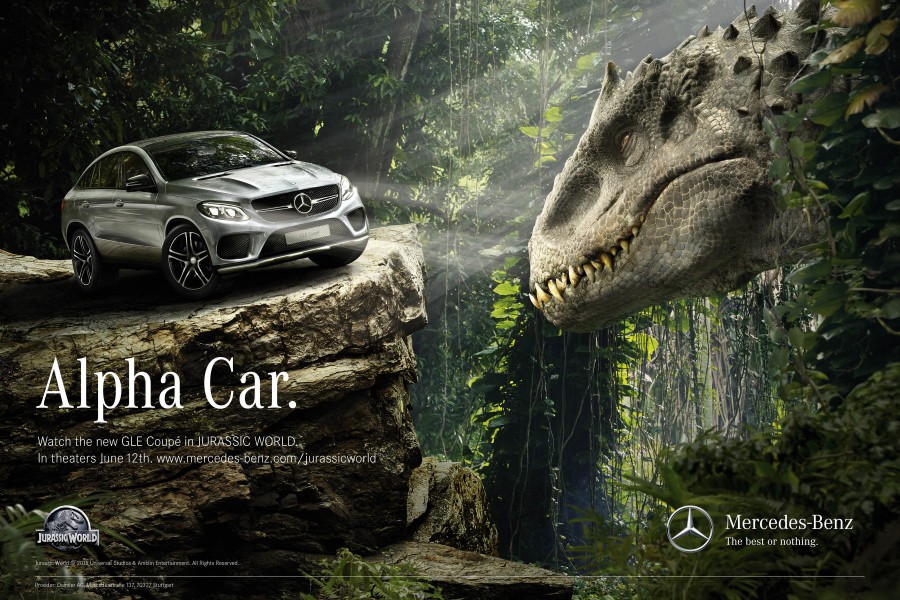 This summer, when the long-awaited next installment of the groundbreaking Jurassic Park series, Jurassic World, arrives in theaters, an entire fleet of Mercedes-Benz vehicles will share the spotlight. Alongside the iconic G-Class, Unimog, Sprinter models and the all-new GLE Coupe will play a leading role in the epic action-adventure.
Mercedes-Benz will accompany the release of the film with a comprehensive co-promotional package that includes a television commercial, print and online advertising, dedicated microsites and social-media activities. The commercial, starring the Mercedes-Benz vehicles from the film, launches today in the U.S. and Europe. Additionally, a custom key visual was developed for all communication in which the all-new GLE Coupe is seen eye-to-eye with the film's fearsome Indominus rex.
"In 1997 the Mercedes-Benz M-Class made its first official appearance in the Hollywood Blockbuster 'The Lost World: Jurassic Park'. Today, 18 years later, another Mercedes-Benz car will debut in a significant role in the latest installment of the groundbreaking Jurassic Park series named Jurassic World: the new GLE Coupe," says Dr. Jens Thiemer, Vice President Marketing Mercedes-Benz Cars. "We are delighted to continue our partnership with a multitude of Mercedes-Benz vehicles and will promote the film and our cars with many exciting global marketing activities."
The Mercedes-Benz GLE 450 AMG Coupe makes its film debut as the official car of Jurassic World operations manager Claire, played by Bryce Dallas Howard. When Claire must confront a crisis well beyond what she can handle alone, she takes the new Mercedes-Benz GLE Coupe (showcasing its off-road capabilities) and joins behavioral researcher Owen (Chris Pratt) on a mission in the lush jungle of Isla Nublar. 
In addition we see Owen piloting the G-Class, the patriarch of all Mercedes-Benz SUVs. The film also features the Unimog, cast as a dinosaur ambulance, as well as a G 63 AMG 6×6 and various Sprinter models. "The fleet of Mercedes Benz vehicles fit perfectly into Jurassic World. They are classy, sophisticated, and sexy — exactly what would exist in a modern international theme park," says producer Frank Marshall.