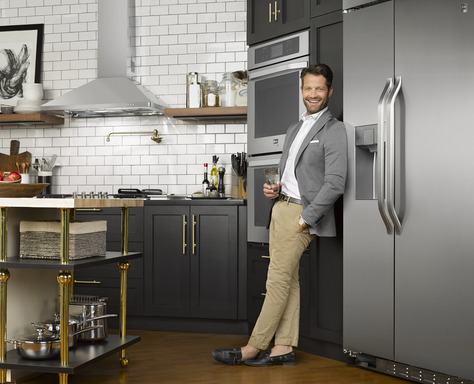 LG Electronics USA and renowned designer Nate Berkus will help consumers 're-imagine' their kitchen at Dwell on Design 2015, where LG will unveil new products from its LG Studio line of premium kitchen appliances. The show's newly minted Re-Imagination Pavilion will feature stunning appliances from LG Studio, for which Berkus serves as Artistic Advisor. LG is Premier Sponsor of the 10th annual design event, May 29 – 31 in Los Angeles.
The full 2015 LG Studio lineup, which includes built-in refrigerators, cooktops, ovens, ranges, microwave ovens and dishwashers, will be prominently featured – along with new appliances launching for the very first time this year – in two Re-Imagination Pavilion kitchen vignettes, both conceptualized and designed by Berkus himself.
In his role as Artistic Advisor for LG Studio, Berkus has been working closely with LG's design team to ensure that the high-end appliance line continues to blend best-in-class innovation with sleek, sophisticated design. Berkus' influence and inspiration can be felt throughout the 2015 lineup of new, premium LG Studio appliances, which attendees will be able to experience first-hand at the show.
"I really wanted the feel of the Re-Imagination Pavilion to reflect all that a modern kitchen represents today – a decided mix of what feels both contemporary and classic," said Berkus. "Mirroring the way LG Studio appliances blend a timeless aesthetic with uncompromising design, a truly signature kitchen incorporates functional elements and also details that feel very personal and help to create that forever kitchen in which your family can grow and create memories."
A new addition to the show floor this year, the Re-Imagination Pavilion will exclusively feature products from the LG Studio line. From the "entertainer kitchen" to the "family kitchen" and beyond, attendees will be able to glean design inspiration and experience for themselves how these modern, yet timeless appliances complement any style aesthetic. Additionally, professionals from the National Kitchen and Bath Association (NKBA) and American Society of Interior Designers (ASID) will be on hand to share expert advice on designing a kitchen that's perfect for any homeowner.