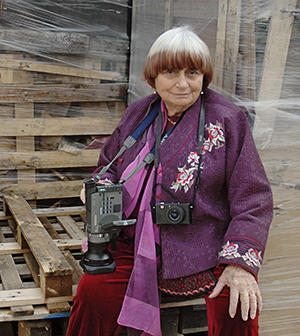 Agnès Varda will receive an honorary Palme d'or during the Closing Ceremony of the 68th Festival de Cannes.
In the past, Woody Allen, in 2002, Clint Eastwood, in 2009, and Bernardo Bertolucci, in 2011, have been granted this supreme distinction by the Board of Directors of the Festival de Cannes. The award is given to renowned directors whose works have achieved a global impact but who have nevertheless never won the Palme d'or.
Agnès Varda is the first female director to garner the prestigious trophy. With her legendary humour, she notes: "And yet my films have never sold as much as theirs!"
A photographer, screenplay writer, actress, director and visual artist, Agnès Varda is a total all-rounder, a versatile genius whose insatiable curiosity has led her into a whole variety of projects, each of which she somehow turns into gold.
Photo: Ciné-Tamaris