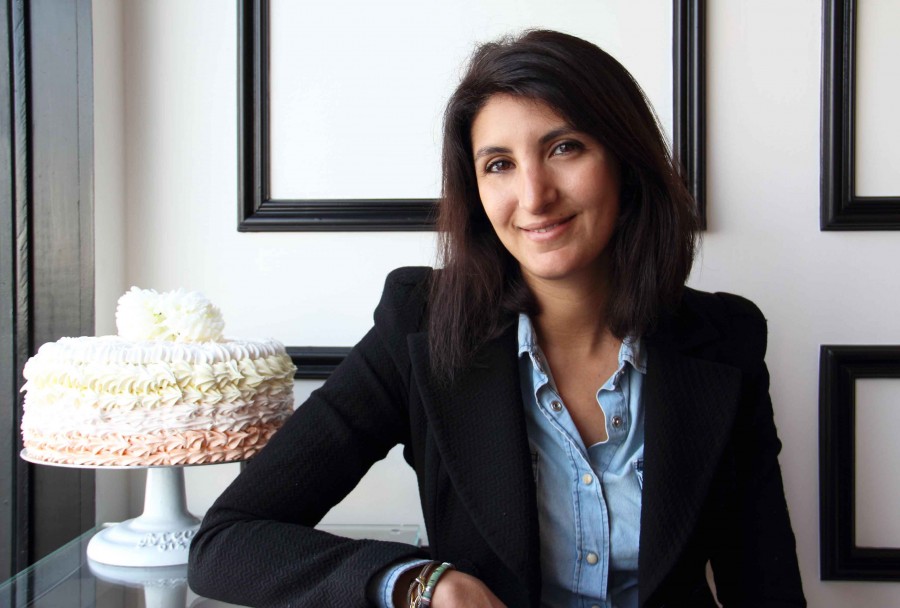 Lemon meringue cake and lemon meringue pie are two of the most famous desserts in the US. Light, airy and sweet, they are made from whipped egg whites and sugar. Low in calories, it is the favorite dessert of many. 
When researching the origin of Meringue dessert, I found out that it came from the village of Meiringen in Switzerland, it was improved by Chef Gasparini in Italy, but the word Meringue first appears in Chef François Massialot's cookbook of 1692 and the French have since claimed its discovery. Though simple, it is not so easy to make. There are many types of meringue: The floating Island, the lemon meringue pie and the dry featherweight meringue cookies. One thing we know for sure, meringue is well known in many countries in the world, and many bakers have developed their own recipes.
Being French, I grew up on meringue and I just love them. I recently discovered an elegant tiny boutique in Los Angeles located on Melrose Avenue called Bo Nuage, which exclusively makes meringues. The word "Bo Nuage" means beautiful cloud, reminiscent of the whipped egg white. Naturally, I could not resist visiting.
Pascal and Audrey Achcar are the husband and wife team who bring daily handcrafted delicacies to the community with a touch of elegance and a flair for the unique. In crafting their "cloud cakes," they use the finest ingredients and all are prepped in-house and with remarkable attention to quality and artistry.
With degrees from a pastry and baking school in Paris, and after founding a successful baked goods brand in Northern Africa, Pascal and Audrey found themselves looking for their next adventure. My friend had raved about Bo Nuage so much that I wanted to meet Audrey personally.
Why did you decide on meringue?
It actually started when I was a little girl in Paris. Almost daily, I used to go to this bakery on my street that only sold meringues. I bought what was called a "chocolate head." I just loved it. It's a very old recipe. Later on, I kept on buying meringue cakes and cookies for parties or just for myself. When my husband and I moved to Los Angeles I noticed that there was no such place. As my husband is a baker and has trained as a pastry chef as well, I suggested that we open our own place that would specialize in meringue. After successfully trying a few recipes, we decided to go for it. He came up with fifteen flavors, unlike in France, where there are only four flavors.
Did you think that you could make a living selling meringues?
It was a risk. When you go with any kind of specialty, it is always a risk. But people in Los Angeles love sweets.  When I talk about meringue, they know what meringue is. When macaroonsfirst came here, they didn't know about macaroons — they had to be educated about the cake. But meringue is different. They know what whipped cream is, and when you say it's a mix of meringue and whipped cream, they know what you are talking about. People are surprised by this cake, but it's a good surprise. They always appreciate it.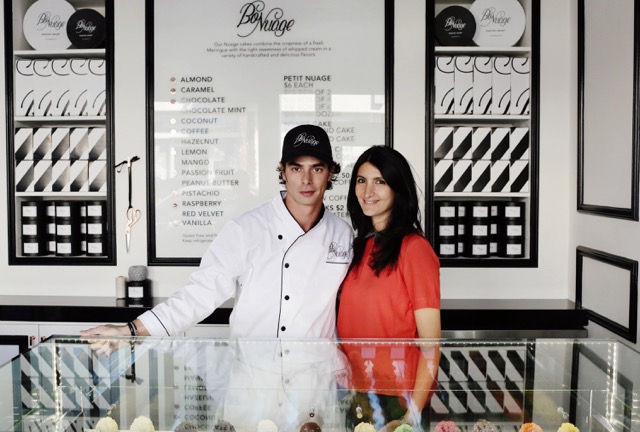 Who is the clientele of Bo Nuage? 
We have everybody. Young people, families, mothers — young mothers — and lots of Americans, and we also have the Jewish community because it's Kosher certified. All of the gluten-free addicts and of course French people as well.
Why do you think people like meringue so much?
It's colorful, it's light, and it's really airy on the inside, and it's very low-calorie unlike the cupcake.  We can be creative with meringue, add decorations on the outside. As for the inside you may add layers of meringue, whipped cream, add some fruits, you know, just like the Australian cake, Pavlova. It's amazing. We also have a beautiful and unusual packaging which was my husband's idea — it's a hat box, just like the old hat box that we used to have. The cakes go inside.
Who came up with the name and what does it mean?
We could not come up with any interesting names. Looking at the meringue, I realized that it was, airy and fluffy like a cloud, so I called it Bo Nuage – it means a "beautiful cloud" in French. And actually, it's funny because when people wanted to know the meaning, we said, "beautiful cloud," and they started to name this cake, "Cloud Cake."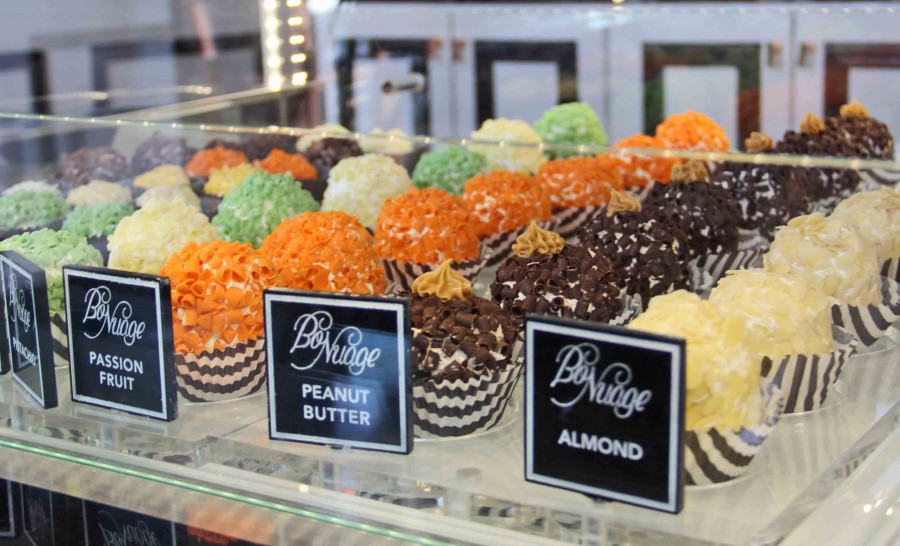 How many calories in each cake?
It depends on the size; we have a regular size which is between 80 and 100, which represents three times less calories than a cupcake, and the larger cake which has 200. It also depends on the flavor. Some of them are probably a little bit more. They are made with Almond milk, which is less fat.
How long have you been opened at this location?
Not that long — a year and a half. And we are in the process of opening a second location on Rodeo Drive in Beverly Hills, which is a little bigger. It is just across from Yves St Laurent. The perfect location. It will be like a takeout still, but there will be a few tables outside. Everything will be baked fresh in this kitchen on Melrose and sent to Beverly Hills. No need for 2 kitchens.
Why did you choose a black and white theme? 
Black and white because I think it was the most elegant composition.
How long before you open in Beverly Hills?
We think this summer — hopefully end of June, beginning of July.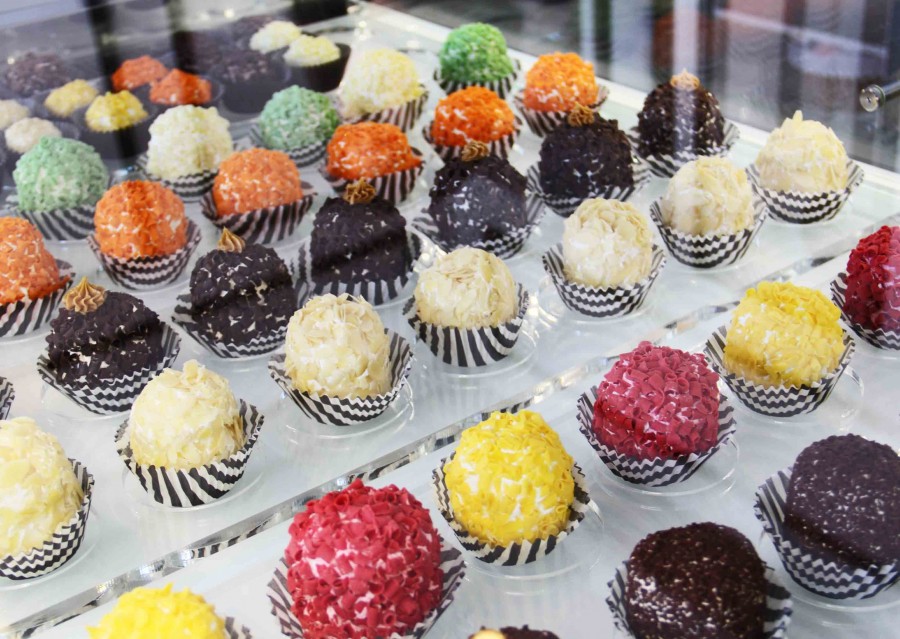 Since your husband is the baker, do you run the business side of it?
Yeah, I do some accounting, also I help with the orders, I help with the sales, I take care of the clientele as well.
Do you sell them online as well?
We sell them online for pick-up, and we also deliver in Los Angeles. We are working on the packaging to send them out in the proper packaging because they are so delicate.
Is LA your home?
Yeah, we love Los Angeles. And my husband has factories in Africa, where they make flour, candies, etc.., both of our families have been in thisindustry. And on my side, my mother makes macaroons. She has several stores Los Angeles.
Do you plan on maybe carrying your family's products as well?
No, we will stay just with the meringues. My family will keep their brand separate as well. At one point I thought about it, but I don't want to confuse and mix the two. It's a concept around meringue, so it has to stay like that. Sometimes we bake bread on Fridays; we do hallahs for the Jewish community, they are amazing. People love them. You must come back to try.
Everything was so good that I had to leave with a small box of 6 and, I have to say, I did not feel guilty. You absolutely must visit Bo Nuage.
By Michele Elyzabeth