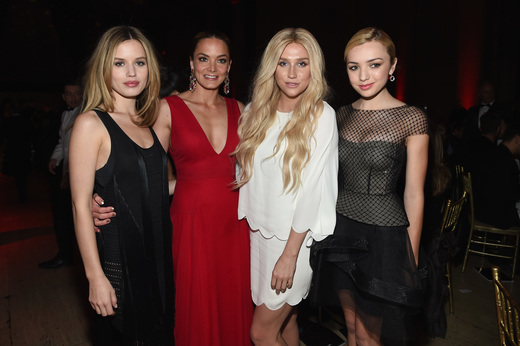 Georgia May Jagger, Co-founder, Delete Blood Cancer Katharina Harf, Kesha, and Peyton List attend the
9th Annual Delete Blood Cancer Gala on April 16, 2015 in New York City. (Photo by Jamie McCarthy/Getty Images for Delete Blood Cancer DKMS)
On Thursday, Delete Blood Cancer DKMS presented its ninth annual Delete Blood Cancer Gala at Cipriani Wall Street in New York City. The gala was co-hosted by Delete Blood Cancer Co-Founder Katharina Harf and co-chaired by Coty Inc., a leading global beauty company. The star-studded evening raised over $3.9 million. 
As part of the evening's program, Delete Blood Cancer DKMS Co-Founder Katharina Harf presented the Delete Blood Cancer award to Marcel R.M. van den Brink M.D., Ph.D., Head of the Division of Hematologic Oncology at Memorial Sloan-Kettering Cancer Center, in recognition of his extraordinary research and advancements in bone marrow transplantation.
Record producer and TV personality Randy Jackson emceed the gala dinner for the first time. The evening also featured a special performance by international superstar, KESHA, featuring four of her smash hits. Olivia Palermo, Lily Lane, Anastasia Ganias, Peyton List, Jonathan Cheban, Lauren Remington Platt, Bryanboy and Derek Lam were among those in attendance.
The event also called attention to Delete Blood Cancer DKMS patient, Anthony Daniels, who is in need of a bone marrow donor.  The signature highlight of the evening came during a miracle moment, when seven-year-old Kaleb Dummer was introduced, for the first time, to Cole Kennedy (22), the unrelated donor who saved his life.
"To see a patient and donor meet for the first time is like witnessing a miracle," said Co-Founder Katharina Harf, "At the same time, we have to do more for people like 23-year-old Anthony,  who has relapsed four times, and his only chance is a bone marrow transplant."
Delete Blood Cancer works every day to delete blood cancer by inspiring as many people as possible to register as bone marrow donors so more patients are given second chances at life. By celebrating how donors can save lives, Delete Blood Cancer dispels the myths about the donation process.
For the second year, supermodel and face of COTY global cosmetic brand Rimmel, Georgia May Jagger, served as the Global Ambassador in the fight against blood cancer. Coty has been the founding corporate sponsor since 1996.